Celebrity House Showdown: Whose House Looks More Shockingly Luxurious?
In this age of the internet, you can now easily search for some inspiration for your dream houses. Whether you're on the hunt for some vintage abode or an elegant one, there's no better place to collect ideas than from the properties of the rich and famous. Celebrities like to spend their investment money in a place where they can relax and enjoy. That's why they pay for quality furniture, landscapes, and even amenities such as a home theatre, a swimming pool, a gym, and more.
While we're looking at their estates, we can't help but compare their beautiful properties. We figured out that celebrities working in the same field each boasts an equally-impressive house! However, if you contrast their homes in terms of design, one can definitely win against the other. If you want to know what we mean, check out our list of celebrity house showdown below:
Barack Obama – Martha's Vineyard, $11.75 Million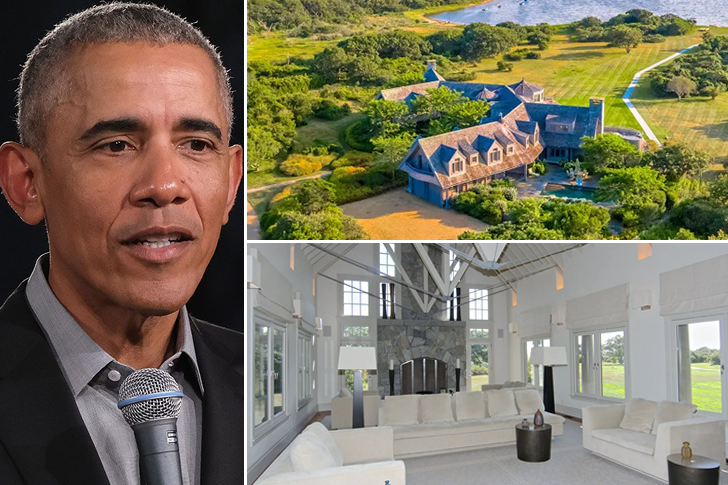 In the world of politics, it's no doubt former US president Barack Obama has received plenty of recognition and regard for his endeavors throughout his presidency. A Harvard graduate and former attorney who taught constitutional law from 1997 to 2004, he is one who doesn't stop dabbling in various projects, with the most recent ones being a podcast and his presidential memoir.
After a hard day's work, Obama would surely be spending some quality downtime in his house. Around late 2020, the former president and his family bought this lovely estate in Martha's Vineyard for $11.75 million. Thanks to its location, surrounded by scenic greens, the property provides its residents with all-around privacy. Besides that, it also has plenty of things to keep the family satisfied. Besides its bedrooms and bathrooms, this abode also has a detached barn, a pool, a boathouse, and access to the nearby pond.
Gayle King – Manhattan, $7.9 Million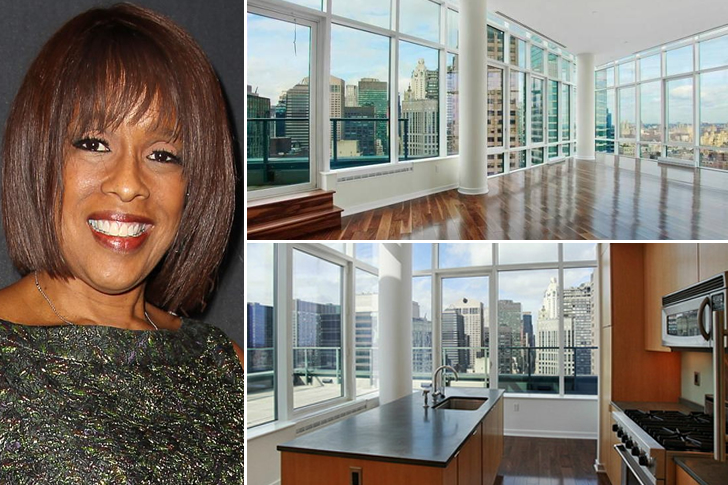 For her start in the entertainment industry, Gayle King worked as a production assistant for a TV station. That was also where she met Oprah Winfrey, and the two have been friends since then. After a while working behind the scenes, King finally made her way to the front of the cameras, starting as an anchor and reporter. Since then, she has made quite a name for herself and has worked on shows such as The Oprah Winfrey Show, CBS This Morning, and Good Morning America.
Thanks to her career, the broadcast journalist has accumulated more than enough to buy herself a couple of homes through the years. With that said, one such property she spent some investment money on would be this Manhattan apartment. Along with views of the city, the unit is no doubt quite cozy, with its master suite featuring a spa tub and three walk-in closets. After some time, though, King sold it for $7.9 million.
Vanna White – Beverly Hills, $38 Million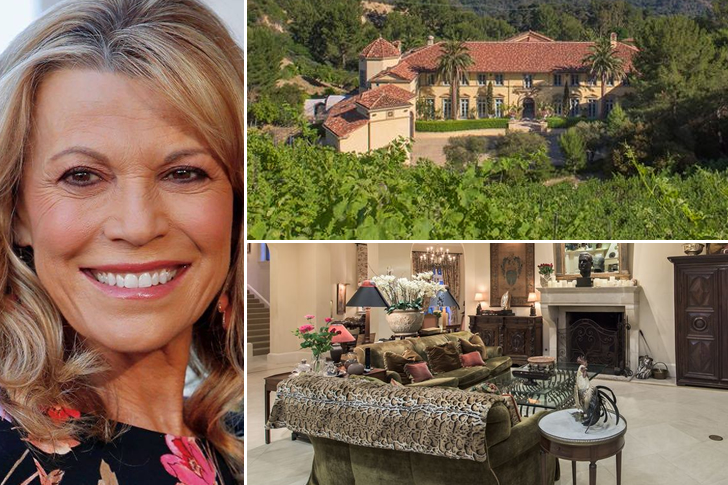 Vanna White began her career under the spotlight as a model. A few years later, she made her way into acting and landed roles for titles such as Graduation Day and made cameo appearances in Double Dragon and the Naked Gun movies. Nowadays, though, it's safe to say White is known best for her stint as the hostess of Wheel of Fortune. In addition, thanks to that gig, she also takes credit for being one of the world's most frequent clappers.
Besides her career in showbiz, though, White is also quite active in real estate. Around 2019, her former Beverly Hills abode made it to the market for an astounding price of $38 million. For that price, new residents will undoubtedly be assured that they'll get their money's worth. Along with this haven's gorgeous design and architecture, it also has a couple of amenities worth noting – though the most eye-catching one would be its pool area.
Richard Gere – Long Island, $36.5 Million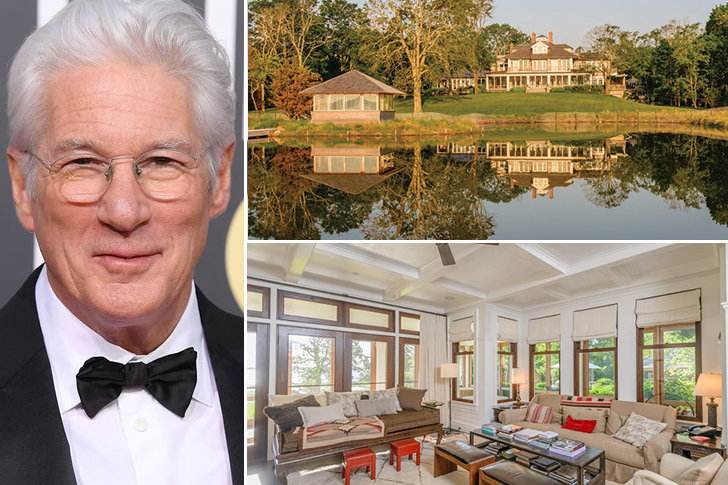 When it comes to charismatic actors, it's safe to say Richard Gere will make his way into the list sooner or later. A talented gymnast throughout his years in school and a skilled musician, he began his career as a stage actor. Since then, he has garnered a high degree of recognition for his work in films such as Hachi: A Dog's Tale, Chicago, Pretty Woman, and more recently, Norman: The Moderate Rise and Tragic Fall of a New York Fixer.
For some time, the Pretty Woman actor called this lovely Long Island estate his home. In 2016, Gere sold the property for an impressive price of $36.5 million. For that, new residents are welcomed to many of the home's greatest features, with the most notable one being its natural and scenic surroundings. From its 60-feet-deep heated pool to its many gardens, another jewel among these amenities would be its deepwater dock.
Robert Pattinson – Hollywood Hills, $2.18 Million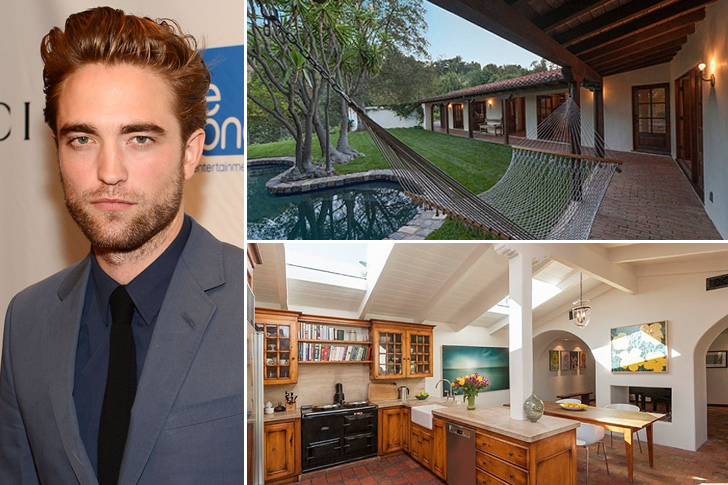 During the earlier years of his career, Robert Pattinson is most known for his acting credit as Edward Cullen in the Twilight saga. Since then, it sure looks like the actor has parted from his somewhat-vampiric roots. With that said, Pattinson has garnered an even higher level of fame for his work in various film projects, including titles such as Good Time, The Lighthouse, The Devil All the Time, Tenet, and the upcoming Batman movie.
When he isn't on a film set or attending a red-carpet event, perhaps it's safe to assume the actor likes to relax in his Hollywood Hills abode. Bought for $2.18 million, it is pretty modest and simple in design, which complements its natural surroundings quite well. For amenities, this haven has a pool, a library, an expansive living room, and a secluded spa. Who wouldn't love to go home to a place like this?
Jim Carrey VS Adam Sandler – Actor
Jim Carrey – MALIBU, $13.95 Million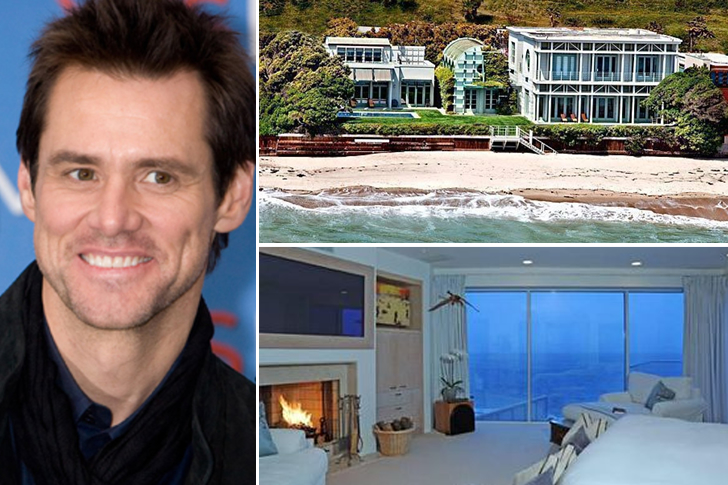 Both Jim Carrey and Adam Sandler are trailblazers in the field of comedy. They are widely acclaimed in the international scene, each having several box-office films that made us laugh so hard. Jim Carrey, who received credits for his films Ace Ventura and The Mask, was one of the highest-paid entertainers during the '90s and 2000s. Outside comedy, he also appeared in a number of dramas, including Eternal Sunshine of the Spotless Mind, The Truman Show, and the thriller The Number 23.
Carrey recently put up his beach house in the market for $13.95 million. The two-story house is located in a gated Malibu Colony and features a family room, an open plan living room, and a kitchen that leads to an ocean-facing deck. The contemporary beach house also has 2,866 square feet of living space, five bedrooms, and five 1/2 bathrooms.