Badass Celebrities & Their Real Lives
Aaron Eckhart | Harvey Dent (The Dark Knight)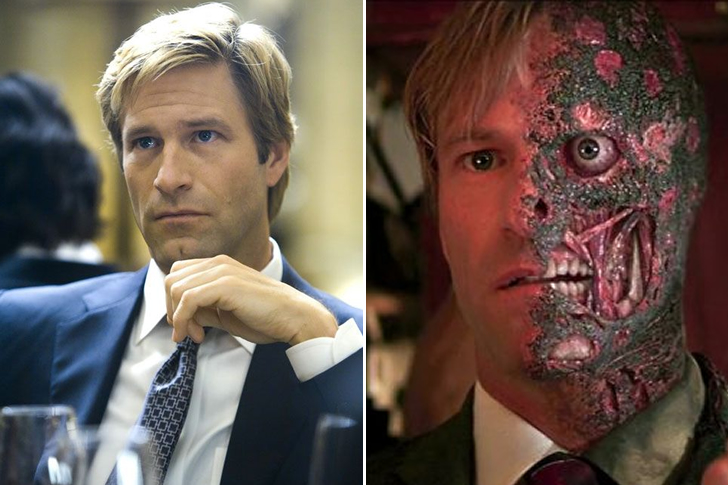 Everyone has to start somewhere, and for Aaron Eckhart, this was during his days going to school. After starring in a few stage productions, he has since become one of Hollywood's most recognizable figures, thanks to his roles in Olympus Has Fallen, Possession, and Erin Brockovich. Besides his acting career, Aaron is also an amateur photographer, a hobby he enjoys doing during his time away from film sets.
By the looks of it, it's safe to say that the actor has quite a calm and relaxing life outside the spotlight. Even so, the same cannot be said for one of his most iconic on-screen roles. In Christopher Nolan's The Dark Knight, Aaron got the chance to portray Gotham's District Attorney Harvey Dent. Despite being a heroic character during the movie's first half, Aaron's Harvey slowly transitioned into his more villainous persona as the story progressed until he finally became the antagonist, Two-Face.
Adam Driver | Kylo Ren (Star Wars)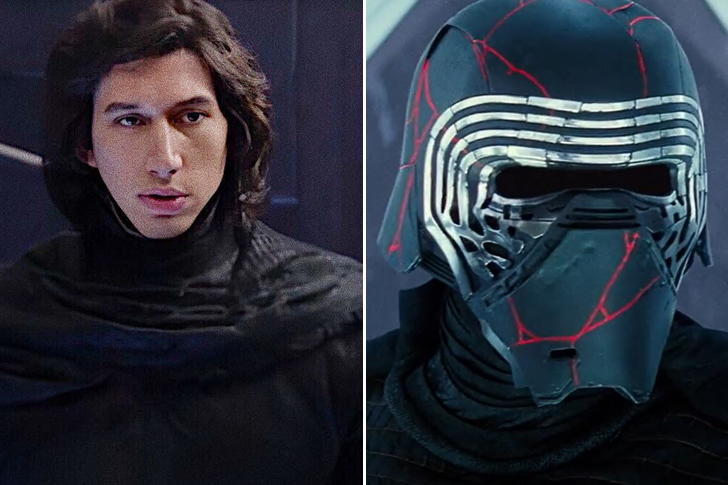 Before Adam Driver began taking acting classes, he first served for two years for the United States Marine Corps and achieved the rank of Lance Corporal. After his tenure, he went on his journey to becoming an actor, studying at the University of Indianapolis before going to Juilliard. Although he has transitioned into a different environment, Adam still lived a lifestyle similar to a Marine's. In fact, his classmates even thought he was intimidating!
Well, this intimidating aura he developed surely became a noteworthy investment for his acting career. After starring in a few movies, including Lincoln and Frances Ha, Adam eventually led his own on-screen army as the villain Kylo Ren in the new Star Wars trilogy. Besides the antagonist's seemingly menacing persona, Adam also injected some humanity into Kylo and even made him one of the most iconic characters the sequel trilogy has introduced.
Al Pacino | Tony Montana (Scarface)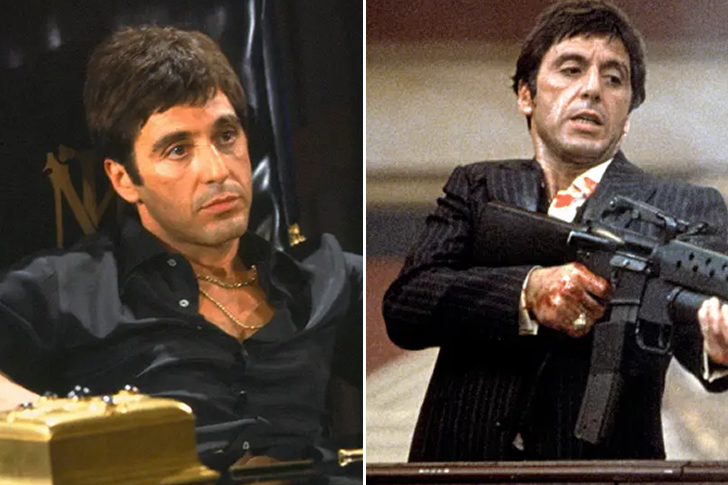 At this point, almost anyone can recognize Al Pacino, one of Hollywood's most iconic stars. Even so, his beginnings were anything but easy. During his childhood, Al was considered quite a troublemaker, but that never topped his degree of love for acting. This passion led him to take acting classes in the HB Studio before making his way into the Actors Studio. Since then, he has starred in numerous notable films, including the Godfather trilogy, Scent of a Woman, and of course, Scarface.
Now known as one of the most famous movie characters of all time, Scarface's protagonist Tony Montana was one Al was very eager to portray. In fact, he even trained with knife combat experts and the boxer Roberto Durán in preparation for the role. Safe to say all that hard work surely paid off in the end. To this day, Al's uttering of the line "Say hello to my little friend!" remains just as iconic as it was during its release.
Alan Rickman | Severus Snape (Harry Potter)
Through the years, the film industry has introduced us to numerous iconic figures, one of which was Alan Rickman. Starting his career in theater productions, Alan has since become a prominent actor for both the stage and the screen. With that said, a few of his most notable roles are for movies such as Die Hard, Robin Hood: Prince of Thieves, and the Harry Potter films.
At the time the first Harry Potter film was in production, JK Rowling didn't finish the book series yet. Even so, she already knew how Severus Snape's journey would go, and Alan was the only cast member she shared the information to. Well, it surely helped with Alan's performance throughout the film series, and the outcome was undoubtedly more than stellar. Since then, Snape has become one of the most iconic acting credits Alan ever had and will surely be one his fans will remember fondly. Always.
Alicia Silverstone | Batgirl (Batman & Robin)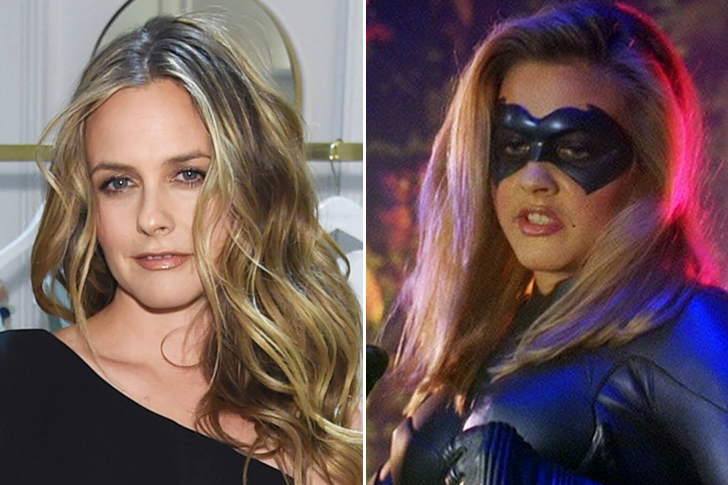 At six years old, Alicia Silverstone began her career in the entertainment industry as a model before transitioning to the acting business. Besides being an actress, Alicia is also known to be a vegan. In fact, along with making a vegan cookbook, she also once spent some investment money on an eco-friendly home featuring its own solar panels and organic vegetable garden.
With that said, it comes as no surprise that one of her on-screen roles was as a superhero fighting against a villain that uses nature for evil. Well, that film in question is Batman & Robin, with Alicia cast as Barbara Wilson, also known as Batgirl – while one of its villains, Poison Ivy, was portrayed by Uma Thurman. For her performance alongside George Clooney's Batman and Chris O'Donnell's Robin, Alicia won a Blimp Award from the Kid's Choice Awards and, to this day, has the honor of being the only actress to take on the role in films.
Amy Adams | Lois Lane (Batman V Superman: Dawn Of Justice)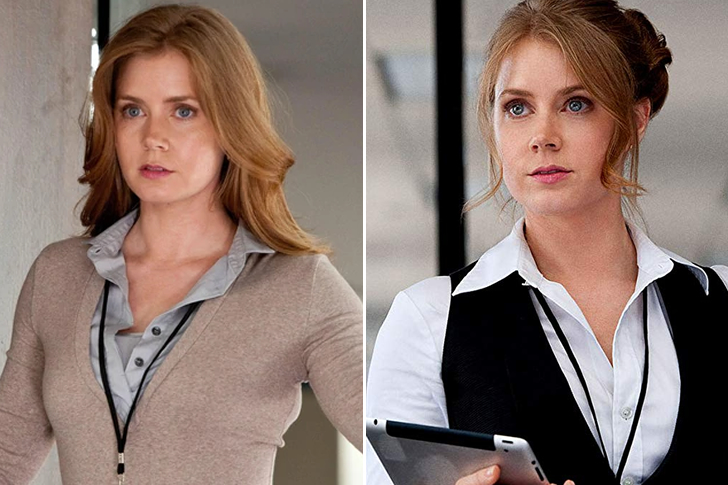 On several occasions, Amy Adams has mentioned that a portion of her passion for acting comes from her shy persona outside the spotlight. With that in mind, it's safe to say that her work has helped her not only earn a fortune, but also grow and improve into someone better over the years. Since her early beginnings in the entertainment industry, Amy has portrayed numerous notable characters, one of which is Lois Lane.
More often than not, a story's protagonist has a love interest. Although Amy's Lois Lane fits that category, her portrayal adds so much more to the character. Besides being Clark Kent/Superman's other half, Lois is a reporter that does everything she can to solve any mystery she finds. This feat was greatly depicted by Amy in Batman v Superman, where Lois also takes credit for helping Clark throughout the story. Since her first portrayal of the character in Man of Steel, Amy has surely grown alongside her on-screen persona.
Andy García | Vincent Corleone (The Godfather Part III)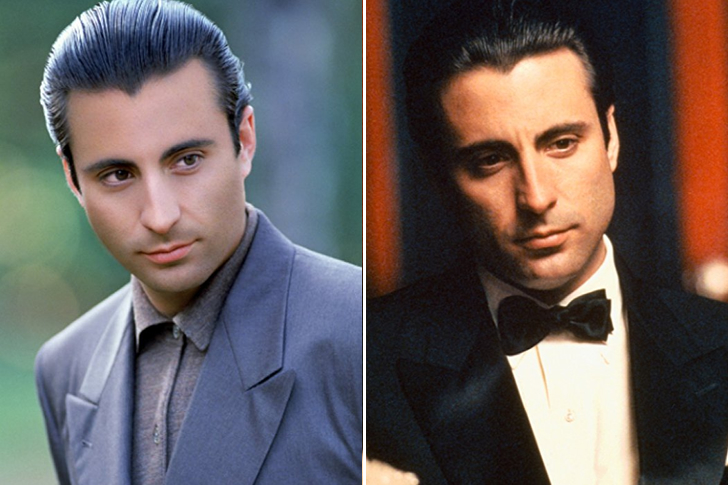 Andy García realized his passion for acting after finishing high school. By the time he was a college senior, Andy was already taking acting classes, preparing for his career in the entertainment industry. Since then, he has worked on several films, including the Oceans movies, City Island, and Desperate Measures. Outside the spotlight, the actor enjoys spending his time with his wife and four kids. With that said, one of his most notable on-screen personas was also, to some degree, a family man in his own right.
In 1989, filmmaker Francis Ford Coppola gave Andy an opportunity to star in the third installment of his Godfather movies, which revolves around the Corleone family. Andy portrays Vincent Corleone, a character who goes through a rags-to-riches story. For his performance as the Corleone family's successor, Andy was nominated for an Academy and a Golden Globe Award – and a big leap to celebrity stardom, too.
Andy Serkis | Caesar (Planet Of The Apes Movies)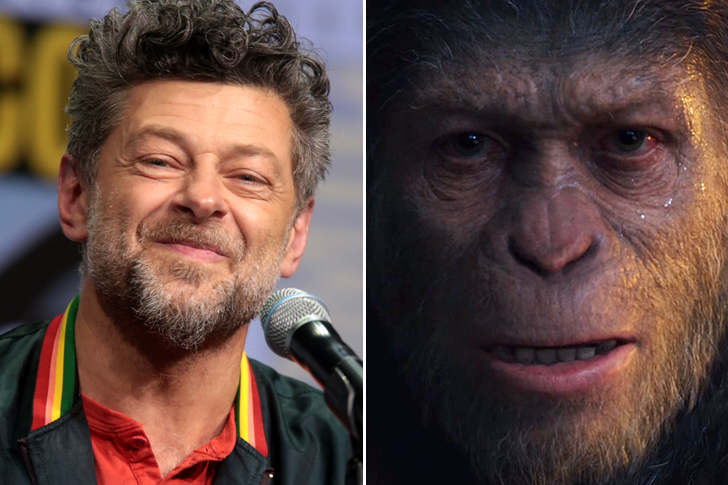 In the film industry's earlier years, it was often quite challenging for actors to interact with non-existent characters, which are later added to the scene via editing. Fortunately, it's no longer as big of a problem as it once was, thanks to Andy Serkis' investments in motion capture technology. With his reputation for being a performance capture actor, Andy has also become a consultant and mentor for stars still unfamiliar with the method.
With that in mind, it's safe to say that the actor is also undoubtedly a great teacher and leader. Coincidentally enough, one of his highly-beloved roles is of a mentor who is responsible for leading a group of people. That character is Caesar, the main protagonist of the new Planet of the Apes films. Despite being an entirely-animated character, Andy managed to give Caesar life with his performance. In fact, his colleagues even consider his work to be Oscar-worthy!
Angelina Jolie | Lara Croft (Lara Croft: Tomb Raider)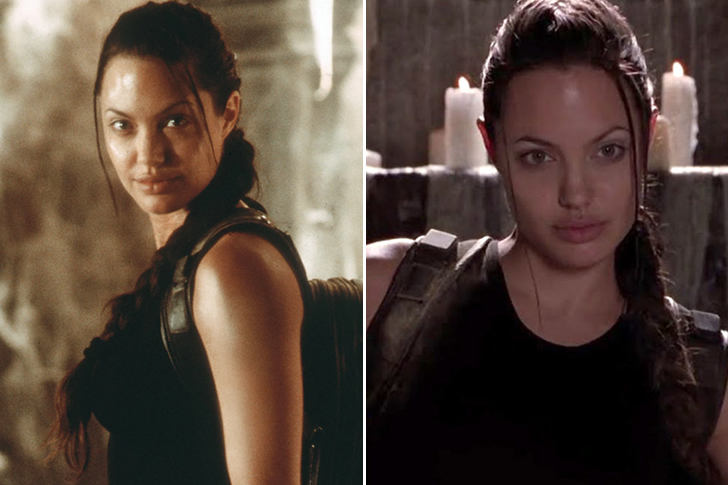 With her father being the actor Jon Voight, it comes as no surprise that Angelina Jolie eventually made her way into the film industry. With that said, her debut was as a child actress alongside Voight in 1982's Lookin' to Get Out. Since then, Angelina has starred in numerous highly-regarded films, with her acting credit as Lara Croft in the Lara Croft: Tomb Raider movie establishing her as a leading actress.
Based on the Tomb Raider video games, the movie revolves around its titular lead Lara Croft trying to obtain ancient artifacts, which, if taken by the antagonists, can destroy the world. Upon release, Angelina received widespread praise for her performance, which she later reprised for its follow-up installment. Like Lara Croft, save for the treasure hunting maybe, Angelina has since found a love for traveling. In fact, she has a pilot's license and two planes if ever she wants to go for a little adventure.
Anna Paquin | Rogue (X-Men Movies)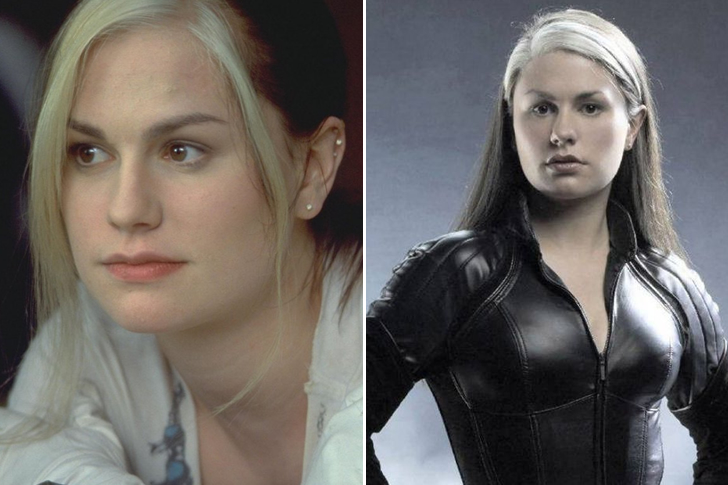 Most of the time, actors take acting classes before they officially start their careers. Even so, there are those that don't follow this number and still receive widespread recognition. One such person is Anna Paquin. Despite not having any prior experience, Anna began her career as a child actress, debuting with 1993's The Piano. To top it off, she was only 11 years old when she worked on the movie, making her the second-youngest to take credit for an Academy Award!
Like many kids, it's safe to say that Anna also dreamt of having superpowers at some point. Well, that dream surely came to life when she got the chance to portray the mutant Rogue in the X-Men films. To make things better, her character can absorb other people's powers! Along with having a blast throughout production, the actress was also nominated for a Saturn Award thanks to her performance in the first film.
Anne Hathaway | Selina Kyle (The Dark Knight Rises)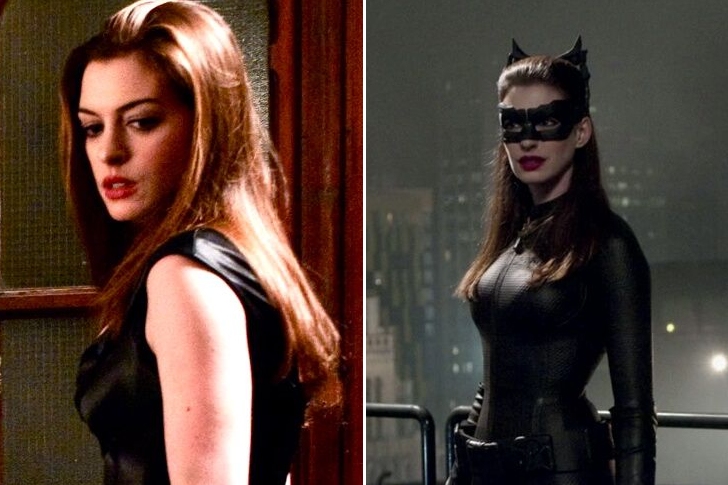 To her peers, Anne Hathaway isn't only just a talented actress; she is also an overall nice and friendly person, whom they often consider fun to be with. With that said, it's quite impressive to know that Anne has a knack for portraying a variety of roles. In fact, one of her most notable performances is as the femme fatale Catwoman in Christopher Nolan's The Dark Knight Rises.
Although she already considered herself to be healthy and fit before production began, Anne has since believed that this is the most physically demanding project she has ever had. Even so, all the investments she made in preparation for the role surely paid off in the end. Besides showcasing her martial arts prowess throughout the film, Anne also introduced a new take on the character, one that blended flawlessly with the movie's setting. With her amazing talents, it's no wonder Nolan brought her back for a role in Interstellar.
Anthony Hopkins | Hannibal Lecter (The Silence of the Lambs)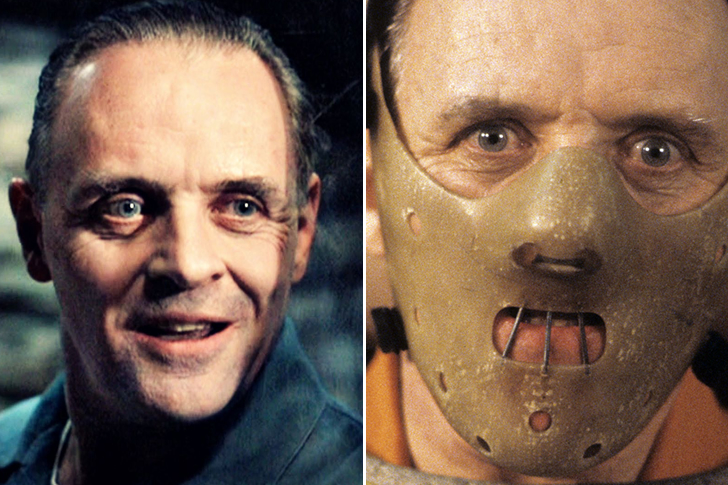 Even during his childhood, Anthony Hopkins already showed a knack for all things related to art. He was quite fond of painting, drawing, and would even play the piano in his spare time before he thought of pursuing an acting career. Well, with a high degree of recognition and regard from his peers and fans, Anthony has since become one of the industry's most recognizable and talented actors.
To this day, Anthony continues to work on notable projects, with one of his most recent roles being as Odin in the Marvel Cinematic Universe. Even so, fans of the actor still believe that one of his most iconic performances is as Hannibal Lecter in The Silence of the Lambs. In fact, because of his more-than-believable portrayal of the character, Hannibal has since earned the title of being AFI's number-one film villain. Not to mention it also earned Anthony a Best Actor Award from both the Oscars and BAFTA.
Anthony Mackie | Sam Wilson (Marvel Cinematic Universe)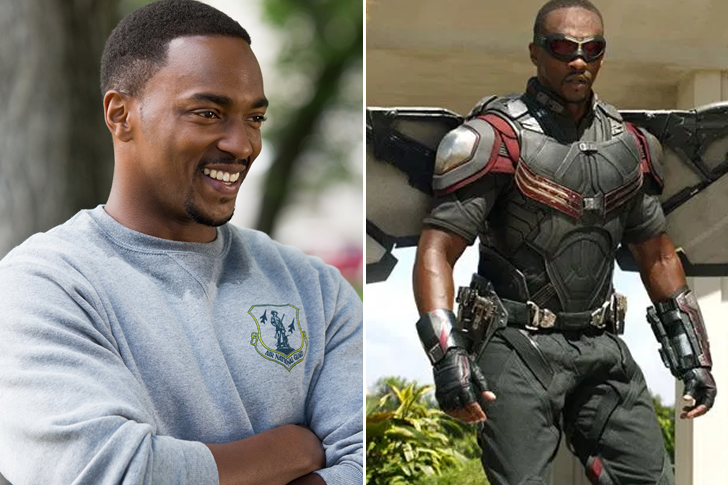 Although many actors have garnered widespread recognition over the years, it's still quite baffling how more than a few of the industry's talented figures remain underrated. One such case is surely Anthony Mackie. Beginning his career as a stage actor, Anthony has since developed quite a fan base for his roles in titles such as 8 Mile and Hurt Locker. In return, the actor also gives back to his supporters. He even mailed signed merchandise to two of his fans!
Despite not having a lead role, though that will soon change with The Falcon and the Winter Soldier, Anthony still made quite a name for himself with his acting credit as Marvel's Sam Wilson, also known as the hero Falcon. Although the character often maintains a supporting role throughout his appearances, Anthony still manages to inject some charisma with his performance, making the Falcon more than just a forgettable side character.
Arnold Schwarzenegger | The Terminator (The Terminator Movies)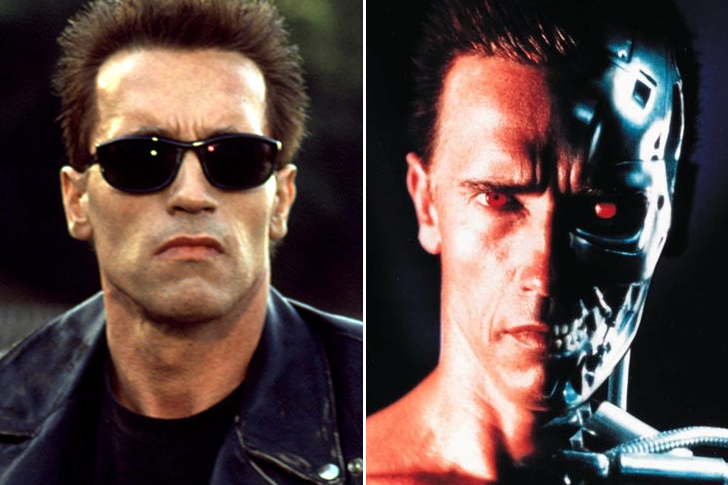 Before becoming one of today's most iconic celebrities, Arnold Schwarzenegger began his career as a bodybuilder. During that time, Arnold also had a side job in the bricklaying business, which helped him settle personal loans. To this day, Arnold remains just as humble as he was back then when he didn't have worldwide fame. In fact, he has also recently gained recognition for uplifting many of his fans on online social media platforms!
Although he is known outside the spotlight as an overall nice guy, Arnold has portrayed more than a few intimidating characters throughout his acting career. With that said, one of the actor's most recognized roles is, of course, the titular lead in The Terminator movies. Despite his initial outing as a silent killing machine, the character has since transitioned into a heroic protector. Even so, that didn't do anything to reduce his tough-guy aura at all.
Ben Affleck | Jack Ryan (The Sum of All Fears)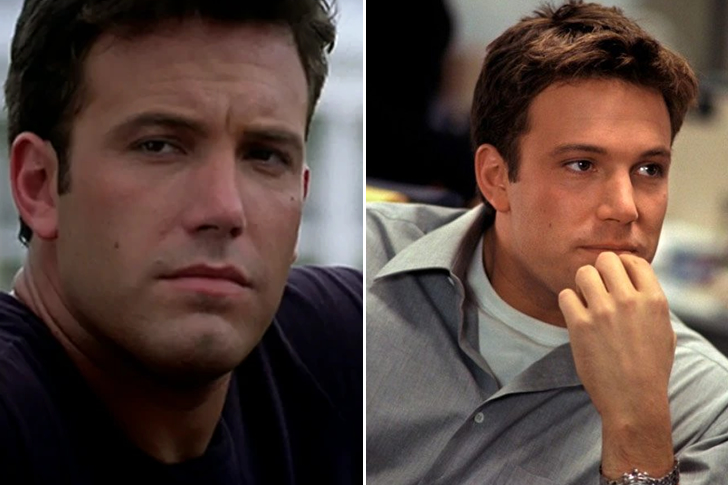 When talking about Ben Affleck, most people readily associate him with his role as Doug MacRay in The Town or Batman, but the part that made him stand out from the rest is as CIA Agent Jack Ryan in The Sum of All Fears. This was an inherently tricky role because Alec Baldwin already portrayed this character in The Hunt for Red October, where he did an excellent job. Affleck had to make sure this iteration of Jack Ryan was unique and not to be seen not as a copy of Alec Baldwin, Harrison Ford or the American version of James Bond.
Jack Ryan is a stock investment broker, CIA agent, and eventual President of the US. This is not very different from Ben Affleck's life, who rose from the ranks to the top of his career. Both Affleck and Ryan made decisions early in life that proved worthy later on, Affleck in attending theater productions and Ryan making good financial decisions that earned him lots of profit.
Benedict Cumberbatch | Alan Turing (The Imitation Game)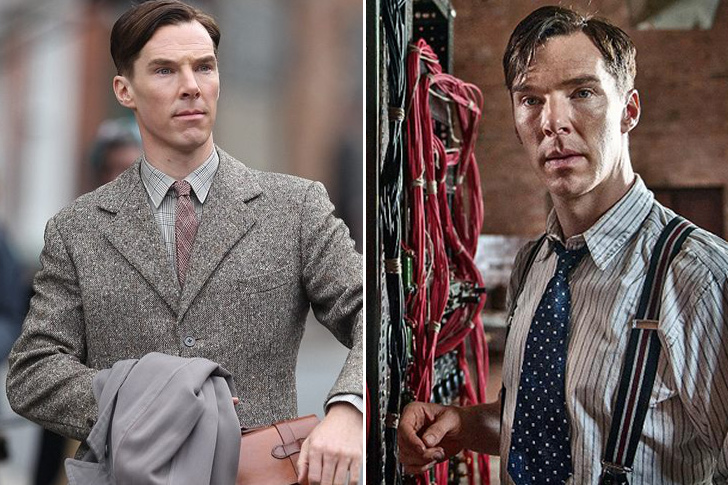 There are many contenders on what Benedict Cumberbatch's best role is–we have Doctor Stephen Strange, Sherlock Holmes, Alan Tuning and Smaug, among others. We think that the actor did well on all those, but his role as Alan Turing stands out in terms of the degree of excellence with his performance. In The Imitation Game, he plays the part of the historical Turing, a British cryptographer who asked the question of "Can machines think?" This is similar to Cumberbatch's personality, who has that insatiable curiosity and thirst for knowledge.
Turing was instrumental in changing the course of World War II by cracking the Enigma code, just as Cumberbatch is also crucial in bringing to life various characters that we only see in books. According to researchers, the two are actually more alike than ever because Cumberbatch is actually Turing's 17th cousin. What a coincidence, right? Did they know before they cast him for the role?
Bernie Mac | Dollar Bill (The Player's Club)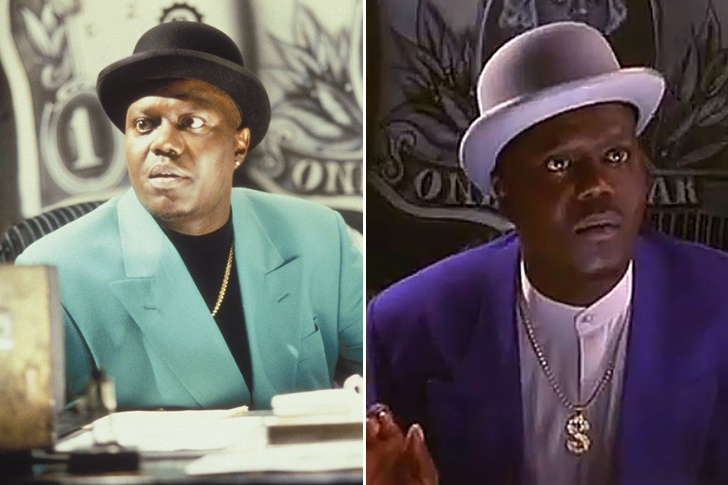 Bernie Mac gained popularity as a comedian, but his role in The Player's Club was that of a very profit-oriented club owner. This does not mean he had excellent money management skills, just that he was willing to extort the most money out of his club workers. This portrayal is arguable among the best the actor has done as it showed how Mac could handle drama, as well as comedy. He could also be a hero and a villainous character. In real life, of course, Mac was no antihero. If any, he is someone with an appreciation of hard work, being raised by a single mother.
The actor worked a variety of jobs including as a janitor, a coach, a cook, a bus driver, a deliveryman and a UPS agent. He also did comedy on weekends, which led him to appear on Def Comedy Jam. This break paved the way for him to be a star.
Bob Gunton | Warden Samuel Norton (The Shawshank Redemption)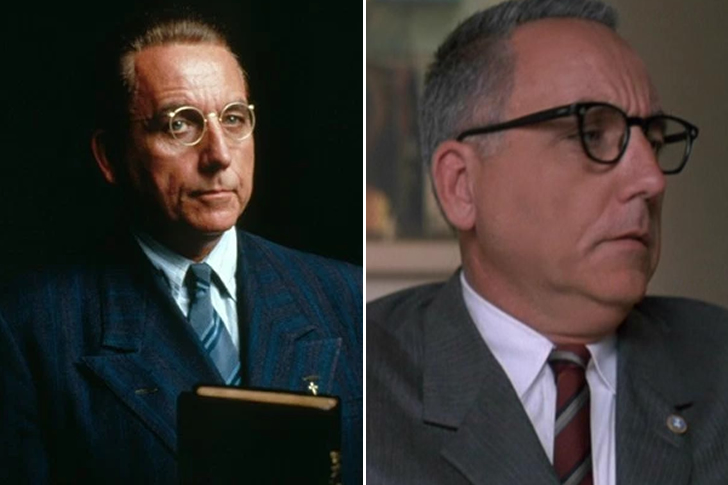 While The Shawshank Redemption was a box-office failure for earning only $16 million despite its positive reviews on initial release, we can say that it is among the best movies of Bob Gunton. In the film, he plays the role of corrupt prison warden Samuel Norton, who is involved in a money-laundering operation. As the movie's primary antagonist, he played the character well, that many would still feel hatred when seeing him even today.
The contrast is obvious when comparing the real Bob Gunton with Samuel Norton. First Gunton served in the military and showed love for his country–an exact deviation from what Samuel Norton was in the movie. Gunton was even given credit and a Bronze Star for coming back to the base to retrieve critical radio equipment during an evacuation during the Vietnam War, lest it falls into enemy hands.
Bolaji Badejo | Alien | Alien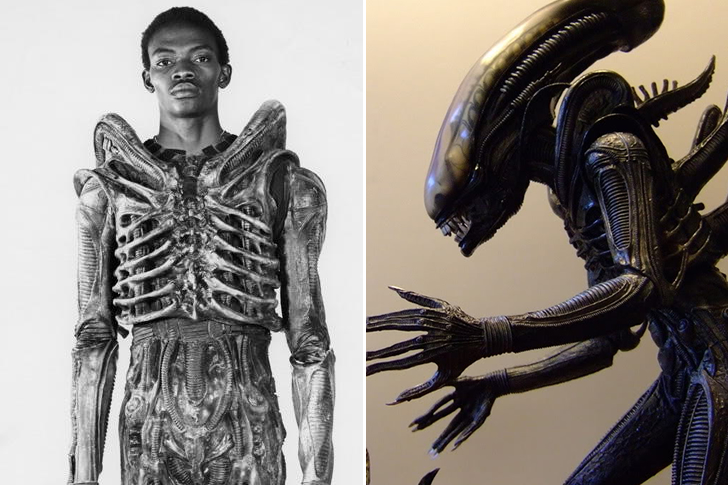 Bolaji Badejo does not really have any other film apart from Alien so we can say that this was his best and only portrayal. He played the titular character of the Alien in the movie. His character was aggressive and deadly, in stark contrast to the actor behind the character. Badejo studied graphic design before he became an actor. He was discovered in a pub by a member of Scott Ridley's team. It was the height that attracted them, considering he was a lanky 6'10" fellow.
The Alien actor never returned to reprise his role in any of the sequels and instead returned to Nigeria in 1980 to open an art gallery. His only film credit was the original movie. More than the role though, Badejo was praised for bringing the xenomorph to life, thanks to his rangy frame, which made him a perfect fit for the character. In the sequels, though, they used a combination of puppetry and animation, instead of having suit performers.
Brad Pitt | Benjamin Button | The Curious Case of Benjamin Button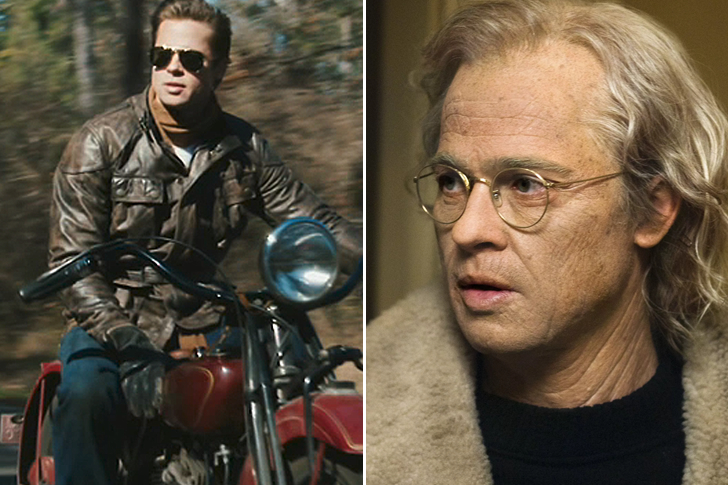 What we love about Brad Pitt is that he can very much play any character there is in Hollywood. He has played mostly hero roles, but he can also portray antagonistic characters. For many, they will consider his portrayal in the Ocean's trilogy as perhaps among his best. We argue, though, that it is actually his role as Benjamin Button that struck a chord with many in the audience. The movie shows a person who ages in reverse, Button, who showed constant love for Daisy Fuller, played by Cate Blanchett.
In real life, we can say the same for the actor. He has shown great compassion and love for his formers wives, Jennifer Aniston and Angelina Jolie. Sure, lawyers were involved later in to process the separation, but during their relationship, especially with Jolie, the actor has given his all. They even have six children together, adopting three of them.
Bradley Cooper | Phil Wenneck (The Hangover)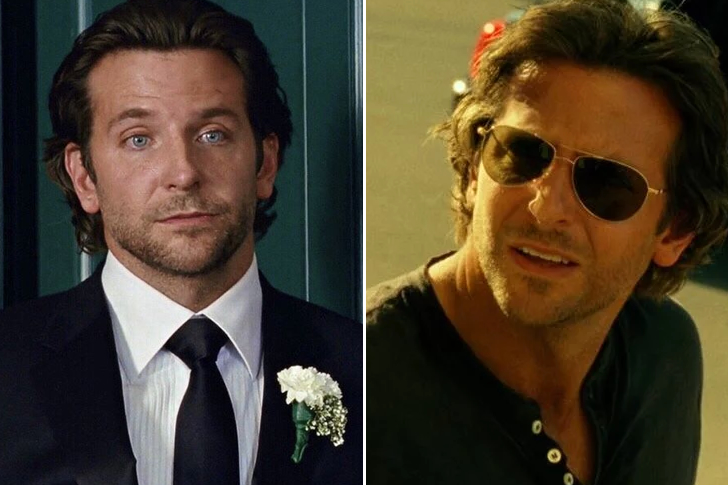 Many would not realize this, but Bradley Cooper is the voice behind Rocket Raccoon in the Marvel Cinematic Universe. This is not his best role though as we believe that he was at his best element in The Hangover. Playing the role of Phil Wennek, a selfish yet flamboyant man with an affinity for drinking and bachelor parties, Cooper was able to help bring the film financial success. Critics loved him and praised his performance too.
Cooper, in real life, however, is very different from the character in the movie. In fact, Cooper reportedly is among the few celebrities who does not drink or rarely drinks. He attends parties but stays sober most of the time. The actor is also not selfish and certainly does not blow gas, given that he is quite known to support several organizations. Like Phil though, he also loves his friends and expresses them in his own ways.
Brent McIntyre | Witch-King of Angmar (Fellowship of the Rings)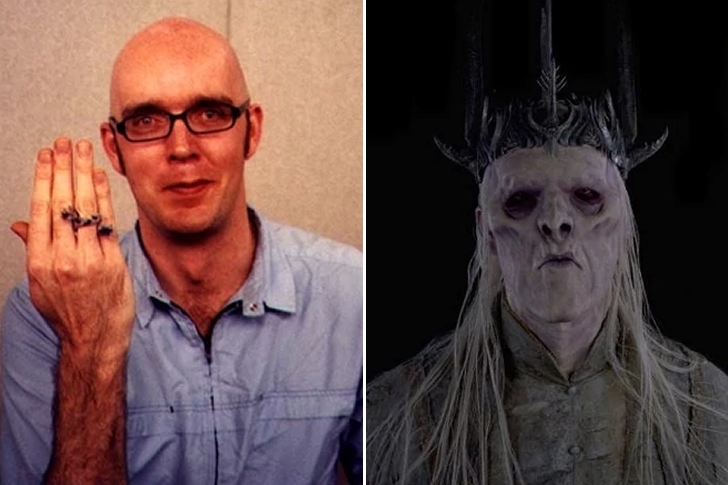 Brent McIntryre played the role of the Witch-King of Angmar in the Fellowship of the Rings. His character was noted for its Black Rider scenes and when he stabbed Frodo Baggins. The King of Angmar is a terrible being, even for Sauron's standard and their primary weapon is terror, a mace and a sword. Many commenters have said that the Witch King served as dangerous opponents, giving the heroes their moment to shine. Without a worthy opponent, after all, any protagonist would not be able to display his true skills and abilities.
This is very much like McIntrye outside of the big screen. He is a New Zealand librarian, and on that job, he is not the enemy, no, but he is able to help bring out the best in each and every student who brings out books from his collection of books. Knowledge, after all, is money and an investment towards the future.
Cameron Diaz | Elizabeth Halsey (Bad Teacher)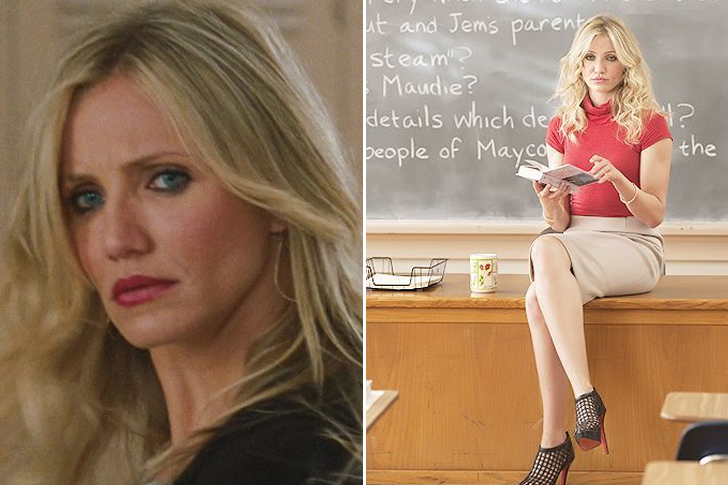 We all had that bad teacher we remember from either high school or college. When Cameron Diaz signed on for Elizabeth Halsey's role, she knew it would be different from her more usual roles in Charlie's Angels or My Best Friend's Wedding. Her role is that of a literal bad teacher who is out to embezzle money at any rate to fund a procedure. No, Halsey did not display good money skills considering her methods were rather unorthodox.
Diaz, however, is the opposite of her character in the movie. She has so far been a straight arrow when it comes to making money, working hard to earn from her various movies. The actress even revealed that growing up, the family was very frugal as they knew they were not privileged. They would usually collect soda cans for extra money, instead of getting personal loans, and that served as her inspiration to persevere.
Cara Delevigne | Princess Sorokina (Anna Karenina)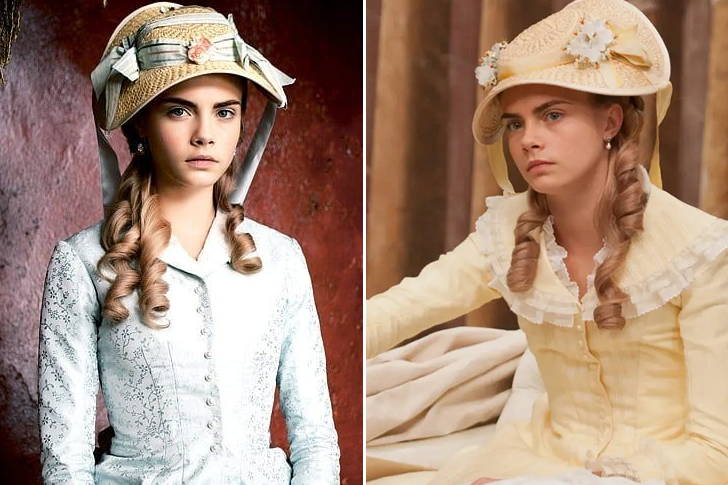 Playing a princess, or becoming one is perhaps at the top of every young girl's dream. As an actress, Cara Delevigne has that chance to be a princess character, and she did it in style. Delevigne, in fact, launched her acting career as Princess Sorokina in the historical movie, Anna Karenina. Her character was the love interest of Count Vronsky. Even though it was a minor role, it paved the way for the actress to get more projects, like Paper Towns and Valerian and the City of a Thousand Planets.
How is Delevigne though when not in front of the camera? She was raised in the high-society as her father was an accomplished real property developer. She was, by all means, a princess. The actress did have some difficulties growing up, and to a degree she struggled with living a normal life. Her acting and modelling career served as her reprieve from her many challenges. Delevigne is described as a fearless actress with incredible acting prowess by her directors and colleagues.
Cate Blanchett | Queen Elizabeth (Elizabeth)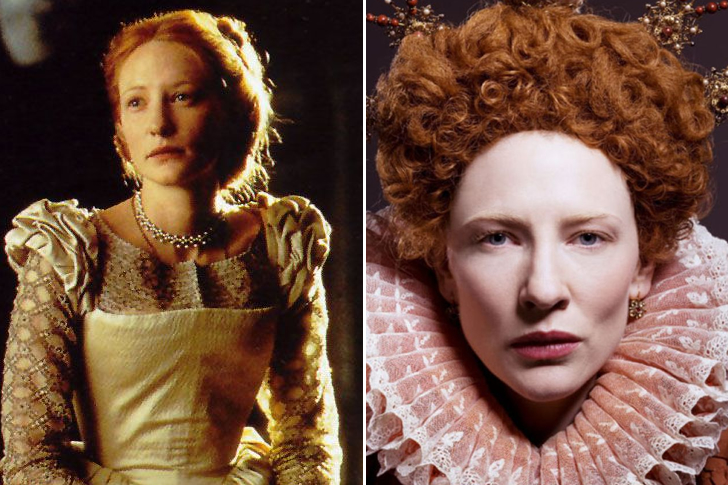 Cate Blanchett is a multi-talented actress known for taking on multidimensional characters. One such role was that of Queen Elizabeth I in the movie Elizabeth. Blanchett gives life to the character who has been known in history to have shunned her suitors, unimpressed by them. The queen never married but focused instead on fixing the broken kingdom she inherited. She was the constant subject of intrigue and attempted to end her life.
Blanchett, on the other hand, has married, unlike the Queen. She fell in love with Andrew Upton and married him in 1997, bearing him four children. Queen Elizabeth never had any children of her own. Like Elizabeth, though, Blanchett is also subject to intrigues and paparazzi although she has handled the infrequent issues thrown at her. She is someone who really cares about her privacy and most likely has the latest home security system in her house.
Catherine Zeta-Jones | Elena (The Mask of Zorro)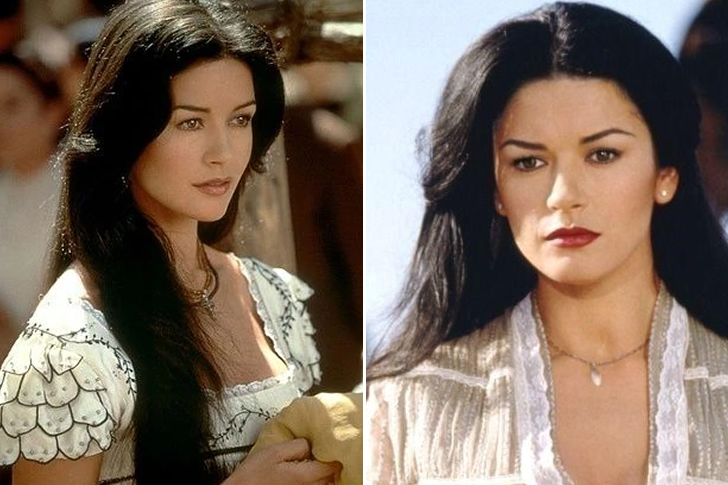 Elena, played by Catherine Zeta-Jones is the love interest of Zorro in The Mask of Zorro. This movie was widely praised for being fun and engaging, much like how Zeta-Jones is in real life. The movie served as the actress' breakout film, and it is this movie that her appeal to the audience was felt. Zeta-Jones also said that, to a degree, her volatile temperament was similar to that of Elena's.
The actress received accolades for her many works, including a Tony Award and an Oscars. The Mask of Zorro was followed by other commercially successful films like Ocean's Twelve and Intolerable Cruelty. Like Elena, Zeta-Jones has also fallen in love with her Zorro, Michael Douglas. They have two children together. Apart from having life in front of the camera, the actress is also active in philanthropic circles, supporting different charities and causes.
Chris Evans | Captain America (Captain America: The Winter Soldier)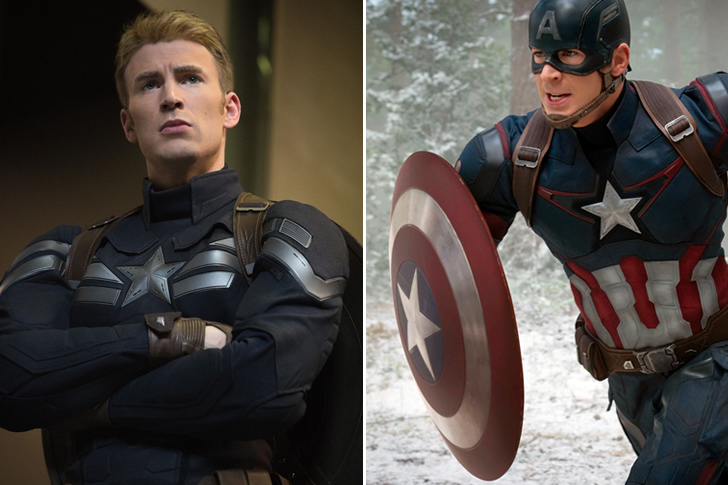 The role of Captain America arguably belongs to Chris Evans. The actor is no stranger to portraying hero roles, having been The Torch in the Fantastic Four movie. It is his characterization of Captain America though that made him a famous star–well, in addition to his toned body. Captain America is the hero created by Marvel. His alter-ego Steve Rogers is described as a frail artist who was enhanced by a serum to become a super-soldier.
Evans, however, needs no enhancement at all. When he took on the role, practiced hard to make the various fight scenes in the movie, including that iconic elevator fight. The actor also made investments in making his body healthy and muscular, something needed to make sure he could execute the fight sequences properly. The actor described The Winter Soldier as the movie that made him understand the character and get his feet off the ground.
Chris Hemsworth | Thor (Thor)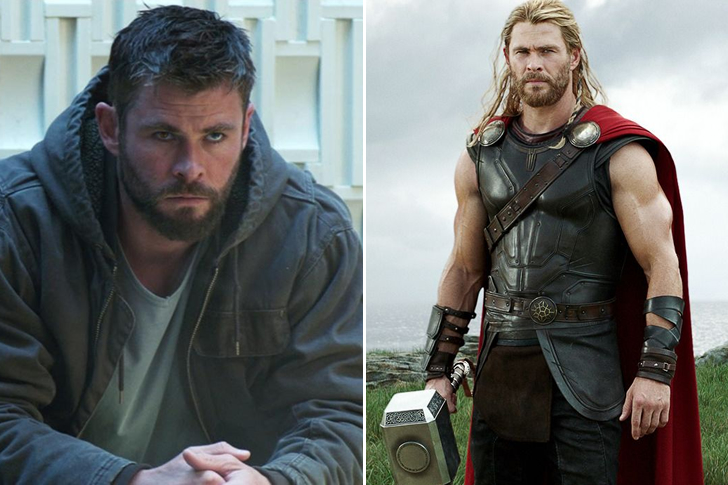 Having played Thor in a total of eight MCU movies, we can safely say that Christ Hemsworth did the role a great service. The character is central to the MCU and is the most powerful of the Asgardians. He is the hero to Loki's villain. The character is always in a battle with himself whether he is worthy of the hammer or not, and this has figured prominently in the movies. Hemsworth can be given credit for making an effort to bring this character to life from the comic books.
Like Thor, Hemsworth is a hero in his own right. He is a loving husband to his wife Elsa Pataky and their three children. Unlike the Asgardian though, there appear to be no self-battles with Hemsworth as he has always known his worth anyway. His physique has gained the attention of the media and has been the subject of frequent discussions, especially among fans. Capitalizing on that, he also created a fitness app called Centr.
Chris Pratt | Star-Lord (Guardians of the Galaxy)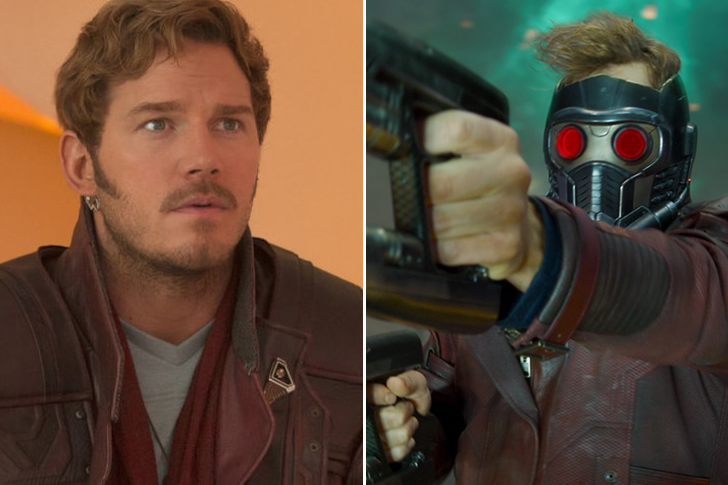 Mostly taking on TV roles at first, Chris Pratt had his big break on the big screen with Guardians of the Galaxy. Undoubtedly, this is where he was able to show his hero side, taking on the role of the half-human and half-alien Star-Lord or Peter Quill. Star-Lord is known for his extensive knowledge of various alien cultures and society. He also has a love interest in the person of Gamora.
Pratt had to lose 60 pounds to take on the role, which showed how much commitment he was given to the film production. He also signed a multi-movie contract, which for sure has been reviewed by his lawyers, to appear in other MCU movies. Pratt and Quill are alike in some ways because they both have one love interest only and never looked at another woman. For Pratt, this is Katherine Schwarzenegger, who he married in 2018. Pratt is also a deeply spiritual person.
Christoph Waltz | Hans Landa (Inglourious Basterds)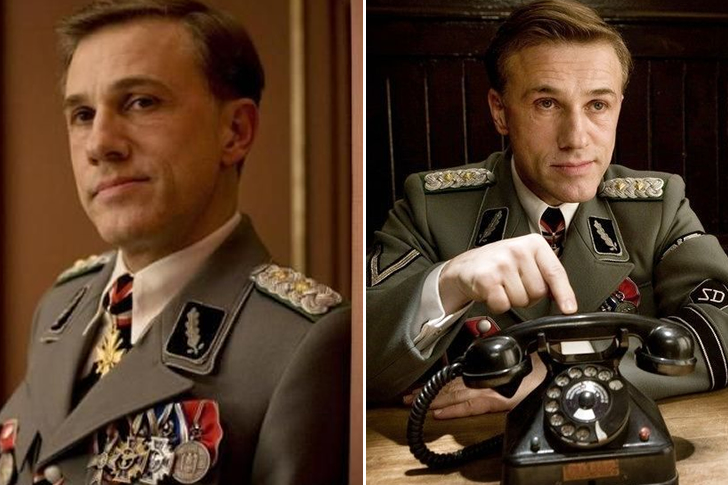 Christoph Waltz is a character actor who originally came from Germany but found relative success in Hollywood after his credit role as Colonel Hans Landa in the Quentin Tarantino film Inglourious Basterds. He played the petrifying villain with so much ease that many people would naturally associate him with such evil characters. In real life, however, the opposite cannot be more true. Indeed, Christoph is a loving husband to his wife Judith Holste, with whom he has a daughter.
Christoph is already incredible smart who can speak fluently in many languages, namely: German, English, French, and Italian. He's also quite versed in the arts, having studied singing, opera, and acting, where he was put under the wing of the famed acting coach Lee Strasberg and Stella Adler. Although it would be difficult to see him other than his menacing image, we take comfort in the fact that he's a wonderful family man who has provided a comfortable life for his family.
Christopher Lee | Saruman (The Lord of the Rings)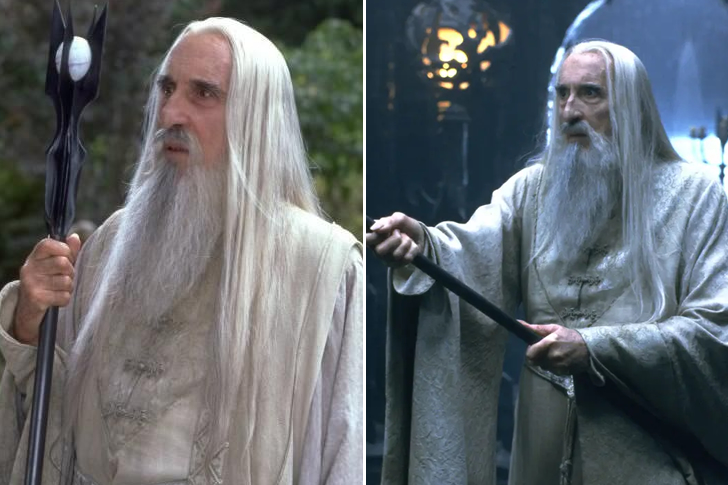 Sir Christopher Frank Lee was a veteran actor with a career that spans over seven decades. He was one of the most legendary actors of the 20th century with iconic roles such as Count Dracula in the Hammer Horror films and as Count Dooku in the Star Wars prequel trilogy. For younger audiences, however, he is perhaps best known for his credit role as the evil wizard Saruman in the blockbuster Lord of the Rings film trilogy.
He accurately portrayed the scheming and corrupted side of the powerful wizard, which made us both fear and hate him in all of the films. However, in real life, Saruman is very different from the real Christopher Lee. Prior to his acting career, he was a war hero who served in the Royal Air Force during World War II. He went through a lot that influenced him as a man and as an actor.
Cillian Murphy | Scarecrow (The Dark Knight)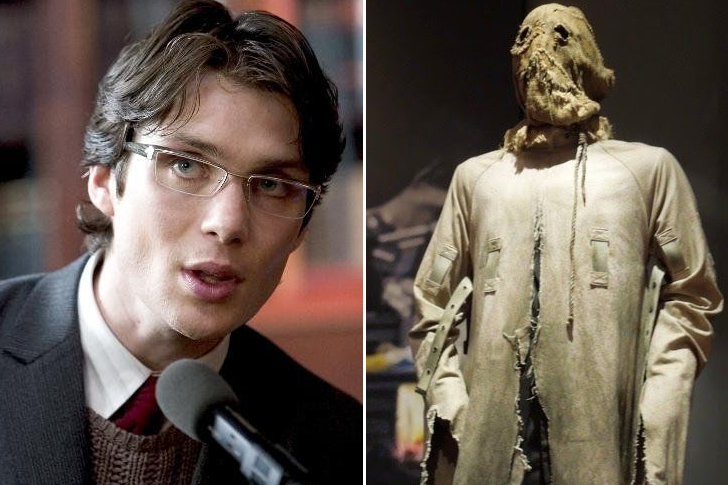 Cillian Murphy is as alluring as he is foreboding in the many villains and antiheroes that he has played in film and television. One such character that makes our blood run cold is his portrayal of Scarecrow in the Dark Knight trilogy, which was created by the box-office king Christopher Nolan. Indeed, as the so-called "Master of Fear", the terrifying character and Murphy's performance kept us all in edge throughout the film.
Perhaps it's a testament to Murphy's incredible talent that he was able to play such character because he is far from being a bad guy in real life. He is known for his various social causes such as his participation in the 2007 Rock the Vote campaign in Ireland, which targeted young voters to register for the general election. He also shuns away from the glamorous and lavish lifestyle that most celebrities have. As such, his Financial Advisor must be happy since Murphy certainly knows how to be frugal.
Daisy Ridley | Rey (Star Wars)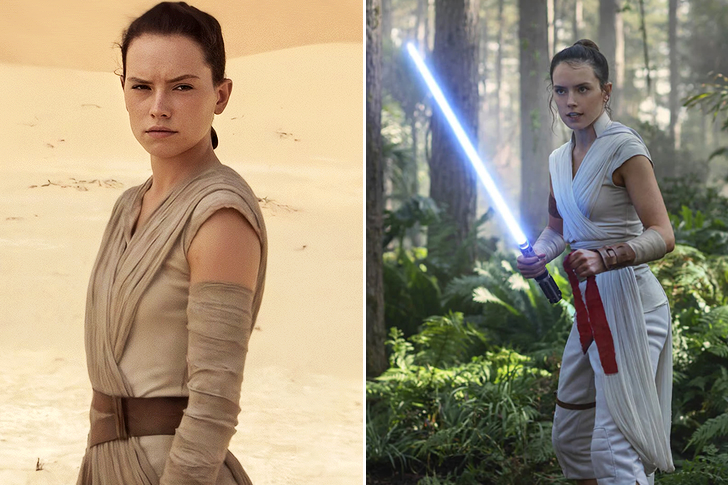 Daisy Ridley is one of the rising stars in Hollywood today. She has been making waves in the industry with films such as Ophelia, Murder on the Orient Express, and Peter Rabbit, among many others. However, it was her credit role as Rey in the iconic Star Wars movie franchise that she truly got a taste of Hollywood's limelight. Her performance was so effective in portraying the stubborn, optimistic, and headstrong protagonist. She did a great job in conveying a well-drawn character who's struggling with life.
Indeed, the reception to her performance has been highly positive, and has garnered numerous recognitions for Ridley, including two Saturn Award nominations. In real life, Ridley's character is not too far from her. She is a brave and hopeful individual who doesn't let adversities get the best of her. We're quite fortunate to have witnessed her rise to success and we can't wait to see more of her in the future.
Daniel Cudmore | Colossus (X-Men)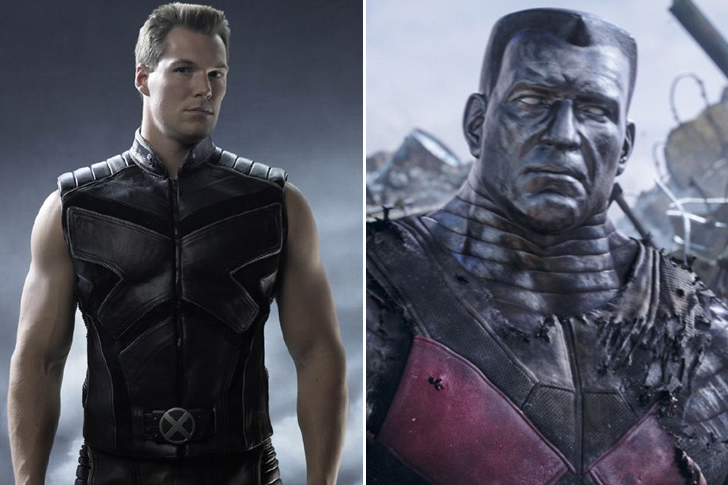 Daniel Cudmore is a talented actor and stuntman who is best known for his credit role as the indomitable superhero Colossus and his alter ego Peter Rasputin in the hugely successful X-Men film franchise. Moreover, he appeared in another blockbuster film as Volturi Felix in beloved The Twilight Saga film series. Thanks to his incredible and bulky physique, he easily fits into roles that require his badass action skills.
His portrayal of Peter Rasputin and Colossus has been well-received by critics and ordinary moviegoers alike. Even though we can't really see his face as Colossus is perpetually in metallic form, his fluid body movements and agility are a testament that actors don't only act with their face but with their bodies as well. In addition to his physical attributes, Daniel Cudmore has also done well in showing the quiet, honest, and virtuous side of his character.
Daryl Hannah | Elle Driver (Kill Bill)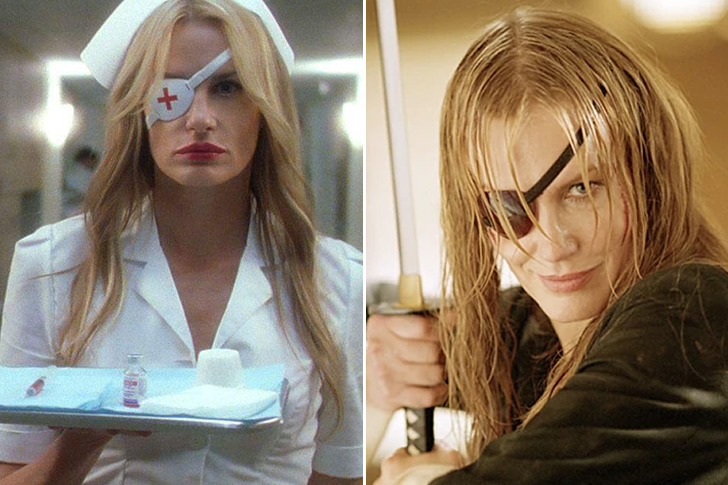 When we're talking about badass female characters, it's really hard to miss the exceptional work of Daryl Hanah as the one-eyed assassin named Elle Driver in Quentin Tarantino's masterpiece Kill Bill, for which she won a Saturn Award. She's also widely regarded for her other movie credits such as The Fury, Blade Runner, Splash, Steel Magnolias, and Wall Street, among many others. She also appeared in the Netflix series Sense8 in 2015.
Far from her on screen persona, Daryl Hannah is actually a caring and compassionate person. She is a well-known environmental activist who has her own weekly video blog called DHLoveLife, which talks about different sustainable solutions for the environment. She is also an advocate for solar power and other green materials. In fact, she drives a car that runs on biodiesel and has been a vegetarian since she was 11 years old.
David Carradine | Bill (Kill Bill)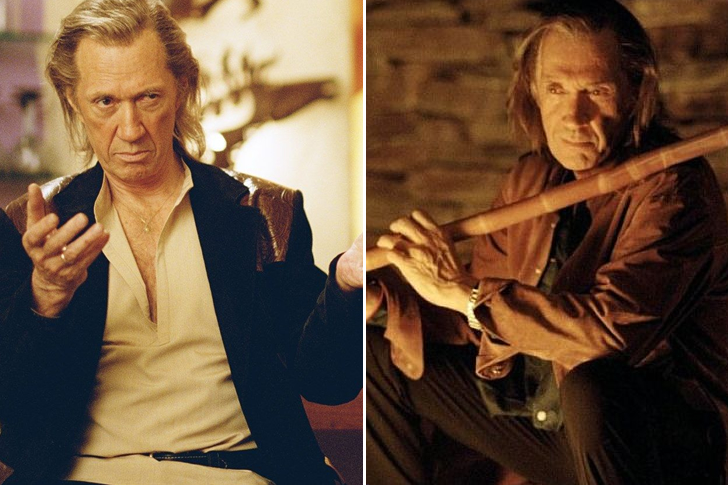 David Carradine was one hell of an actor. He was widely regarded to be one of the most iconic actors who are known for their martial arts roles. He first rose to stardom when he became the leading actor for the 1970s TV show Kung Fu, for which he received numerous recognitions such as an Emmy Award and Golden Globe nominations. However, he finally became a household name when played the credit role of Bill in the Quentin Tarantino magnum opus Kill Bill, for which he also won the Saturn Award for Best Supporting Actor.
Some people might think David Carradine was the type of person that will make you break out in a cold sweat, but David was actually a sweet and easygoing person who is known for his affable personality. In fact, during the last years of his life, he mentioned in an interview that the only way he keeps his mind sane is by eating a good diet and having a youthful circle of friends.
David Prowse | Darth Vader (Star Wars)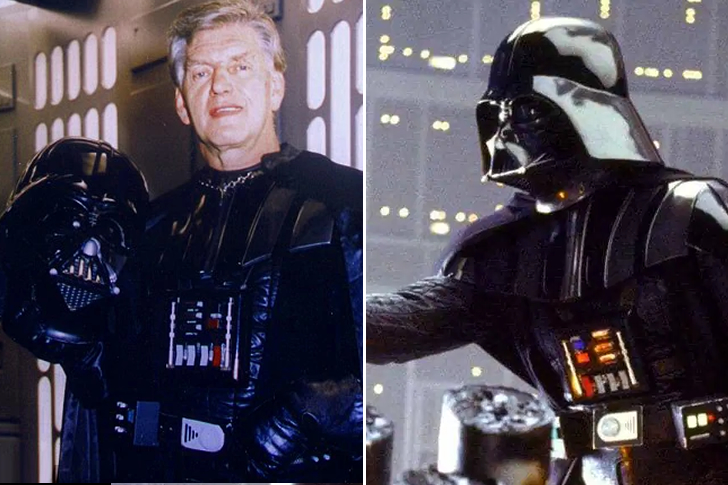 It's hard to find someone who is as iconic as this actor. David Prowse is a British actor who is best known for his credit role as Darth Vader in the hugely successful Star Wars movie franchise. He is also popular for his appearance as a manservant in Stanley Kubrick's A Clockwork Orange. He is widely regarded for bringing a unique physicality and intensity to Darth Vader that was instrumental to the success of the film.
Far from his role, however, David Prowse is one of the sweetest cast members of the entire film franchise. He was known for regularly attending fan convention, where he delights and entertain the fans of the character and the film. Moreover, people might be surprised to learn that David was also a weightlifting champion who won the prestigious British heavyweight weightlifting championship in 1962.
Declan Mulholland | Jabba the Hutt (Star Wars)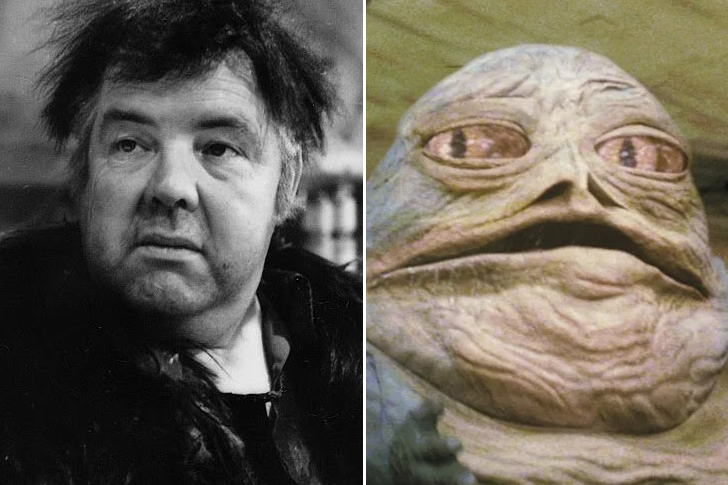 Declan Mulholland was another iconic character actor on the list who rose to international stardom for his involvement in the Star Wars movie franchise. He was also widely regarded for his numerous appearances in the television series Doctor Who. His other movie and television acting credits include his debut film H.M.S. Defiant, The Land That Time Forgot, The Bill, The Onedin Line, and Quatermass.
Interestingly, diehard Star Wars fans might be shocked to discover that Declan Mulholland wasn't supposed to be included in the final version of the original film. He first played a human version of the iconic character Jabba the Hutt, but the scene was deleted in the final cut. Fortunately, George Lucas decided to reinsert the scene for the film's 20th anniversary re-release in 1997. Declan Mulholland did a great job in embodying the "vile gangster" persona of the character, and we're happy that he was the one chosen for the role.
Demi Moore | Madison Lee (Charlie's Angels)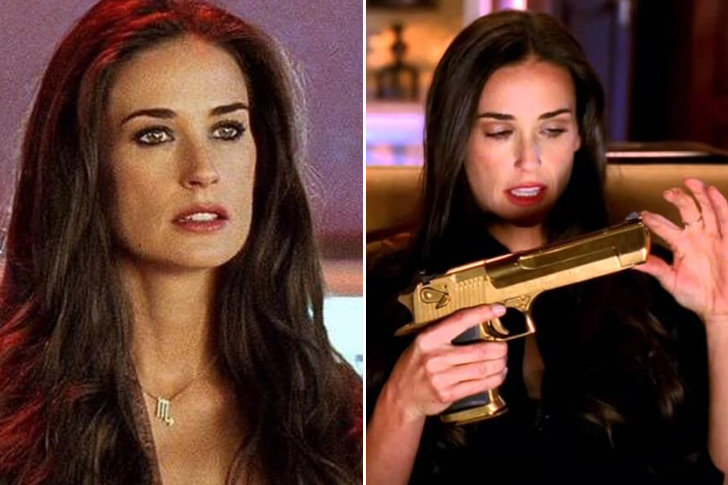 Demi Moore is one of the most talented and beautiful actresses in Hollywood. She was very prominent during the 1990s where she got involved in a string of blockbuster films such as A Few Good Men, Indecent Proposal, Disclosure, Striptease, and Ghost, for which she earned a Golden Globe nomination. She is also one of the highest-paid actresses in film history who at one point received an unprecedented $12.5 million to star in a single film.
She is undoubtedly talented as she can play diverse roles from a virtuous and unsuspecting lawyer in A Few Good Men to a badass and swashbuckling villain in the extremely successful film Charlie's Angels. It comes as no surprise, then, that Demi Moore is just as brilliant in movies just as she is in real life. One of the most admirable things about her is her impressive investments, which include a $7 million penthouse in Central Park, New York.
Diane Lane | Martha Kent (Superman)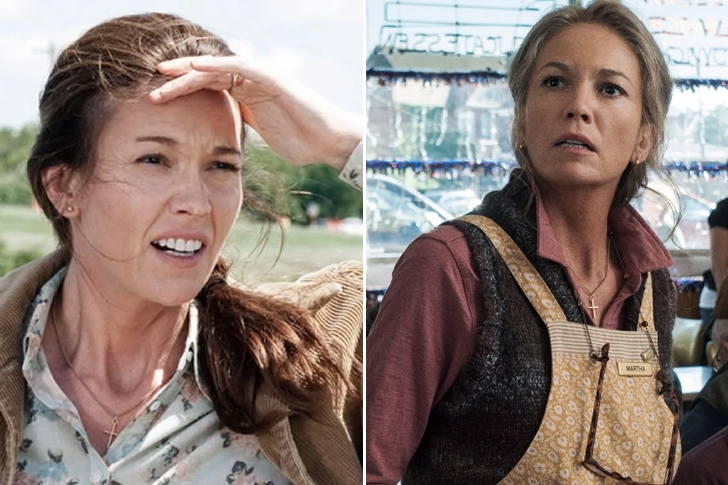 Diane Lane is one of those actresses who can pluck the strings of our heart, while captivating us with their elegance and undying beauty. Indeed, Diane belongs to the pantheon of the most talented and gorgeous actresses in the history of Hollywood. She has starred in numerous critically acclaimed films such as Knight Moves, Under the Tuscan Sun, Secretariat, and Unfaithful, for which she earned a Satellite Award, a New York Film Critics Circle Award, and a National Society of Film Critics Award.
However, she proved to the public and critics alike that her talent as an actress is not limited to dramatic roles. She has shown us that she also has a flair for action and superhero films when he accepted the credit role of Martha Kent, the mother of Clark Kent, in the Superman film franchise. She was perfect for the role as she showed the incredible wisdom of the famed superhero's mother.
Don Cheadle | War Machine (Avengers)
Don Cheadle is a talented individual who can wear multiple hats at the same time. He is an actor, director, writer, and producer who has been involved in numerous major films such as Devil in a Blue Dress, Rebound: The Legend of Earl 'The Goat' Manigault, Boogie Nights, and Rosewood. He is also widely regarded for his portrayal of the Rwandan hotel manager Paul Rusesabagina in the historical film Hotel Rwanda, for which he earned an Academy Award nomination for Best Actor.
However, even though he was already an established actor, it wasn't until he got the credit role of War Machine in the overly popular Avengers movie franchise that he truly rose to international stardom. He did an excellent job in portraying the best friend of the tech genius Tony Stark, and for his amazing action skills whenever his character transforms into an Iron Man-like persona with much heavier armor and weaponry.
Drew Barrymore | Dylan Sanders (Charlie's Angels)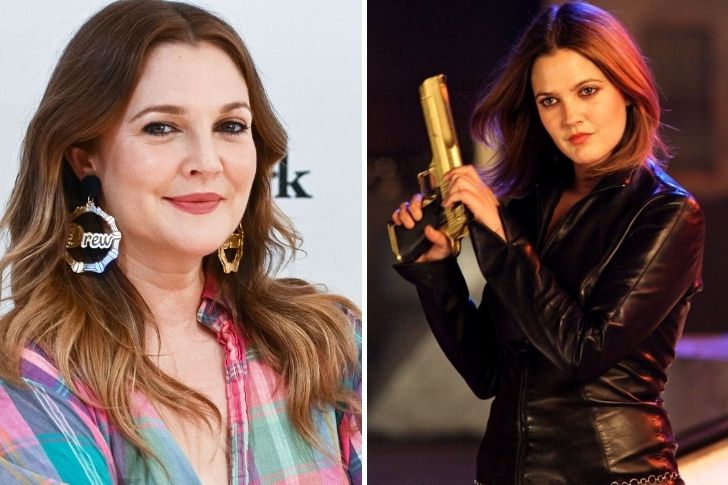 Drew Barrymore is one of the most famous actresses in Hollywood who is known for her sweet and bubbly persona. Aside from being an actress, she is also a producer, director, talk show host, and a businesswoman. She first got a taste of fame as a child actress in the iconic film E.T. the Extra-Terrestrial. Her other movies include Poison Ivy, Boys on the Side, Batman Forever, Scream, and 50 First Dates. However, she truly entered the spotlight when she played Dylan Sanders in the action flick Charlie's Angels.
Her enormous success in the industry isn't so surprising, considering that she came from a prominent family of actors and actresses that stretches all the way from the 19th century. What makes her even more wonderful, however, is that she's not only great at acting but in business as well, as can be seen in her numerous investments and business ventures such as a clothing line called Dear Drew.
Dwayne Johnson | Luke Hobbs (Fast and the Furious)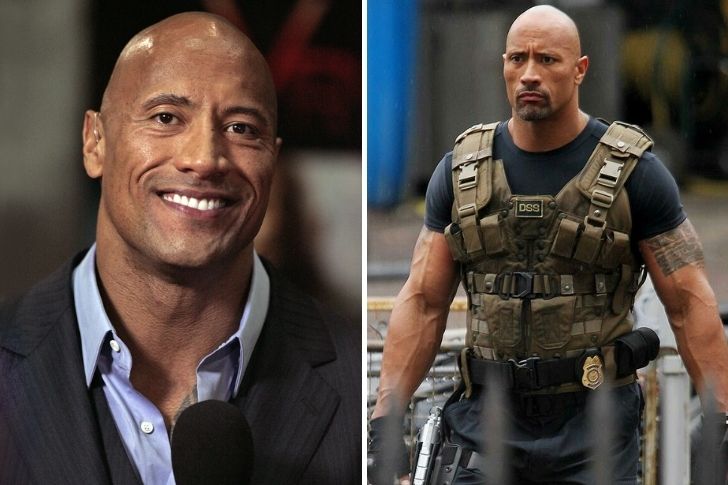 The enormous success that Dwayne "The Rock" Johnson enjoyed in his career is truly inspirational. From his humble beginnings as a WWE wrestler, he is now one of the highest-paid and most recognizable actors in the industry today, whose films have grossed billions of dollars worldwide. His first leading role was in the box-office hit The Scorpion King, but it was soon followed by a string of even more successful movies such as Journey to the Mysterious Island, G.I. Joe, Hercules, San Andreas, and Jumanji, among many others.
However, it was his credit role as Luke Hobbs in the exceptionally renowned movie franchise Fast and the Furious that his legacy as an actor was solidified. Indeed, he is even included in Time Magazine's 100 Most Influential People in the World list, which only goes to show how far he has gone in his career.
Elizabeth Olsen | Scarlet Witch (Avengers)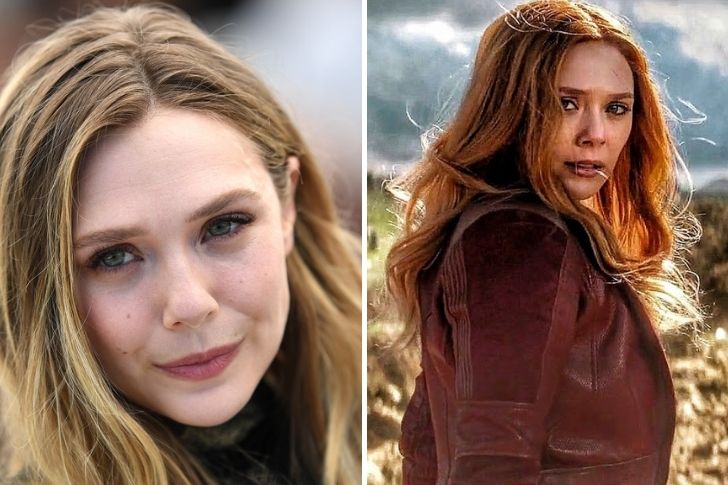 Elizabeth Olsen is another rising star on the list with a very bright future ahead of her. She was first known in her breakthrough role in the independent film Martha Marcy May Marlene, for which she was nominated for a Critics' Choice Award. This was followed by a string of critically acclaimed films such as Silent House, Liberal Arts, Oldboy, Godzilla, and Wind River.
However, she finally achieved international recognition when she embraced the mainstream movie world with her credit role as Scarlet Witch and her alter ego Wanda Maximoff in the Avengers movie franchise. Interestingly, her character is said to be one of the most powerful superheroes in the entire Marvel Universe, which we think fits Elizabeth perfectly as she is known for her strong personality. Recently, she reprised her role as Wanda Maximoff in the Disney miniseries called WandaVision.
Ella Balinska |one of Charlie's Angels (2019)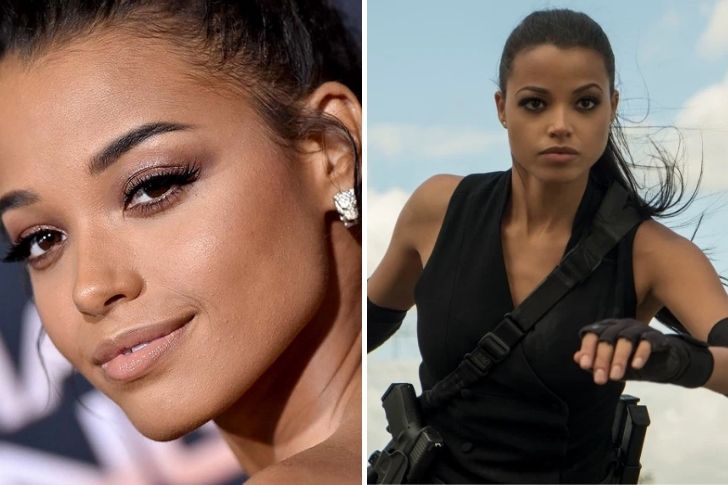 Ella Balinska is indeed one of the most talented actresses of her generation and there is no doubt that she will become a big name in Hollywood for many years to come. What makes Ella so attractive is her amazing array of skills that she possesses on and off camera. She is often seen portraying heroine roles and it's not that hard to imagine her as a heroine in real life too. Ella is trained in the use of 12 different weapons, 13 if you include her hand-fighting abilities, which makes her a deadly force as an actress and as Ella herself. Some of the weapons that she is capable of wielding are a knife, single sword, double sword, gladius, axel shield use, broadsword, short staff, and long staff.
She was also one of the original actresses that auditioned for the role of "Catwoman" in The Batman in 2011 but lost to Zoe Kravitsz. All seems well, however, as Ella is one of the latest actresses to get the right to call herself a Charlie Angel. To her credit, she's worked hard and her dedication has finally paid off.
Elliot Page | X-Men – Kitty Pryde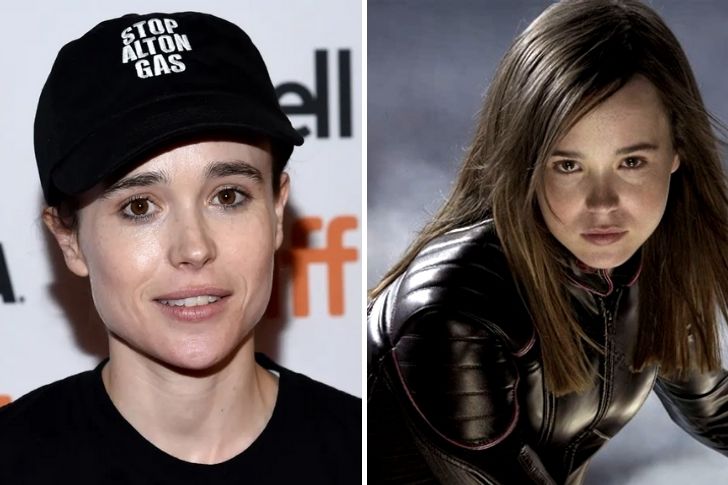 Elliot Page was formerly known as Ellen Page before officially coming out in 2020 as a trans. The actor had been struggling with genre crisis for many years and is relieved to be able to reach such a milestone in his career. As for acting chops, one of Elliot's most iconic roles in television was said to be his portrayal of Kitty Pryde in the famed X-Men movies. The actor was an amazing actress before coming out as a trans and some people would even say that he was born to play Kitty Pryde back in the day.
However, as many people know Elliot is as cool and deductive in real life as he is on camera, much like his famous Kitty Pryde role. Fans are excited to see what's next for the actor as he is now a very different investment as a celebrity to productions than who he once was.
Emilia Clarke | Game of Thrones – Daenerys Targaryen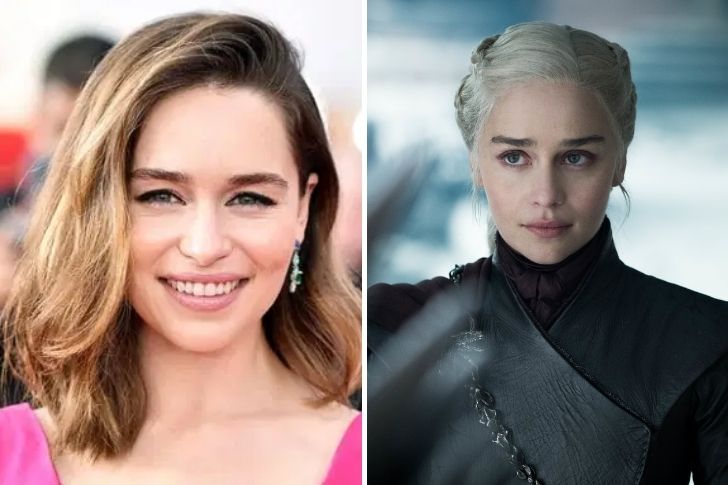 It's no surprise that Emilia's career skyrocketed to famed when she got cast as the infamous Daenerys Targaryen in the highly-successful series, Game of Thrones. The series is set in medieval time where nobility spread across seven kingdoms fight to take control of the Iron Throne. Emilia's portrayal of Daenerys is one of the most brilliant performances we've seen in a while and her embodiment of the iconic role isn't limited to the camera as she also lives a life like Daenerys.
Emilia's house in Venice, California is even said to be a home fit for Daenerys Targaryen and that makes the character even more like Emilia. What makes her take the character portrayal to such a degree isn't only because of her talent but due to her love for Daenerys Targaryen herself. Emilia's talent in giving life to the role is second to none and she will always be remembered as the woman behind Daenerys Targaryen.
Ezra Miller | DC Universe – The Flash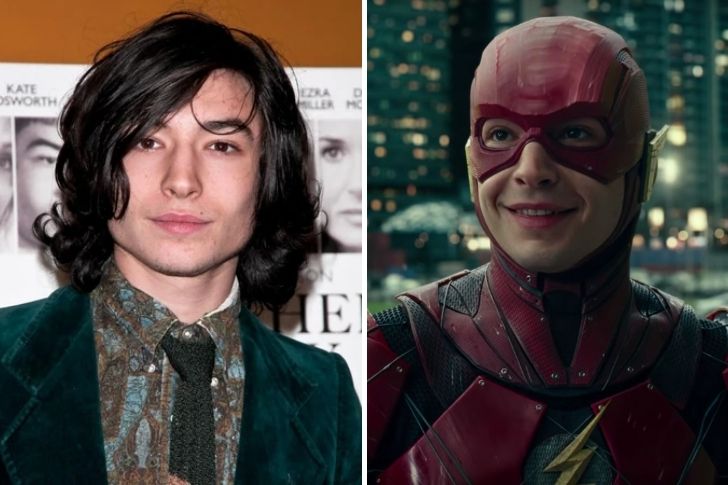 Ezra Miller is an American actor that's responsible for taking up the mantle of being the latest Flash. His breakout movie into the role happened with the release of Justice League and since then, his quirky and awkward demeanor has been to the character many times. It's ironic to think that someone like Ezra would be able to give such a unique twist to The Flash's personality as the hero was always known to be sarcastic, a fast-talker, and somewhat arrogant.
However, just like The Flash's superspeed doesn't care what kind of flooring you have, Ezra has also taken the character to new heights. Indeed, fans are excited to see what kind of performance Ezra will give in the upcoming Flash movie and who might make a cameo appearance with him. The production behind the new Flash movie is reported to start filming in April of 2021.
Famke Janssen | X-Men – Jean Grey / Phoenix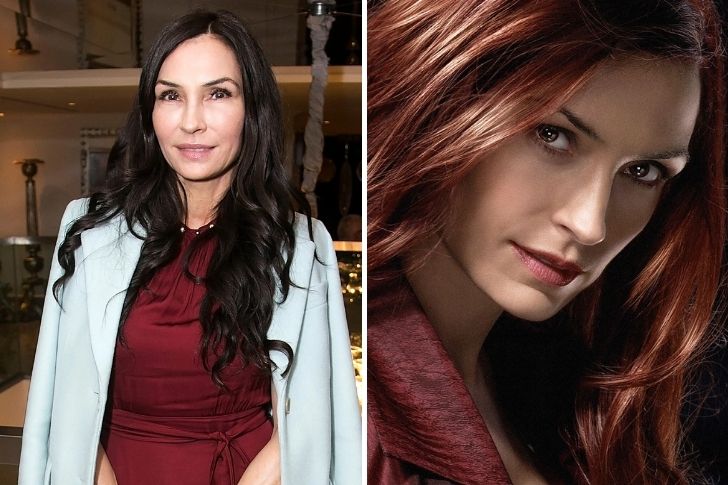 Famke Janssen is one of the most famous Dutch actresses in Hollywood to date for her portrayal of Jean Grey in the classic X-Men movies, and the skillful expression of the character doesn't stop on the big screen. Famke is said to live a life much like Jean Grey where she is known to be highly intelligent, seductive, and somewhat deducing of the people around here.
While she does have a reputable background in modelling, she does take credit in knowing the right faces to show to people whenever she wants to get certain kinds of attention. Without a doubt, Famke's talent in adding flavor to Jean Grey's personality is unrivalled and fans are hopeful for a comeback movie where she gets to play the character again. Famke even said that she was open to the possibility of reprising her role as Jean Grey in the Marven Cinematic Universe.
Gal Gadot | Wonder Woman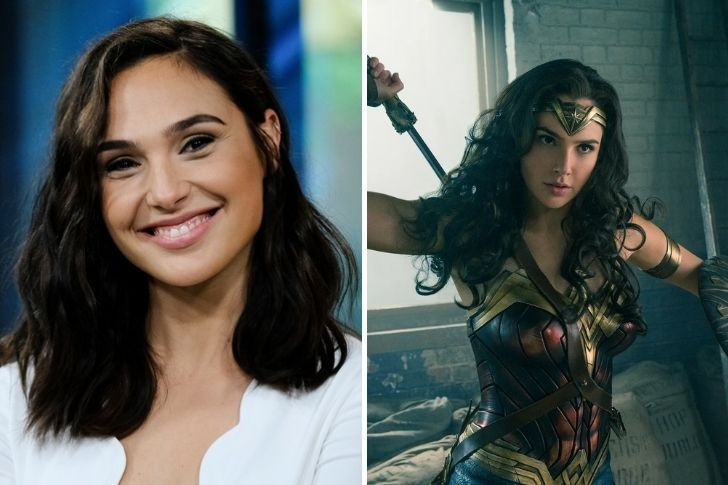 Gal Gadot is an Israeli actress that is famous for portraying the role of Wonder Woman in the latest iteration of the franchise. Many people shamed Gadot for not having the "frontal assets" to play the character, however, she proved everyone wrong with the debut reveal of Wonder Woman in Justice League and then her standalone film which came after.
Gadot is also an Israeli soldier and won Miss Israel when she was 18 giving her traits and achievements fit for a princess of Themyscira in real life. Gadot's personal advocacies towards various causes also give her the right to call herself the only woman capable of giving justice to Wonder Woman on camera. With all her success, Gadot takes credit for not only having the strength and power of a Goddess, but has the heart and mind of a human.
Gary Oldman | Darkest Hour – Winston Churchill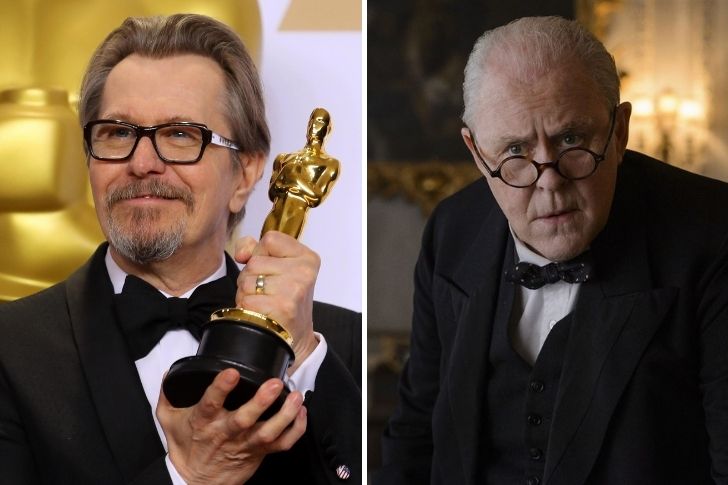 Gary Oldman is an English actor and film director that takes credit for some of the most iconic performances in Hollywood. However, the character that he relates to the most is his role as Winston Churchill in the movie, The Darkest Hour. It's obvious that because of Oldman's talent in making people really believe the ideologies and beliefs of Churchill in the movie, he needed to get recognition.
As a result, Oldman bagged his first Golden Globe award for the outstanding performance he gave in the movie. As a celebrity, Oldman also shares the prestige and prominence of Churchill which is one of the reasons why he deserved to win the award. There aren't many actors out there who are as capable of providing convincing performances to real life characters in movies and Oldman is one of the few who actually did it without breaking a sweat.
Geoffrey Rush | Pirates of The Carribbean – Hector Barbossa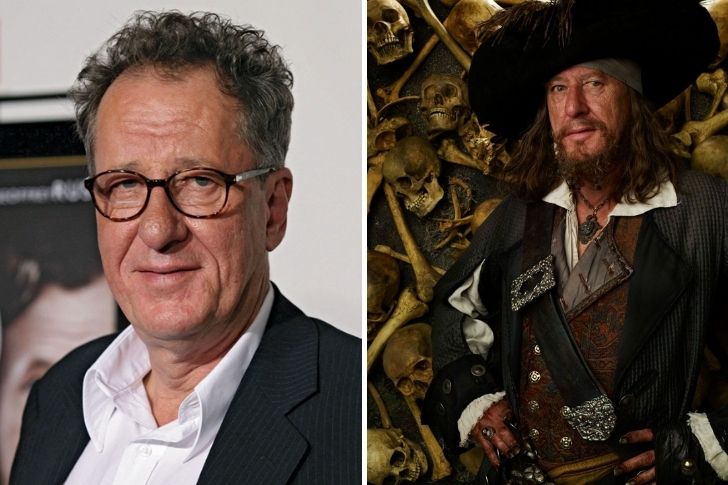 It is said that if Johnny Depp's Captain Jack Sparrow is the face and the energy of the franchise then Geoffrey Rush's Captain Hector Barbossa is the soul and the depth that emulsifies the enforcement of the pirate code. Geoffrey first gained the chance to show off his acting skills after being portrayed as the villain in the first movie, The Curse of The Black Pearl, to which he gave a fantastic show of artistic talent and versatility.
Geoffrey would then reprise Captain Barbossa in the next few films with a variety of different angles. He can definitely pull of saying that he's an actual pirate captain in real life with his deductive, calm, and analyzing personality, much like his famous character. Geoffrey definitely offered all of his talents as an investment to take the character's value even higher that what it originally had and fans love him for that.
George Clooney | Ocean's series – Danny Ocean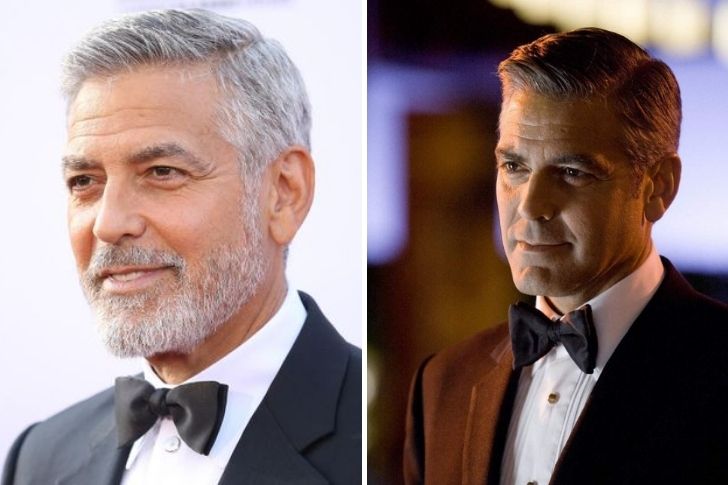 George Clooney is one of Hollywood's most prized actors with dozens of blockbuster movies under his name and has garnered several awards and accolades throughout his career. One of Clooney's most famous roles is his flawless performance as Danny Ocean in the Ocean's series where he plays a high-profile criminal. Danny Ocean is a thief that put together a timely group of talented individuals to pull of the greatest heists in history.
The character is seen as someone who is highly intelligent, analytical, deductive, and doesn't allow any errors that might hinder his plans. Clooney also shares some of the traits and characteristics of Danny Ocean and is also few of the many reasons why he was made to play the role. Nothing can be taken away from Clooney as he has proven himself time and time again as one of the most talented and versatile actors in the business which he rarely takes credit for despite his extensive list of achievements.
Gerard Butler | 300 – King Leonidas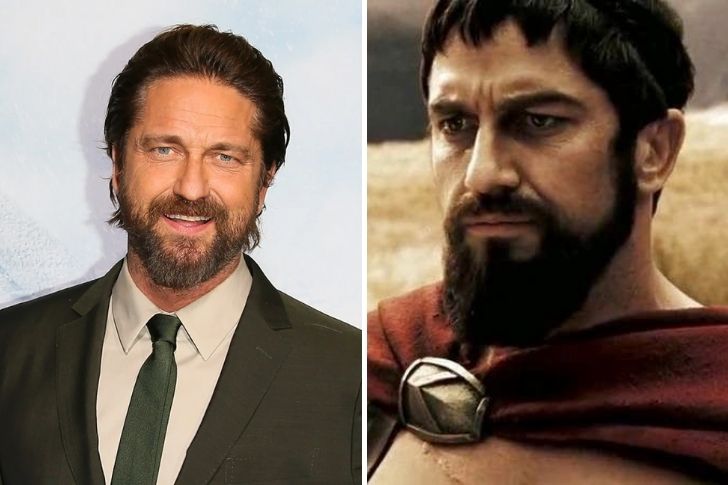 Gerard Butler is a Scottish actor that is famous for giving a stellar performance to the role of King Leonidas in the movie, 300. King Leonidas is the fierce ruler of Sparta that went on to fight against the Persian King Xerxes with his army of 300. The movie is a household name in Hollywood is one of the best movies to show to a friend who loves war history.
Gerard Butler can also take credit for giving off kingly characteristics whenever he's not acting on camera, which is why he was made to play the ruler of Sparta. The movie was made to look brutal, vividly induce fear, and downright harsh when it came to themes related to family and warfare. Gerard impressed everyone with his seamless transition from Gerard to King Leonidas whenever he went on set and set many standards for current celebrities to live by.
Grant Gustin | The Flash Series – Barry Allen/Flash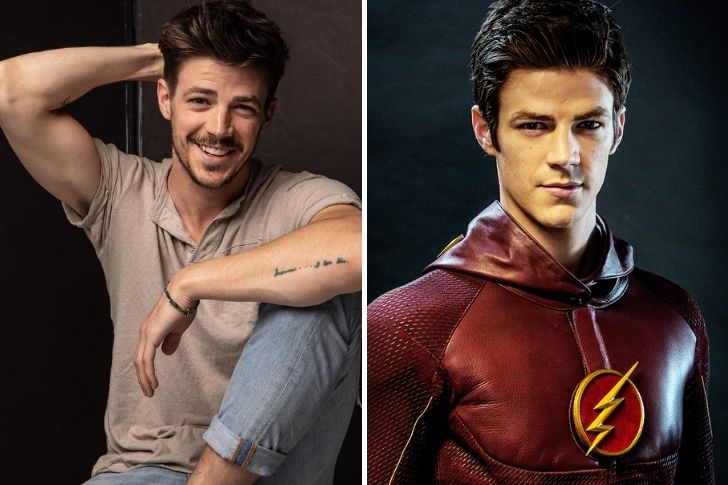 Grant Gustin is a well-known actor that gained worldwide recognition for his character portrayal of Barry Allen a.k.a "The Flash" in the hit CW series, The Flash. Unlike his movie counterpart, Ezra Miller, Grant is the fundamental embodiment of The Flash that is sarcastic, arrogant, and makes risky decisions despite being extremely intelligent. The fast-talking superhero was definitely taken to a degree comparable to the animated version by Grant and fans love him dearly for his talent and dedication.
A superhero character's fame and popularity is only limited by the capabilities of the actor/actress playing it and Grant has proven that his acting skill is second to none when it came to the streamlined red speedster. Grant was recently seen sporting his iconic Flash costume in on the set of The Flash in Vancouver and media outlets were delighted to see the actor suit up even after his wife's pregnancy announcement.
Gwyneth Paltrow | Iron Man – Pepper Potts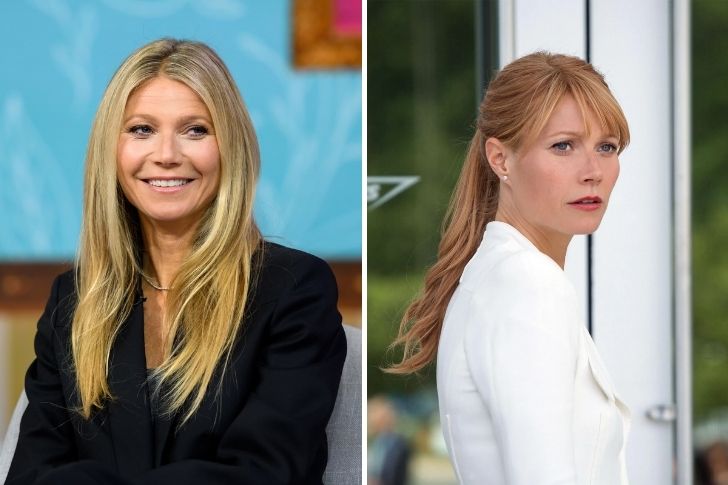 Gwyneth Paltrow is the American actress behind the quirky, reliable and seductively intelligent partner of Tony Stark, Pepper Potts. In the movie, Pepper was openly seen as a lady with class and elegance with a bit of awkwardness. However, when things got serious, Pepper went as far as to don her own Iron Man suit and fought against the army of Thanos in the Avengers. Indeed, Pepper is a character that is relatable to many empowered and independent women today.
As an accomplished actress herself, Gwyneth also shares much of the same personality that Pepper showed on the big screen. To put in perspective, Gwyneth founded her own company called "Goop", which is a luxury lifestyle brand that is at the center of a trillion-dollar industry. The company focuses on women who want more than just the first and second opinion of their Doctor's and aims to help women realize their true value as females.
Halle Berry | X-Men – Storm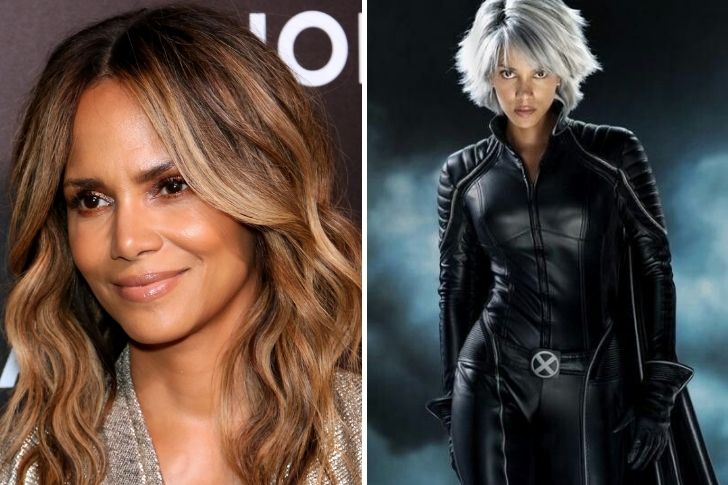 Halle Berry is an African-American actress that takes credit for the first woman of her culture to snag an Academy Award and since then, she's become a huge success on and off camera. Some of her most famous roles in movies include her performances in Catwoman, Monster's Ball, Swordfish, Die Another Day, Gothika, and perhaps her most famous movie, the X-Men franchise. In the comics, one of the famous original members of Charles Xavier's iconic ensemble of heroes is Storm, who was a mutant that could control the weather.
Storm is classified as a Type-3 Mutant and many people raved about Berry's accurate depictions of the character in the movies. Some of the reasons that proved Berry was made to play the role was her flawless display of Storm's god-like powers in the movies and diehard fans of the comics had no complaints about her acting during fight scenes.
Hayden Christensen | Star Wars – Anakin Skywalker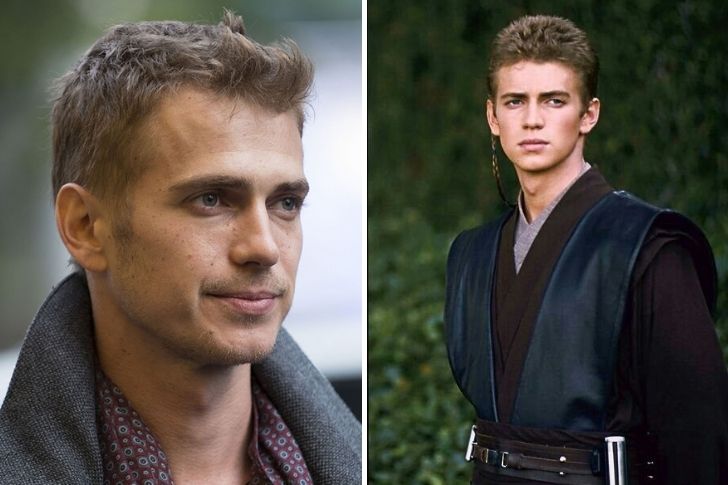 Hayden Christensen is famous for a wide variety of roles throughout his career and continues to remain as an investment towards future projects as his resume gets decorated with more roles. However, Hayden's most famous role was probably his portrayal of Anakin Skywalker in the Star Wars franchise. The actor gained international fame almost overnight after blessing the fans with his handsome face and genuine personality in the film. Anakin's part in the movie was only overshadowed by equally important characters such as Queen Amidala, Obi-Wan-Kenobi, and Yoda.
No one can take Hayden's performance of Anakin away from him and can definitely boast about the movie for many years. It also helped that Hayden was already halfway into the role because of the similarity between his and Anakin's natural personality. As a result, acting the role out was a cinch for the Canadian actor.
Heath Ledger | The Batman (2008) – Joker
Heath Ledger is an Academy-award winning Australian actor that is famous for his roles in movies such as Brokeback Mountain, 10 Things I Hate About You, and probably his most iconic role, Joker in The Batman. However, Ledger allegedly died of drug overdose after his time in playing the Joker in the franchise and some reports even said that the actor got depressed from playing the character too seriously.
Whether this news was true or not, fans saw the talent and skill that Ledger showcased in the movie and critics even said that the actor's portrayal of the character was one of the best versions of the iconic villain. Part of the reason why Ledger gave such a flawless performance as Joker was because he shared the same energy whenever he wasn't acting. The world may never know what really happened during Ledger's last few moments but one thing is for sure, he can take credit for being one of the best Joker villains of all time.
Helena Bonham Carter | Bellatrix Lestrange (Harry Potter)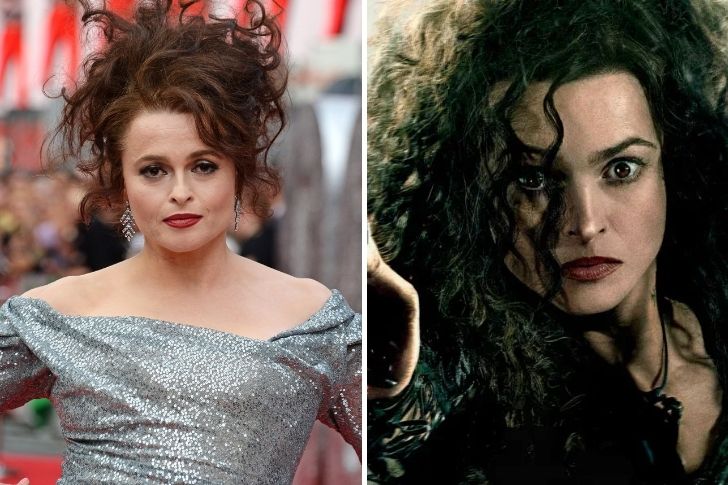 English actress Helena Bonham Carter is famous for her roles in a large degree of blockbusters and independent films. She has received numerous accolades throughout her career, including a British Academy Film Award, two Academy Award nominations, nine Golden Globes, among others. In October 2008, Helena became a patron of the charity Auction Duchenne, which is a foundation that supports sufferers and parents of Duchenne muscular dystrophy.
She is famous for her role in the Harry Potter film series as Bellatrix Lestrange. Her performance won her the San Diego Film Critics Society for Best Performance by an Ensemble. She is described in the movie as complete and an utter psychopath, greatly lacking in anything regarding a conscience. She was an "intensely sadistic" witch who was, at some points in the movie was mentally unbalanced. Unlike her character in the film series, Helena, in real life, is a model citizen and even going out of her way to becoming a patron for a foundation.
Henry Cavill | Superman (Man of Steel)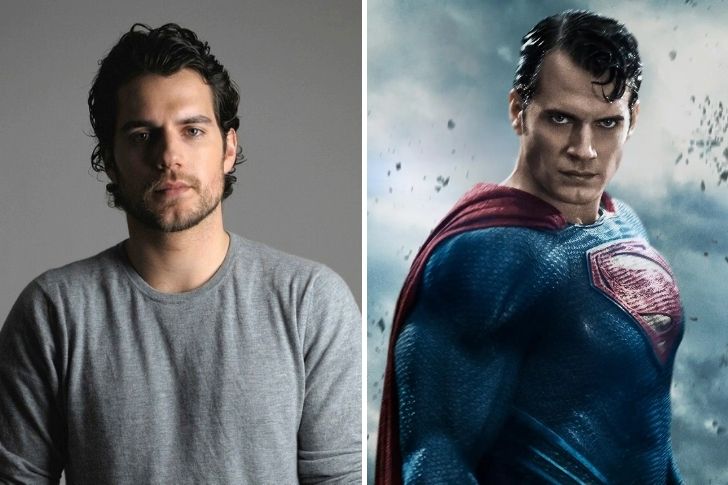 Getting credit for having the starring role of the first installment in the DC Extended Universe, Henry Cavill is famous for his portrayal of Clark Kent or Superman in the 2013 superhero film Man of Steel. We all know that every boy's dream was to have the likeness and superhuman strength, speed, heat vision, and we've always wanted to extinguish the fire just by using our breath. Cavill had the opportunity to live out the dream and become the most revered and recognized character of all time, Superman. Zack Snyder referred to Cavill as the perfect choice to don the S shield and red cape.
Cavill is described as a man who is down-to-earth, practical with strong ideas about what is right and wrong. Once committed, he employs methodical and decisive steps to problem-solving without giving up until the job is done – sounds like someone we know and idolize, right?
Hugh Jackman | Wolverine (X-Men)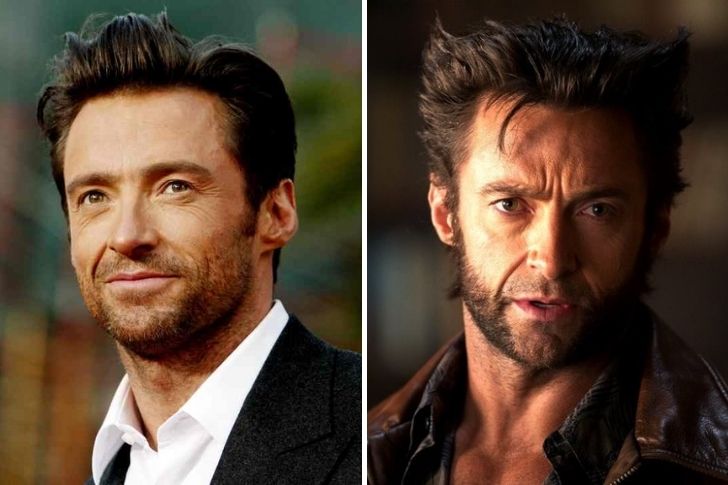 Australian actor and producer Hugh Michael Jackman is best known for his role in the X-Men film series from 2000 to 2017 as Logan or the Wolverine, which is a role that he holds the longest career as a live-action Marvel superhero in the Guinness World Records. He has played the character for a total of 10 films. Wolverine is described as a fierce and fiercely loyal mutant superhero, and we can see that Jackman is an extremely loyal husband to his wife of 25 years, Deborra-Lee Furness, without having to hire a lawyer to settle something.
Wolverine has been one of the most famous superheroes in the comic books, but when Jackman donned the lupine-like coif and black leather outfit, it has gained some serious following from fans all over the world. Although, unlike Jackman, Wolverine doesn't sing or dance, he is a hot-headed, short-fused type of person.
Hugo Weaving | V (V for Vendetta)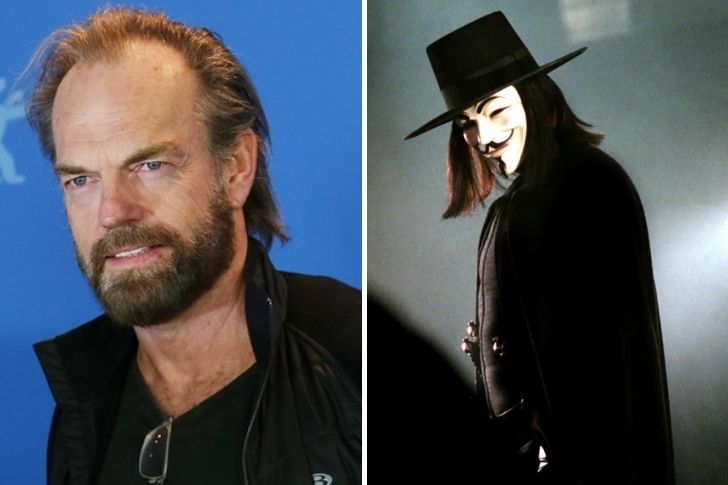 English actor born in Colonial Nigeria to English parents Hugo Wallace Weaving has received numerous accolades throughout his career, including six Australian Academy and Television Arts Awards, and is an Honorary Officer of the Order of Australia. In 2006, Weaving played the role of V in the 2005 dystopian political action film V for Vendetta. He got an International Award nomination for Best Actor for the role.
His character, V, is a hopeful, dedicated, intelligent, and charismatic person. He wanted to start a revolution and overthrow the government to create a better future. He understands well that he is only a way to help the people fight and stand up for themselves. Just like V, Weaving, to his credit, is also a charismatic and dedicated person as he was able to land so many roles in hit films throughout his entire career.
Ian McDiarmid | Darth Sidious (Star Wars)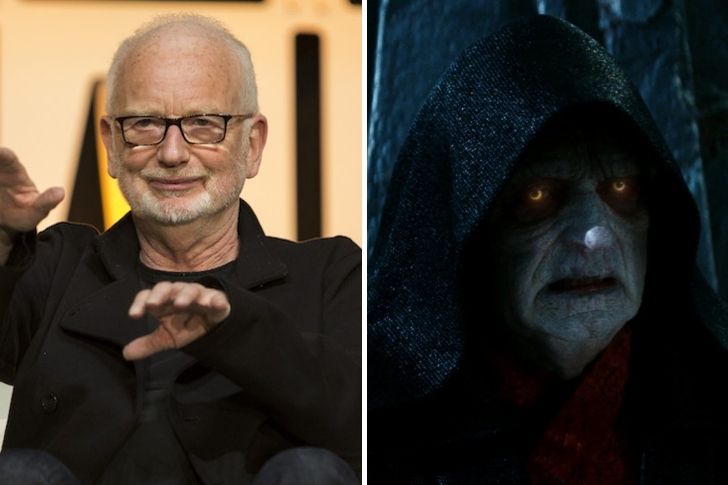 Scottish actor Ian McDiarmid is famous for his credit role in the Star Wars film series as the main villain, Emperor Palpatine or also known as Darth Sidious. Through his own nature, Darth Sidious seemed like evil incarnate, though he didn't believe himself that he was evil, but simply beyond common morality. He stated that for someone to others evil is only a label we place on others who threaten us.
His portrayal of Darth Sidious is perhaps a testament to how great he is as an actor for playing a character as evil as Darth Sidious because he is far from someone who is "evil." One thing that he and his character have in common is that they are both hard-working. Sidious worked hard to take control of the Empire, while McDiarmid worked hard for his career in the acting industry.
Ian McKellen | Magneto (X-Men)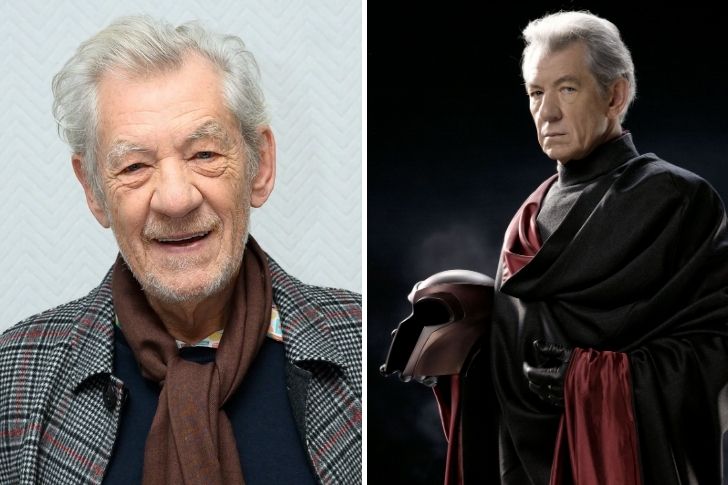 English actor Sir Ian Murray McKellen had a long and fruitful career in the industry that spans for over seven decades. He has received so many awards throughout his career, including a Tony Award, a Golden Globe Award, a BIF Award, two Saturn Awards, and many more. McKellen made his first professional appearance at the Belgrade Theatre back in 1961 in the play A Man for All Seasons as Roper. The role that gave him a high degree of fame is his role in the X-Men films as the master of magnetism, Magneto.
Just like Magneto, McKellen had a troubled childhood, having lived through the second World War. They both had the experience of living through the war as a young child, which had a long-lasting influence on their upbringing. McKellen stated that "only after peace resumed … did I realize that war wasn't normal."
Ian McKellen | Gandalf (Lord of the Rings)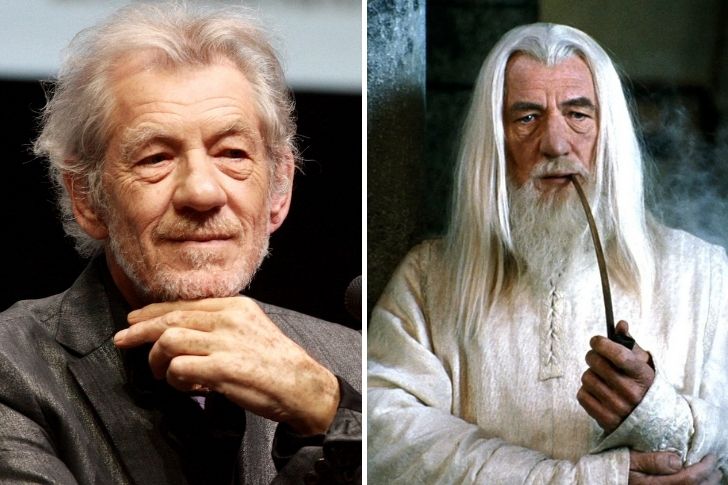 When talking about badass characters in films, we could never leave out Gandalf the Grey, who was later known as Gandalf the White. He was played by none other than the English actor Sir Ian McKellen, who has played the character in all Lord of the Rings and The Hobbit films.
He was one of the original nine companions of the Fellowship of the Ring who was tasked to destroy the One Ring in Mount Doom. Gandalf is described as someone who has deep wisdom and great compassion for all creatures. Just like Gandalf, McKellen is als compassionate with all creatures as he has done so many charity works to help other people throughout his career. On June 1, 2020, McKellen and his Lord of the Rings co-stars promoted donations to non-profit charities through video-conferencing on Josh Gad's YouTube series Reunited Apart.
Idris Elba | Heimdall (Thor)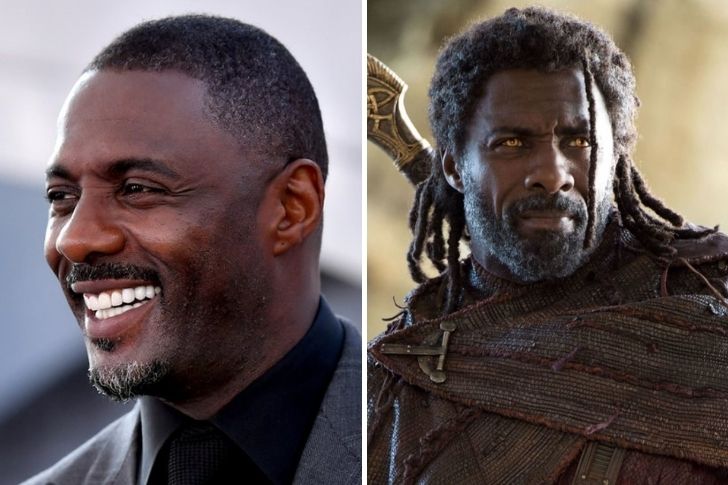 Idrissa Akuna Elba isn't only an actor, he is also a singer-songwriter, DJ, a producer, and a writer. He is known for his credit roles, including in the HBO series The Wire as Stringer Bell, in the BBC One series Luther as DCI John Luther. He also played the all-hearing and all-seeing Asgardian guard of the Bifrost Bridge, Heimdall in the Marvel Cinematic Universe films, Thor (2011), Thor: The Dark World (2013), Thor: Ragnarok (2017),  Avengers: Age of Ultron (2015) , and in the Avengers: Infinity War (2018), for which he got a nomination for a BET Award for Best Actor.
Heimdall is described in the film as a loyal and strong warrior, with great sense of honor. Just like Heimdall, Elba is also a fighter. Training for 12 long months in mixed martial arts and kickboxing under Muay Thai coach Kieran Keddle.
Jack Nicholson | The Joker (Batman)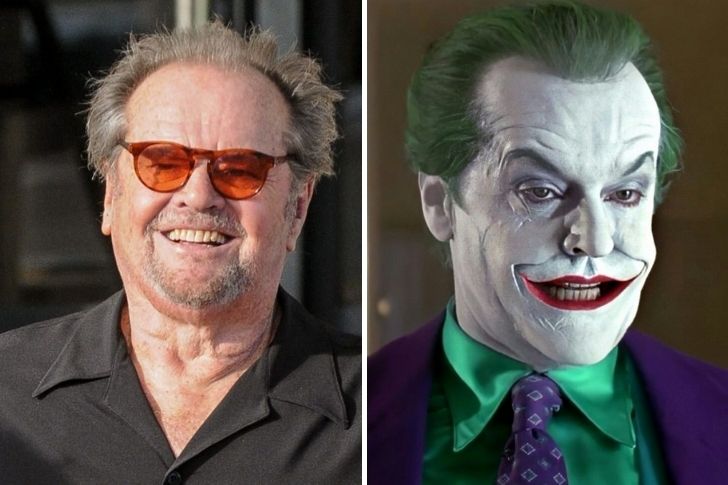 American actor and filmmaker John Joseph Nicholson has a career in the industry that spans over six decades. He is famous for playing a wide range of supporting and starring roles, including anti-heroes, villains, romantic leads, and comic characters. Out of all the films he took part in, the most badass character he has ever played is none other than clown prince of crime, Joker in the 1989 American superhero Tim Burton film Batman.
The Joker, well known for his sick humour and clownlike appearance, is the arch-nemesis of DC Comics' superhero Batman. Unlike the Joker, Nicholson is a highly decorated actor in the industry, while the only decoration found on him is his face paint. Nicholson's portrayal of the Joker is truly a testament on why he is given credit as one of the most prominent actors of his generation.
Jackie Chan | Mr. Han (Karate Kid)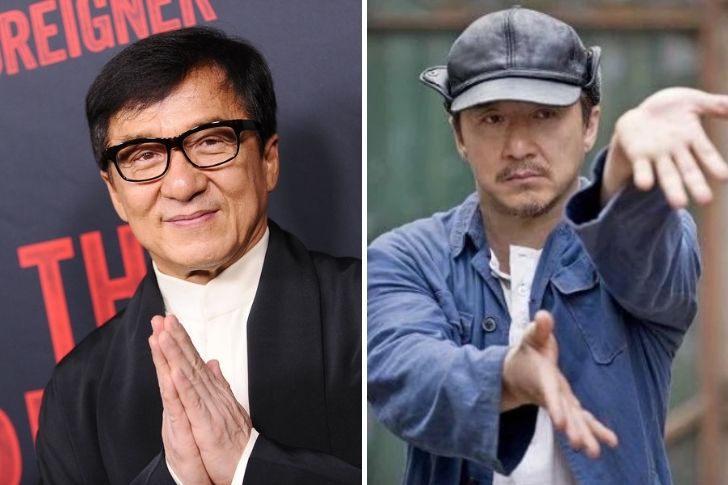 Hong Kong martial artist, actor, and filmmaker Chan Kong-sang or professionally known as Jackie Chan, is, to a certain degree, extremely famous in the cinematic world for his comic timing, innovative stunts, slapstick acrobatic fighting style, which he normally performs himself without a stunt double. He is well-versed in the discipline of Kung Fu, Hapkido, and Wushu and has appeared in more than 150 films. Out of all the roles he portrayed in his films, the most badass would be Mr. Han in the 2010 wuxia martial arts drama The Karate Kid.
Chan's character in the movie was based on the character of Mr. Miyagi from the original films. Mr. Han is a master of Kung Fu and a maintenance man who taught Jaden Smith's character the art of Kung Fu that he can use to defend himself from school bullies. Mr. Han and Chan are so much alike since they both practice Kung Fu.
James Marsden | Cyclops (X-Men)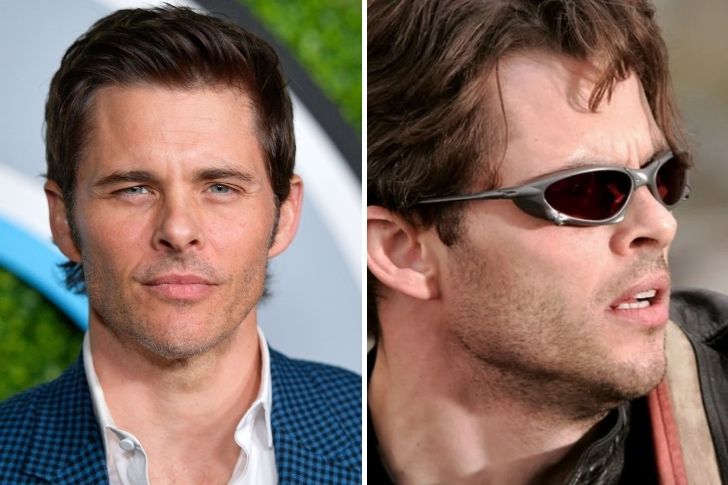 American former model, singer, and actor James Paul Marsden started his career in the TV shows, including the 1993 teen sitcom Saved by the Bell: The New Class, the 1995 fantasy drama Touched by an Angel, and in the 1995 Party of Five. He has starred in a wide range of independent films in 2012, including Robot & Frank, Bachelorette, and Small Apartments. He gained fame and prominence during the early 2000s for his credit role in the X-Men film series from 2000 to 2014 as the optic-blasting mutant Scott Summers or also known as Cyclops.
Cyclops is described in both the comics and in films as a hero, strategist, and freedom fighter. Marsden may not literally be a hero, but he is a hero to his three children. He has truly proved himself as a versatile and amazing actor in his role as Cyclops in four X-Men films.
James McAvoy | Professor X (X-Men)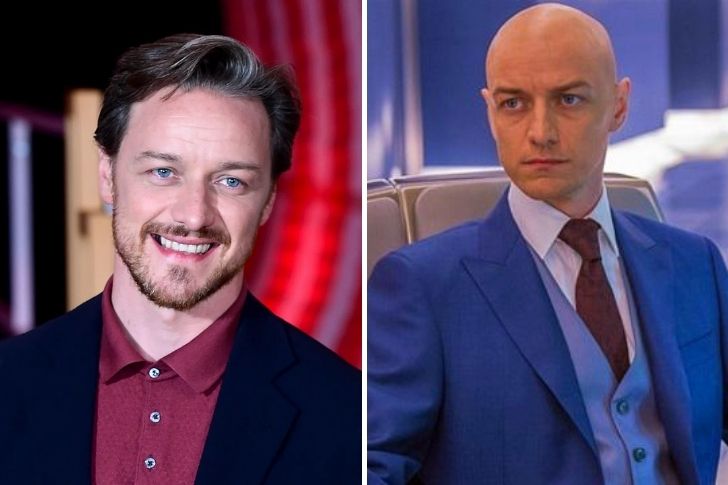 Scottish actor James McAvoy already had a number of films even before he was given role credit for playing the character of Charles Xavier or Professor X in X-Men: First Class, X-Men: Days of Future Past, X-Men Apocalypse, and Dark Phoenix. He is also a highly decorated actor, having accolades such as two BAFTA Awards for Best Supporting Actor, a Golden Globe Award nomination, among others.
His character in the film, Professor X, has built a lifetime reputation of being a compassionate and caring person to other mutants. Even when he was a child, he helped the young Mystique in finding her place in the world and refused to give up on people. Just like Professor X, McAvoy went out of his way to help raise money for a children's charity in Uganda by jumping off from the world's highest hospital building.
Jared Leto | The Joker (Suicide Squad)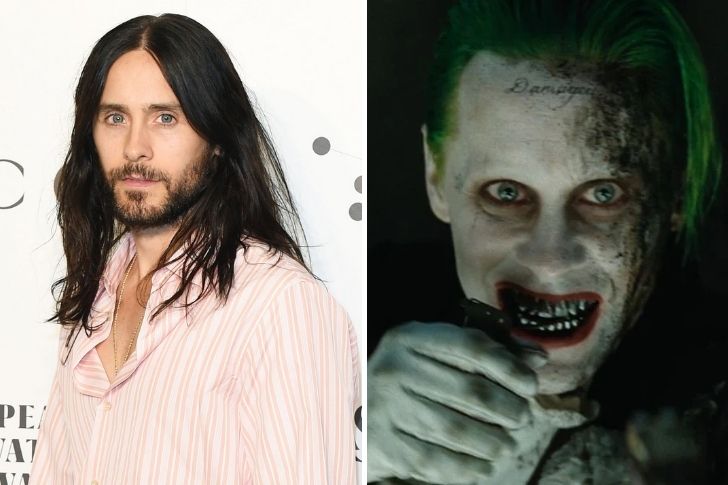 American musician and actor Jared Joseph Leto achieved a degree of recognition for his role in the 1994 TV series My So-Called Life as Jordan Catalano. He made his debut in the film industry in the 1995 drama film How to Make an American Quilt. In December 2015, it was confirmed by Warner Bros. that Leto would portray the role of the supervillain clown prince of crime Joker in the 2016 superhero film Suicide Squad.
Despite his character's limited screen time, his portrayal of Joker was praised by Joker fans and Jared Leto fans alike, even though the film generally got negative reviews from critics. It seems to us that Leto and the Joker don't share a single quality. Leto supports animal rights and lives a vegan lifestyle, while Joker, on the other hand, is a criminal mastermind who is hellbent on wreaking havoc in the city of Gotham.
Jason Momoa | Khal Drogo (Game of Thrones)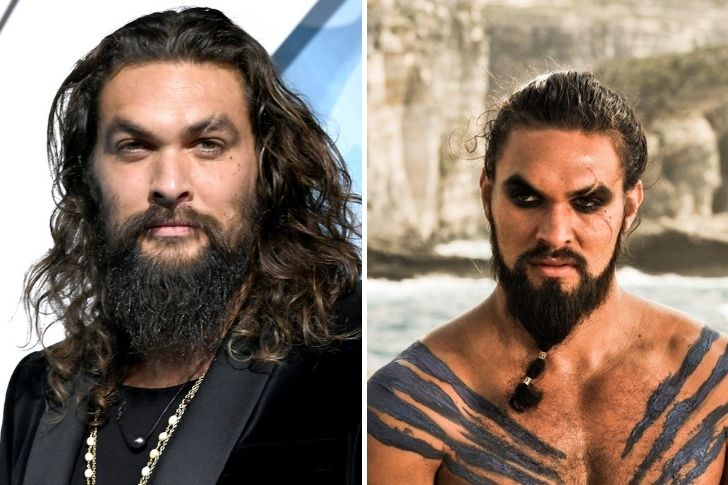 American actor Joseph Jason Momoa made his acting debut in the syndicated action drama series Baywatch: Hawaii from 1999 to 2001 as Jason Loane, which was followed by his role in the Syfy science fiction series Stargate Atlantis from 2005 to 2009. Momoa's most badass role is probably in the HBO fantasy drama series Game of Thrones as Khal Drogo in the first two seasons of the show.
Khal Drogo is described as a powerful leader of the Dothraki people. Momoa and Drogo probably share a certain degree of qualities like how they are both accomplished in their own "field of expertise," and there's no doubt that Momoa is a strong person, considering how big he is, right? Though, Drogo is a savage and brutal person who lacks remorse for anyone. His portrayal of Khal Drogo really hit us, especially when he passed away in the second season.
Javier Bardem | Armando Salazar (Pirates of the Carribean)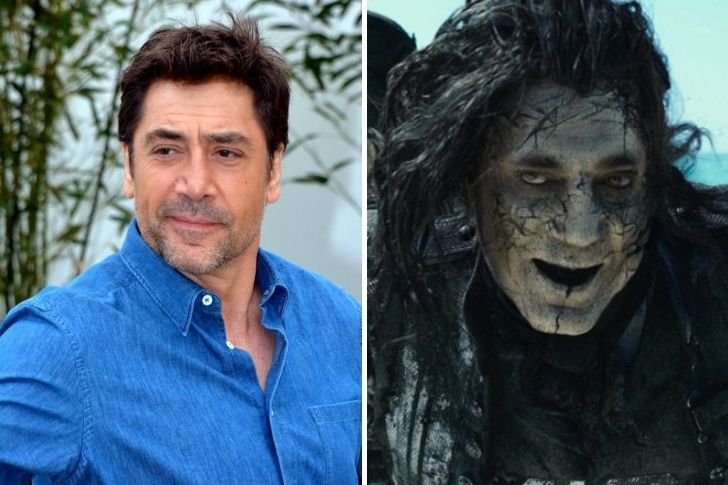 Spanish actor Javier Angel Encinas Bardem is an award-winning actor who won the Academy Award for Best Supporting Actor in the 2007 American neo-Western crime thriller film No Country for Old Men as the psychopathic assassin Anton Chigurh. For us, the most badass character he has ever gotten credit in both film and TV is the undead pirate hunter who commands the ghost ship Silent Mary, Armando Salazar.
Both Bardem and Salazar are decorated and successful in their own field of expertise, Bardem in the Hollywood Industry, Salazar in the Spanish Royal Navy, and for another, they are both Spanish. Both became a legend in their own right, and he has surely portrayed well. Off the screen, he isn't a ruthless undead pirate hunter but an ambassador of Greenpeace, which is an organization dedicated to protecting Antarctica.
Jennifer Lawrence | Katniss Everdeen (The Hunger Games)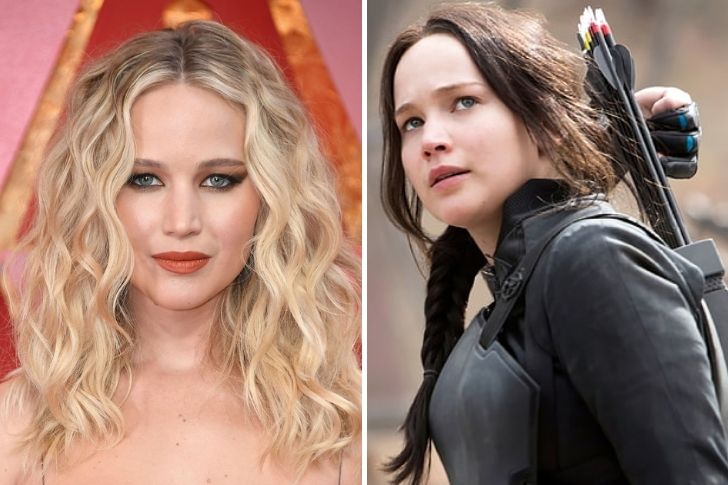 Jennifer Lawrence is one of the best and highly sought-after actresses in Hollywood today. Among her numerous film credit roles, she's known for her portrayal of Katniss Everdeen" in the film adaption of "The Hunger Games." Upon looking for the right actress to play the role of "Katniss Everdeen," the Hunger Games author said that the actress who'll play the character must have a "certain maturity and power." Fittingly, Jennifer Lawrence was the only actress who truly captured the character that Suzanne Collins wrote in the book. Jennifer Lawrence's portrayal of "Katniss Everdeen" definitely worked out well for all involved in the film as it became the 21st-highest-grossing movie franchise in history.
Jennifer Lawrence certainly shares a few qualities with her on-screen persona. She said to be incredibly entrepreneurial and progressive as she always strives and aims for the top. Moreover, J-Law possesses a quality that allows her to overcome any adversities in her personal life. Lawrence's determination to be the best is simply unparalleled, and it's quite similar to the role of "Katniss Everdeen" in The Hunger Games franchise. With all the similarities in personality, it's no wonder Jennifer Lawrence was able to play the role masterfully!
Jeremy Bulloch | Boba Fett (Star Wars)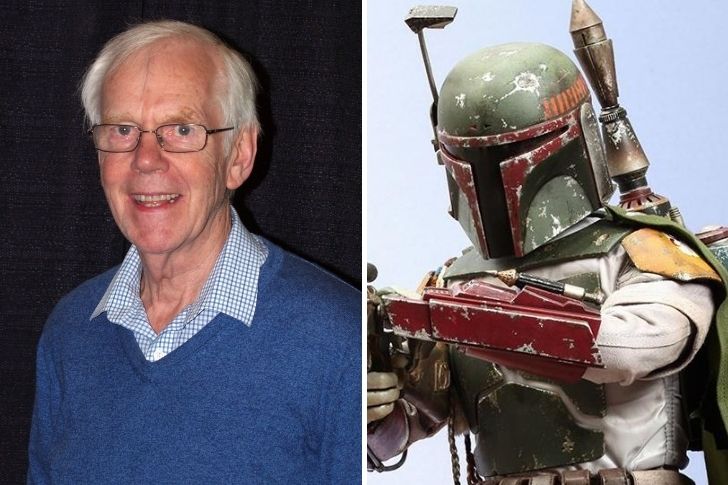 Jeremy Bulloch is a tenured English actor with a long number of film credits to his name. One of his most notable roles is his physical portrayal of "Boba Fett" in the early years of the Star Wars franchise. Jeremy played the role of "Boba Fett" in what fans consider to be the most iconic films in the Star Wars series, namely, The Empire Strikes Back and Return of the Jedi. Interestingly, Bulloch drew inspiration from Clint Eastwood's less-is-more approach in A Fistful of Dollars. The inspiration certainly worked out for Bulloch as he made the "Boba Fett" character one of the most iconic characters in Star Wars and the entire film industry.
Jeremy Bulloch is a complete contrast to his menacing on-screen persona. Bulloch is described as a "quintessential English gentleman" by fellow Star Wars icon Mark Hamill. He was an incredibly skilled actor and what made him even better is the kindness that he shows to the people he worked with. Indeed, the "Boba Fett" role is an interesting character that has been immortalized by Bulloch's masterful performance.
Jeremy Irons | Scar (Lion King)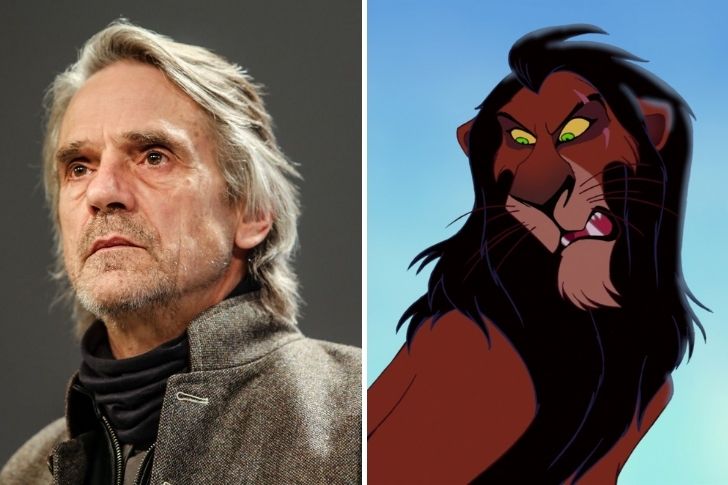 Actors undoubtedly look forward to roles that require them to be villains. Jeremy Irons isn't an exception as he had an incredible time playing the voice of "Scar" in the iconic Disney film The Lion King. Jeremy Irons is a British actor with numerous credit roles in his resume, but almost every 90s kid remembers him as the menacing voice of "Scar." Without intending any puns, Jeremy Irons' voice acting scarred generations of children who had the chance to witness the Disney classic. Who could forget Irons' chilling lines when Scar dropped Mufasa into the stampede?
Of the screen, Jeremy Irons certainly wouldn't have the nerve to drop someone off a cliff and into a raging stampede. Jeremy Irons, his wife, and his kids are Catholic. Although Irons has a mixed outlook on the Catholic faith, he maintains his stance on living a highly spiritual life. Jeremy Irons is also a delight to be around as he's brilliant and incredibly opinionated. Irons is indeed a contrast to "Scar," his trouble-making persona!
Jessica Alba | Max Guevara (Dark Angel)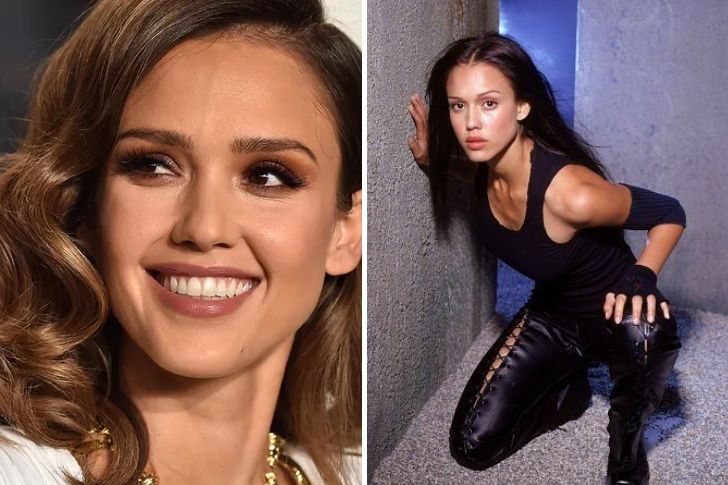 Jessica Alba is undoubtedly one of the most celebrated actresses in Hollywood over the past few decades. She first rose into prominence when she starred as "Max Guevara" in the Fox sci-fi television series Dark Angel back in the early 2000s. Fans of the show can never forget how badass Jessica Alba's role in Dark Angel was. You could argue that Jessica's role as "Max Guevara" contributed to female roles displaying the same level of "coolness" as other male characters. Although the show only ran for two seasons, it definitely opened doors for Jessica Alba's film career as she received numerous film projects and roles moving forward.
Jessica Alba certainly shares a few qualities with her Dark Angel persona. Jessica Alba and "Max Guevara" are willing to undergo hard work and are no strangers to motivating themselves. Interestingly, Jessica Alba cultivated a business career apart from her profession as an actress. For Alba, it certainly took an exceptional degree of motivation to manage both! It's one that's eerily similar to "Max Guevara's" drive to being a badass super-soldier!
Jet Li | Wah Sing Ku (Lethal Weapon 4)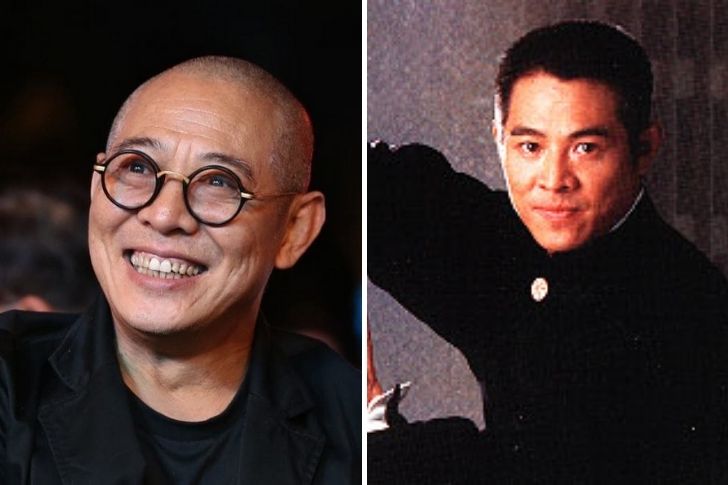 Martial arts films almost became synonymous with Jet Li's name for the past few decades. Jet Li started his acting career in the early 1980s, earning notoriety for his prominence as a martial artist in the Chinese movies he starred in. He quickly gained recognition outside of China, and he made the transition into doing American movies. His first international film debut came in the 1998 action film Lethal Weapon 4, starring alongside Mel Gibson, Joe Pesci, Danny Glover, and more. Interestingly, his international film debut had him play "Wah Sing Ku," an antagonist to Mel Gibson's character.
Although Lethal Weapon 4 was Jet Li's first time playing a villain role, he certainly brought the same tenacity in the fight scenes that he filmed for the movie. It wasn't hard to notice Jet Li's trademark stunts and moves when it came to doing incredible fight scenes. Without a doubt, his role as a villain was as electric as any other credit roles that he has played in other movies. He certainly gave Mel Gibson the business as only Jet Li could in that movie!
Joaquin Phoenix | Joker/Arthur (Joker)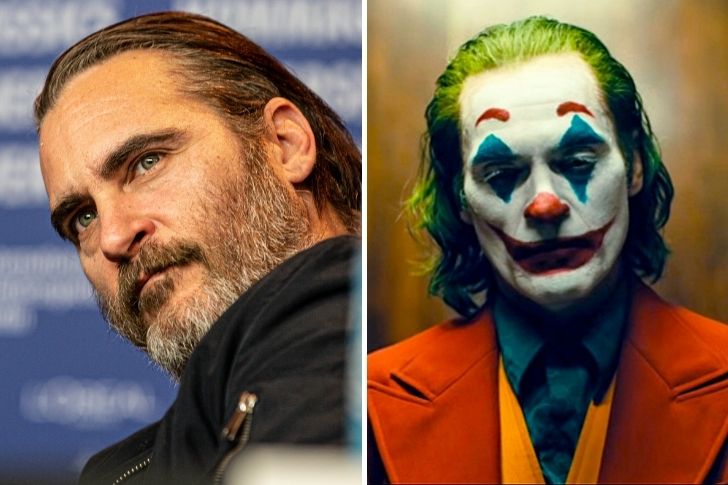 Every Joker fan held their breath before watching the 2019 psychological thriller film "Joker," wherein a new actor Joker, would be introduced. Everyone was curious how Joaquin Phoenix would be able to put his own spin on the iconic and legendary comic-book villain. He certainly had tons of pressure on his shoulders as he superseded Heath Ledger's iconic film credit and rendition of the role in 2008. Fortunately, he did an incredible job playing the role and even earning an award in the process. Joaquin earned an Academy Award for Best Actor in the role, and he was able to cement his name as one of the best "Joker" actors of all time.
Off the screen, Joaquin Phoenix is far from being a troublemaking menace to society. Phoenix has been known to push a good number of advocacies throughout his acting career. One of his advocacies is to go completely vegan. He has been on a vegan diet since he was three! We certainly doubt that the troubled "Joker" would be pleased to pick a vegan diet while being a menace to society at the same time!
Joe Pesci | Tommy DeVito (Goodfellas)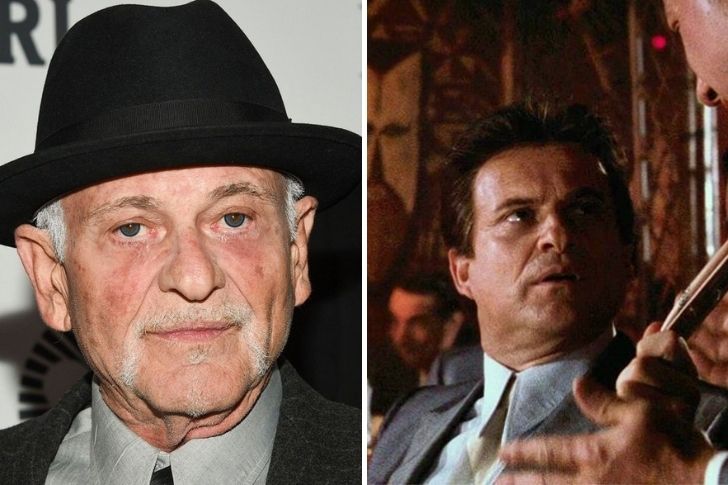 Movie fans and Joe Pesci fans alike cannot deny the fire and ferocity that he bought into the role of "Tommy DeVito" in the 1990 film Goodfellas. The "Tommy DeVito" that movie fans saw in the movie showed convincing passion as a violent and uncontrollable Italian mobster. For an antagonist credit role as an Italian mobster, we'd say that Pesci was able to portray the role masterfully. Some say that Joe Pesci's portrayal of "Tommy DeVito" in the film is among the few performances that can easily withstand the test of time. Accordingly, it's one of Joe Pesci's career-defining and iconic roles throughout his career.
Off the screen, Joe Pesci is the complete opposite of the Italian mobster role he played in the Goodfellas. Joe is an incredibly devoted son, and it's hard to picture it out after his chilling "You think I'm funny?" scene in the movie. The iconic actor is undoubtedly fond of his mom, and he even makes it a point to call her on the set of the current movie that he was working on! Without a doubt, Joe Pesci is a model son that we'd like to follow!
John Cena | John Cena, WWE Wrestler (WWE)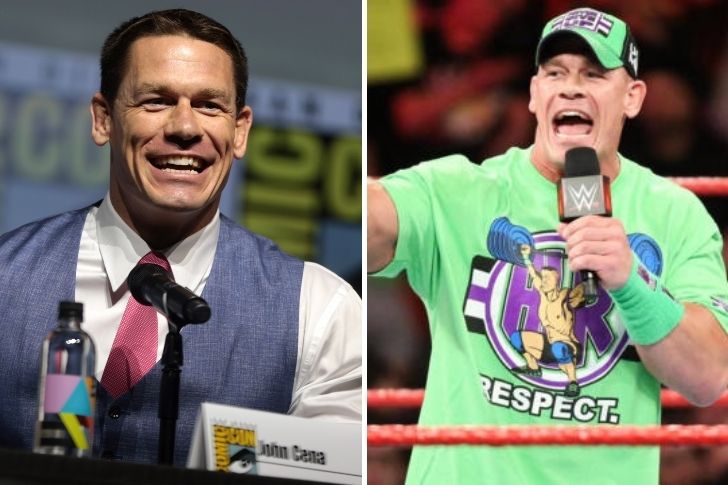 Every kid who watched the WWE franchise throughout the entire 2000s can never forget how entertaining John Cena was. John Cena was undoubtedly one of the most entertaining wrestlers that wrestling fans and WWE fans would see on a weekly basis. Through WWE, John Cena became a cultural icon, taking full credit of popularizing his iconic catchphrase, "You can't see me!" We certainly saw he won several WWE championships, which brought delight to his fans.
Off the ring, you wouldn't expect John Cena to be labeled as a nice guy. You would think that the former WWE champion would often get into trouble and fights. On the contrary, John Cena is one of the nicest celebrities today. He tends to socialize with his fans, often lending a helping hand to those in need. If you're used to seeing John Cena's unparalleled tenacity as a wrestler, then you'd be totally surprised that he's the opposite of that persona in real life!
John Travolta | Tony Manero (Night Fever)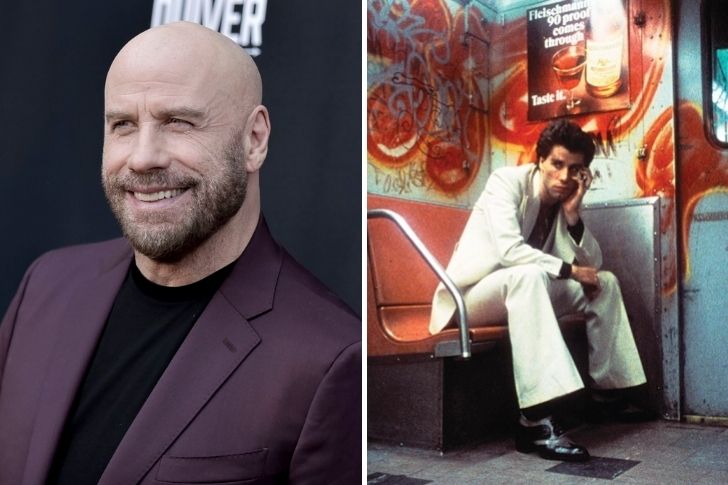 Before becoming one of the most prominent action stars in Hollywood, John Travolta first took credit for being an icon and a significant influence in the disco era. He portrayed the role of "Tony Manero" in the 1977 iconic disco film Saturday Night Fever. If you've only paid attention to John Travolta's action roles, then you'd be totally surprised when you watch Saturday Night Fever. We'd understand as it would be incredibly difficult to imagine an iconic action star starring in one of the biggest disco and dance movies of all time!
John Travolta is a versatile and a great actor; there's no question about that. As a fan, it'd be not easy to envision Travolta other than his on-screen roles. It has been quite a challenge to get a glimpse of John's personal life as he's always been private about it. However, his siblings have always attributed John to share the same qualities with their father as sweet, kind, and inclusive.
John Boyega | Finn (Star Wars)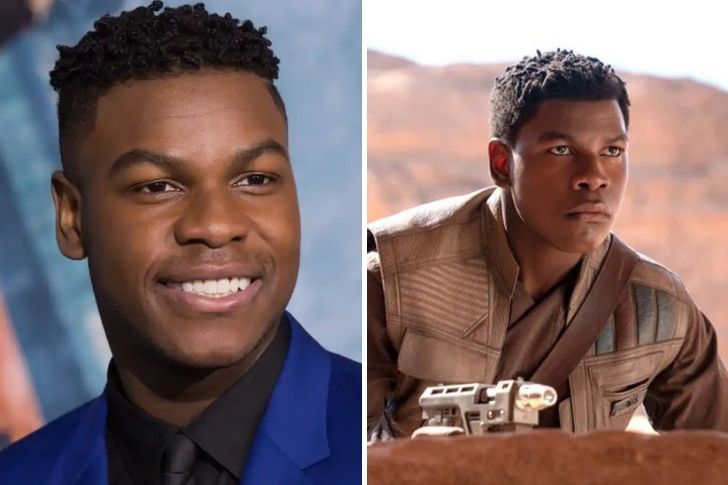 John Boyega already had a few credit roles in his resume before his role as "Finn" in the recent Star Wars sequel trilogy. Certainly, none of his previous roles could prepare him for a film franchise's demands like Star Wars. Despite the pressure, Boyega was able to act as "Finn" masterfully from the 2015 Star Wars film The Force Awakens until the last Star Wars sequel film titled Rise of Skywalker in 2019.
Boyega was able to add his personal flair to the character. It would have been easy for Boyega to adjust to the role instantly as they have similar characteristics. The character "Finn" was a stormtrooper that wanted to escape his past and go into adventures of his own. Interestingly, Boyega is quite the adventure-lover himself. John Boyega loves to travel, meet new people, and experience life as a whole. We certainly know that "Finn" shares the same sentiment of living life fully when he met "Rey" in the movie!
Josh Brolin | Thanos (MCU/Avengers)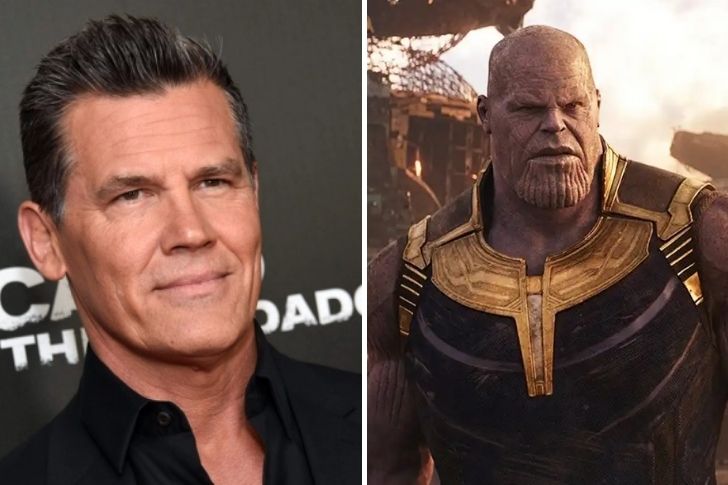 You may recognize Josh Brolin as the enigmatic villain in the two most-recent Avengers movies. Interestingly, Josh Brolin has already had numerous credit roles throughout his entire career, and he's earned a lot of recognition for it. Brolin first appeared as "Thanos" in the post-credit scene of the 2014 Guardians of the Galaxy film. Who would've known that he'd take on one of the most significant roles in the MCU a full year later. Without a doubt, Brolin was able to add his personal touch to the character. It was almost that the ruthless "Thanos" had a unique backstory and that he was almost relatable to some extent.
Brolin can surely take and portray a specific character and make it relatable to any audience! Off the screen, he's the complete contrast of enigmatic and ruthless. Brolin is incredibly sensitive and passionate to those around him. Some would even say that he's a fine companion to be with, something that we believe "Thanos" isn't.
Julia Roberts | Maggie Carpenter (Runaway Bride)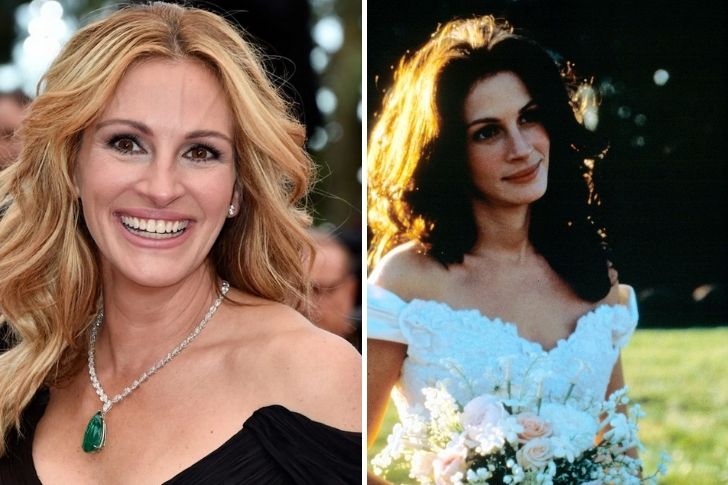 Ever since the success of the 1990 film Pretty Woman, movie fans were excited when the next Gere-Roberts tandem would once again grace the big screen. Fans got what they wanted in 1999 when the pair once again starred in the 1999 romantic comedy film titled Runaway Bride. Julia Roberts' credit role in the film was "Maggie Carpenter." Though romantic comedies have long been Roberts' comfort role, it was pretty hard to like the persona of "Maggie Carpenter." "Maggie Carpenter" was a woman who never had any difficulties finding love, but she never seems to have the chance to walk down the aisle. It certainly felt like "Maggie Carpenter" didn't know what she wanted.
Without a doubt, Julia Roberts is one of the most successful actresses in film history. Off the screen, she shares some qualities with "Maggie Carpenters," her on-screen persona in Runaway Bride. Roberts has had her fair share of relationships, and she even was engaged in 1991, only to break up with her partner three days before the wedding. You could definitely say that Julia is an off-screen runaway bride!
Keanu Reeves | John Wick (John Wick)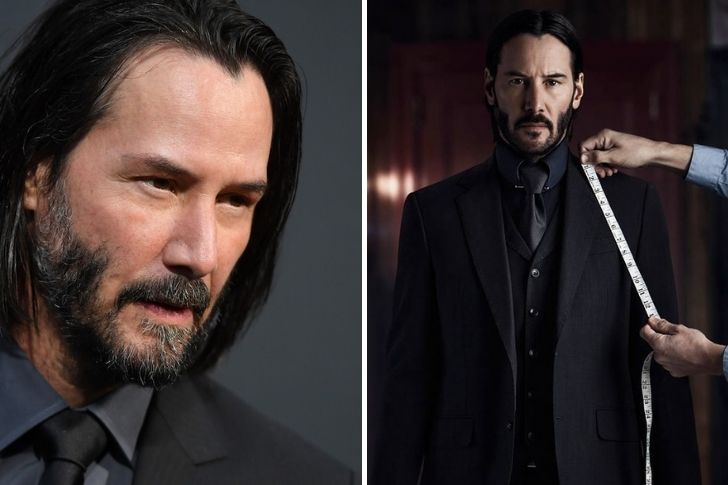 Today, Keanu Reeves is one of the most celebrated and sought-after actors in the film industry. He's known for his credit role in The Matrix franchise and, now, his portrayal of "John Wick" in the series of John Wick films. The character "John Wick" is a retired hitman that goes on a rampage when his dog got taken from him. Things eventually escalated when the antagonists decided to steal his car. Overall, the character showed indifference to other people. Of course, the John Wick character's description won't be complete if we didn't talk about the incredible fight scenes.
We certainly feel that "John Wick" is an on-screen caricature of Keanu Reeves' personality. Off the screen, he's known to have a more than decent skillset in handling weapons. Reeves is also incredibly private with his personal life, a quality that's also seen in his on-screen persona. With Keanu Reeves' personality and skills in handling weapons, we certainly don't want even to come close to his dog or his car!
Kelsey Grammer | Dr. Frasier Winslow Crane (Frasier)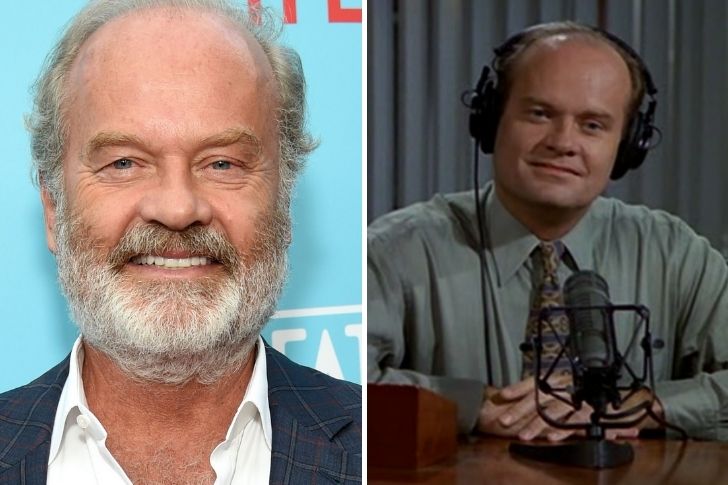 Kelsey Grammer is an American actor known for his two-decade portrayal of the credit role "Dr. Frasier Crane." from the television sitcom Frasier. The "Frasier Crane character was originally meant to appear on a couple of episodes. Kelsey Grammer's outstanding performance for the role prompted producers to expand the role, increasing his prominence in the process. TV's beloved radio psychotherapist listened to other people's ramblings about their mundane lives. He'd often give sound advice to them in a mix of witty and pretentious manner.
"Frasier Crane" was one of the most respected psychotherapists in America, just like Kelsey Grammer was one of the most respected actors during the time. However, Grammer was the complete contrast of his on-screen persona. Kelsey could've easily one of the callers that "Dr. Frasier Crane" would listen and give advice to. He often found himself struggling with mental health issues. Despite his ordeal, we're still incredibly amazed at how magnificent Kelsey Grammer's performance as an on-screen radio psychotherapist was!
Kevin Spacey | Lester Burnham (American Beauty)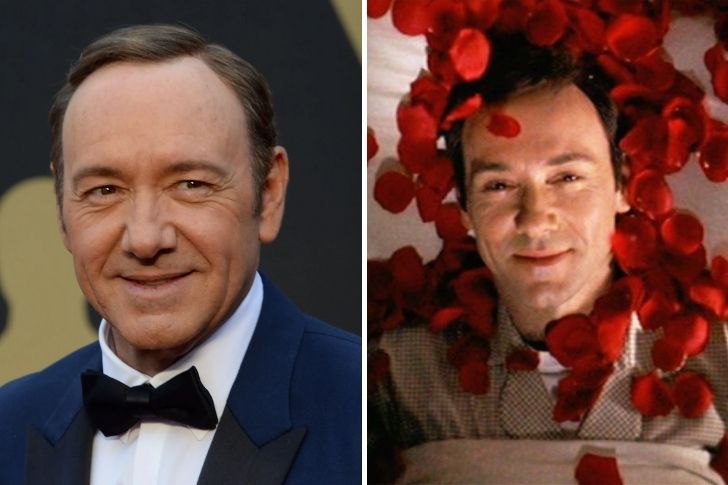 Kevin Spacey is one of the most successful actors in Hollywood today. He's best known for his credit role of "Lester Burnham" in the American film "American Beauty." The character's story revolved around a middle-aged man who's currently in a mid-life crisis. He hated his job, and his wife had affairs; basically, everything wasn't going his way. It took "Lester Burnham" a while before he took charge of his situation and went on a journey of self-discovery. Spacey delivered a funny yet sad performance that earned recognition and, without a doubt, was a career-defining role for him.
It wouldn't have taken Kevin Spacey that long before he'd act upon any misfortune. Spacey is known to be entrepreneurial and progressive, something that his on-screen persona had struggled to be. Off the screen, Kevin Spacey makes it a point to constantly strive and aim for the top. He's incredibly ambitious as well, and he simply doesn't stop until he achieves his goals!
Kit Harrington | Jon Snow (Game of Thrones)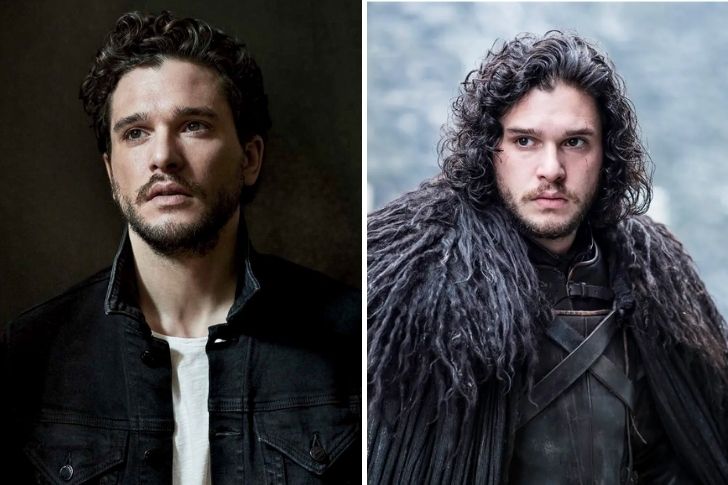 When Kit Harrington played Jon Snow's role in Game of Thrones, everyone fell in love with the hero. He portrayed the role amazingly and showed all the sides of the character. From being a bastard of a royal family to becoming the main hero of the show, Harrington and the show took us on a fantastical journey we would never forget. Riding dragons, killing ice zombies, and returning to life are only a few things his character did to show us that Jon Snow was a badass character.
In real life, Harrington is just as adventurous as Jon Snow to a certain degree. He once mentioned that he liked skinny dipping! Can you believe he auditioned for the character with a black eye from a fight in McDonald's the night before? Then, he got his dorky side admitting to being a bookworm. He loves the Harry Potter series, but his favorite book is 1984 by George Orwell. Harrington might just be as badass as Jon Snow after all!
Kristen Stewart | Bella Swan (Twilight Series)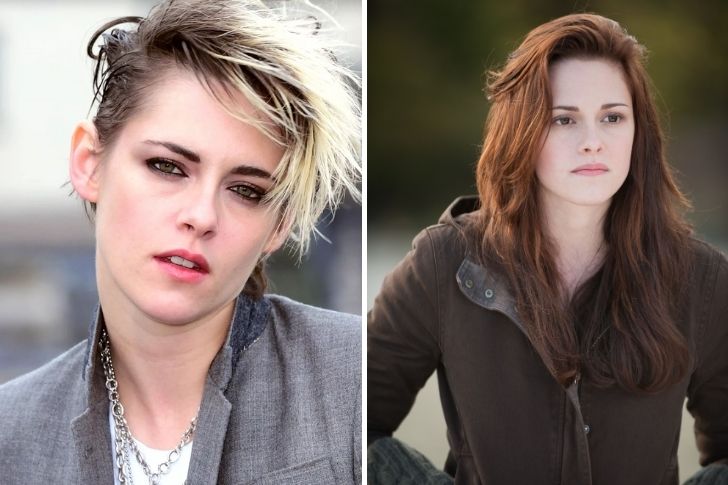 The Twilight film series might be one of the biggest film franchises that came from novels in the 21st century. There was the "Twilight fever" during the years the movies came out. Kristen Stewart played the prominent role, Bella Swan, who was just a typical teenager moving in with his father in another city. Her mundane life quickly turned into a supernatural adventure as soon as she met the handsome vampire, Edward Cullen. Stewart portrayed Bella as an awkward teenager who wanted to be adventurous and brave, which she was not her whole life. Through the film series, Bella became more confident , and she became a badass heroine by the end of the franchise. It was as if the change in Bella let the electricity flow all over her body and she was a new person.
Stewart is also a badass in real life as she loves adventures and traveling! Like Bella, she might be introverted, but she still loves interacting with friends—new and old. The beautiful actress is very private about her life, but she works hard to show us that she's more than just Bella Swan.
Lena Heady | Cersei Lannister (Game of Thrones)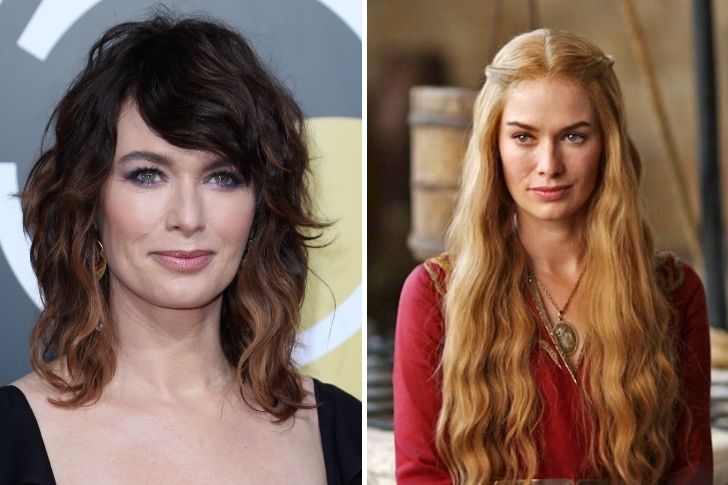 Game of Thrones is probably one of the biggest television series in recent years, but that's not surprising because of all the outstanding fantasy elements the books and the series had. One of the most remembered characters in the show is the villain, Cersei Lannister. Lena Headey portrayed the character, and she was fantastic! From the beginning of the show, Cersei was ruthless, and she would not let anyone get in her way of becoming the queen. She had her ups and downs as a villain, and Headey showed how evil characters still had feelings even if it just serves themselves. Cersei Lannister was a character you hated while watching, but you also love it because of how great a character she was! The critics gave Headey credit for her amazing performance and received numerous award nominations.
Headey, in real life, is as badass as Cersei but in a different way. She's enthusiastic, sweet, and a character when seen on interviews! The actress is also a strong advocate of women's issues, and the actress won't stand down on this issue! Headey is a fantastic person who played a badass role, and now, people think she's Cersei in real life. Her puppies might say otherwise!
Leonardo DiCaprio | Dom Cobbs (Inception)
Leonardo DiCaprio has played so many iconic roles throughout his career and his acting credits is filled with outstanding movies. The parts he portrayed range from serious drama roles, comedic roles, action star roles, and almost everything in between! One of the most badass roles that DiCaprio has done is his role as Dom Cobbs in the film Inception. As an extractor, his character performed company espionage by going through a shared dream world in people's subconsciousness. DiCaprio played the role of the seasoned actor he was and showed us that he could do amazing in different kinds of films.
DiCaprio is not so much of a serious person in real life when it comes to just being himself. He's funny, and people might say he was immature when he was younger. As DiCaprio grew older, the seasoned actor still kept his friendliness, and his humor continues to enchant people. DiCaprio is as charming as he is on our television screens!
Letitita Wright | Shuri (Black Panther, MCU)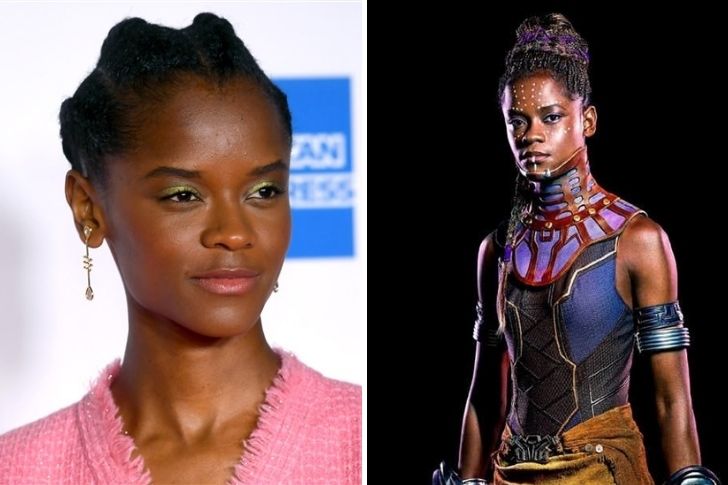 Letitia Wright is a young actress who is just in the early stages of her career. She credits the movie Akeelah and the Bee as the reason she wanted to be in the industry because the film's main character resonated with her. Now, Wright is known to be a badass character in the Marvel Cinematic Universe! She played the funny, loveable, and badass sister of the Black Panther, Shuri. Whenever Shuri was on screen, Wright made sure that people notice her with witty quips and badass advanced weaponry! Shuri started as just a sidekick who was the intelligent one and made weapons, but her character progressed, and she became one of the most badass-looking warriors in the show!
Wright is as much fun as Shuri in real life. She's excellent during interviews, and her bright personality comes across naturally. The young actress even had a viral video recorded on Black Panther's set, where she had fun rapping and freestyling! Wright is a strong woman who stands up for what she believes in, just like Shuri.
Liam Neeson | Bryan Mills (Taken)
Liam Neeson has played different types of roles in his career, but his film Taken took his career to a new path. Critics said that the movie was the turning point of his career into becoming an action star, and the actor became an awesome one ever since! After the film rose to fame, Neeson's acting credits was filled with action films, and no one complained because he portrayed badass roles so well! In Taken, the seasoned actor portrayed Bryan Mills, a former Green Beret, and CIA officer. The man would go through a series of events to save his daughter from human traffickers while his daughter and her friend took a vacation in France.
Neeson is as much of a loving and caring father in real life as Bryan Mills. He loves spending time with his boys, and he even starred in a movie with one of his kids! Neeson says that being a father is a long-lasting joy, but it's mixed with worry. Bryan Mills would have to agree to that!
Lucy Liu | Alex Munday (Charlie's Angels)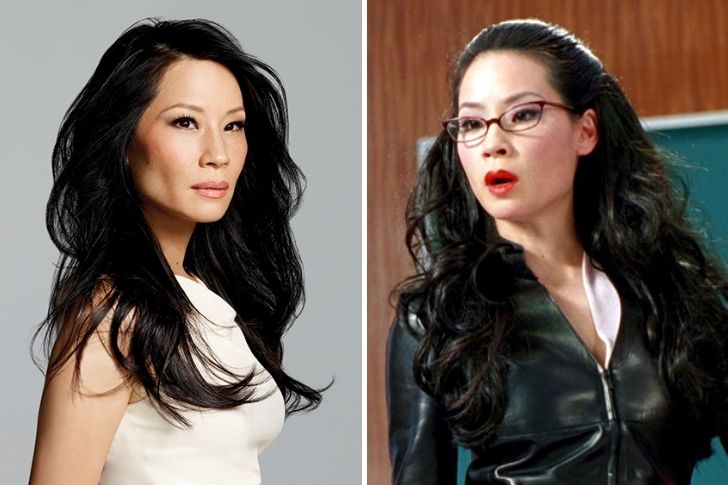 Lucy Liu is a multi-faceted actress and can play different roles, and she already proved that throughout her career. The seasoned actress has even played the hero at times and also the villain. Who could forget her part as the big villain in Kill Bill: Vol. 1? However, one of her most iconic roles is Alex Munday in Charlie's Angels film franchise. Liu played a badass private investigator along with two equally amazing women. Alex lived a double life, and her boyfriend and father didn't know she was doing badass things! Alex was great at fighting and was the brains of the group.
Liu can also fight in real life to a degree, just like Alex. She trained in martial arts of kali-eskrima-silat, where the techniques involved weapons. The tough actress also does rock climbing, skiing, and horseback riding. She's also an intelligent woman in real life. Liu is a real-life badass, and people can see that she moves and acts genuinely on the screen.
Margot Robbie | Harley Quinn (Suicide Squad & Birds of Prey)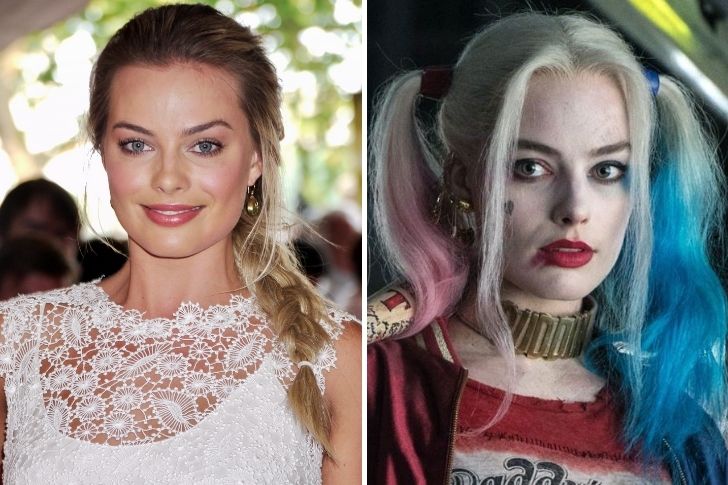 In films, the audience is usually made to fall in love with the heroes, but that's not the case in some movies like Suicide Squad and Birds of Prey. One of the most loved characters in both films is Harley Quinn, the psychopathic villain, and ex-lover of the Joker. Margot Robbie received critical acclaim for the way she portrayed the character. Harley Quinn was fantastic to watch, and even if she's a villain, the character so fun that she made people root for her. From smashing anything with her baseball bat and laughing at something she found funny, Margot Robbie made you believe that Harley Quinn was not a side character!
In real life, Robbie is also fun and crazy but only to a certain degree. During the filming of Suicide Squad, the lovable actress got interested in tattooing and even practiced on herself and her friends! She could relate to the character in some ways, and that's why Robbie did great portraying her.
Marion Cotillard | Miranda Tate/Talia al Ghul (The Dark Knight Rises)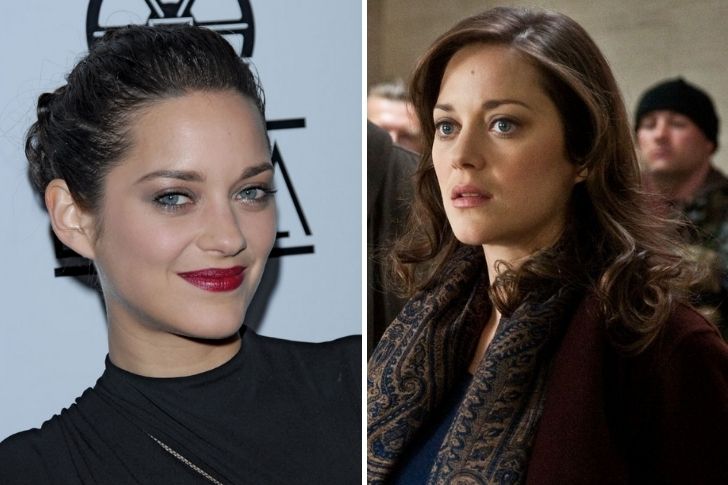 Marion Cotillard's career as an actress is impressive to look at. Her acting credits contains a wide range of films and roles across independent cinema and blockbuster movies. Cotillard won several awards for her performances, which wasn't a surprise because the critics and the audience loved her. She can play any role, even a villain, just like in the movie The Dark Knight Rises. Cotillard played Miranda Tate, who pretended to be one of the good guys, but she wasn't. Miranda Tate was actually the daughter of Rha's al Gul, the villain who wanted to destroy Gotham City. Cotillard played the character with strength and conviction, and it was amazing to see.
Cotillard is a very lovable person in real life. She is kind and shows support to people. The actress loves connecting to anyone and anything, and that satisfies her appetite for self-expression. Cotillard is a talented and creative woman, and she continues to show that she can do it all.
Mark Hamill | Luke Skywalker (Star Wars)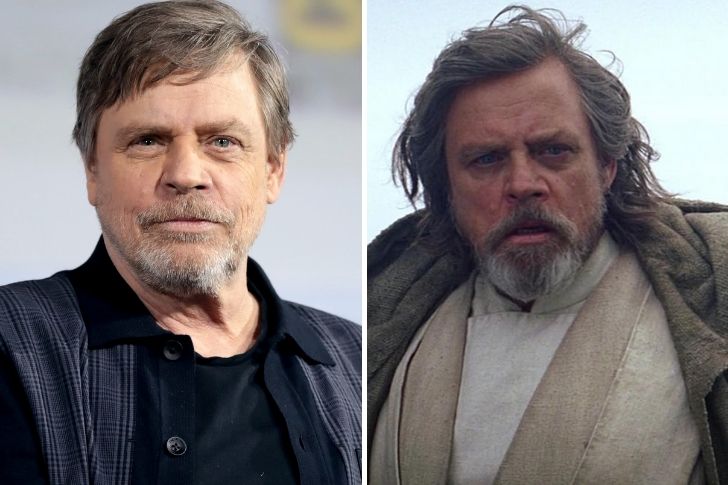 Mark Hamill will forever be remembered as the amazing Luke Skywalker, the Star Wars film franchise's main protagonist. The movie was a phenomenon that Luke became one of the most iconic characters in the film industry. He was a humble farm boy who became one of the strongest Jedis in the film and to his credit, Hamill made it look like Luke really was the best! He showed his strength in battling many enemies and learning how to use the force. Luke and the film made kids watching the show want lightsabers because they were just so badass. Every time Luke swung his lightsabers, the sound effects made us all excited because we knew the fight was about to begin!
In real life, Hamill is no Jedi, but he is as courageous and kindhearted! The actor made sure that the kids' who loved Luke Skywalker know that he cared for them. Once, Hamill made a terminally ill child's wish come true by visiting him in the hospital without the publicity. He showed that he wasn't just portrayed as a hero, but he actually is in real life in his way.
Mark Ruffalo | The Hulk (Avengers, MCU)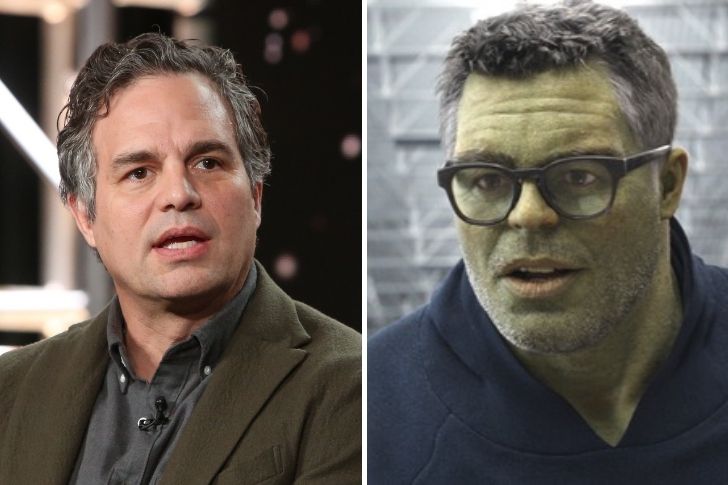 Marvel Cinematic Universe's take of The Hulk is one of the favorites in the film franchise, and that's not surprising at all with how funny and lovable he is! Mark Ruffalo portrayed Bruce Banner, who becomes the Hulk when he gets outraged. The character is supposed to be big and scary, but all the kids love the green giant! As a human, Bruce is very different from his angry alter-ego, but Ruffalo knew how to be both. The Hulk became more than just a character who smashed things and climbed buildings and became someone who had character development. The investment in Hulk's character was worth it because the audience loves the character.
Ruffalo is a humble man in real life, and he's very transparent about who he is. He doesn't filter himself for people, and there are many moments where he just expresses his joy about his co-workers. The actor has fantastic humor that people love. He is just as lovable as the Hulk!
Marlon Brando | Vito Corleone (The Godfather)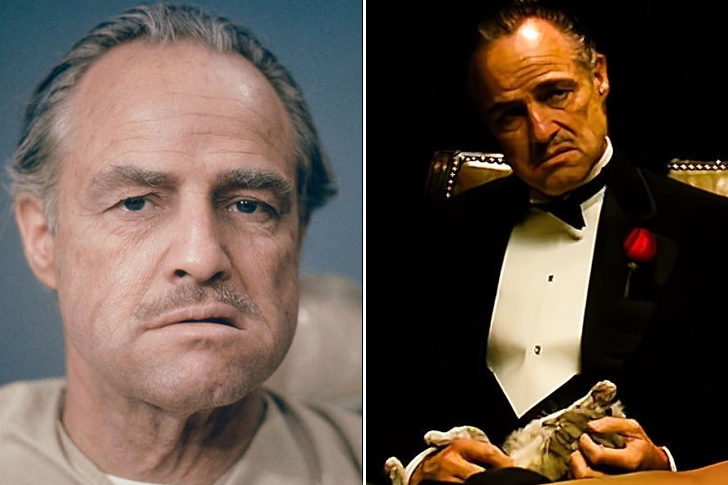 The Godfather was probably one of the most iconic films of the 20th century, and people are still watching it up to this day. It changed and elevated the gangster genre, and its influence became so big. Marlon Brando played the primary role in the movie as Vito Corleone. He played the character with vigor and enthusiasm and made people fall in love with the gangster. As people call him, Don Corleone is the Godfather, and Brando portrayed his personality so well. He was a strong man who loved his family, and he will do anything to protect them. Brando made a criminal have substance, and that's why he succeeded in the role.
In real life, Brando was larger than life character with many antics. He was a fun person with a great personality and he wanted to perform well in his career. One fun fact about him is that Brando had an enormous appetite! The actor had a fantastic job, and he deserved all the credits he got from his remarkable work.
Maisie Williams | Arya Stark (Game of Thrones)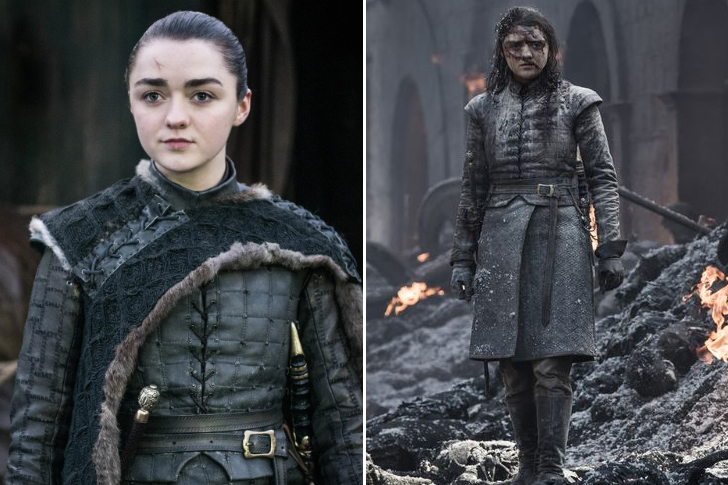 Maisie Williams showed her acting prowess at a young age when she played the role of Arya Stark in Game of Thrones. Arya was the youngest child in the Stark family, and she was often overlooked. Williams played her like a real kid with real kid problems. The character wasn't a big part of the show initially, but the show's investment in the character was worth it as Arya became an essential part of the story. Williams showed how the helpless young girl became into a strong and fearsome warrior. The actress made sure that no one forgot about Arya.
In real life, Williams is a bubbly person, which contrasts with Arya's serious and moody personality. She is hilarious, and she even loves to make fun of herself! The young actress loves posting awkward childhood photos of her on her social media. Williams is very relatable and acts her age, and the fans love her for that.
Meryl Streep | Miranda Priestly (The Devil Wears Prada)
Meryl Streep is one of the most-known and most decorated actresses globally, and she received many awards and credits from fellow actors and critics to prove that she has nothing left to prove. Streep has done so many films with different roles, and she continues to show why she deserved all the acclaim she got. The seasoned actress has many iconic characters, but one that stood out is her role as Miranda Priestly in the classic film The Devil Wears Prada. She played the part of a very demanding, arrogant, and megalomaniac diva. The story of the film and her performance created a cultural impact and a legacy.
In real life, Streep is a very kindhearted person and stands up for things she believes in. The actress also admitted that she's a tiger mom, so maybe some of the Miranda Priestly strictness is really a part of her! Streep is an amazing woman, and she continues to prove why the world loves her in her actions and acting skills.
Matt Damon | Jason Bourne (Bourne Franchise)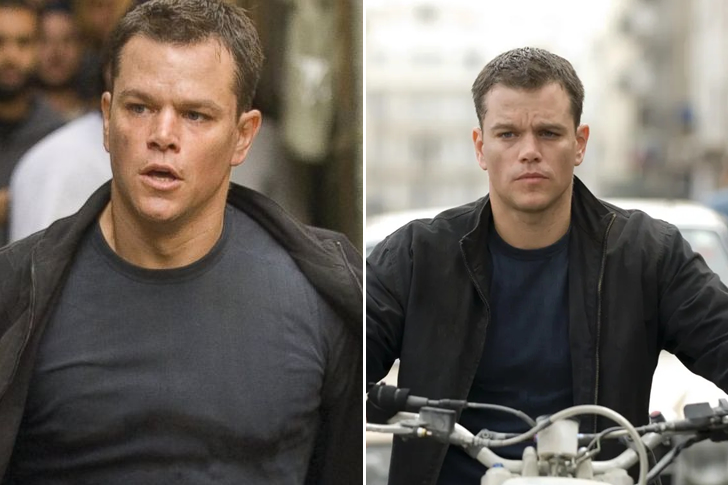 Matt Damon has done so much great work in his career as an actor, and there's no surprise why he's one of the most bankable actors in Hollywood. The actor knows how to portray each character he gets, and the audience buys it. One of his roles that people remember for being a badass is Jason Bourne from the Bourne franchise films. Damon played the rogue CIA operative and former assassin so well in all of the movies. The fight scenes were amazing to watch, and the actor showed how well-rounded of a character Jason Bourne was. Damon showed that he got his foot on the gas pedal every time he was on the screen.
In real life, Damon is a great person, too, like Jason. He founded an organization called H20 Africa. His investment in bringing attention to the right issues is commendable. The actor has a great sense of humor in real life too. The actor shows that he's not only amazing in films but also in real life.
Michael Fassbender | Magneto (X-Men: First Class)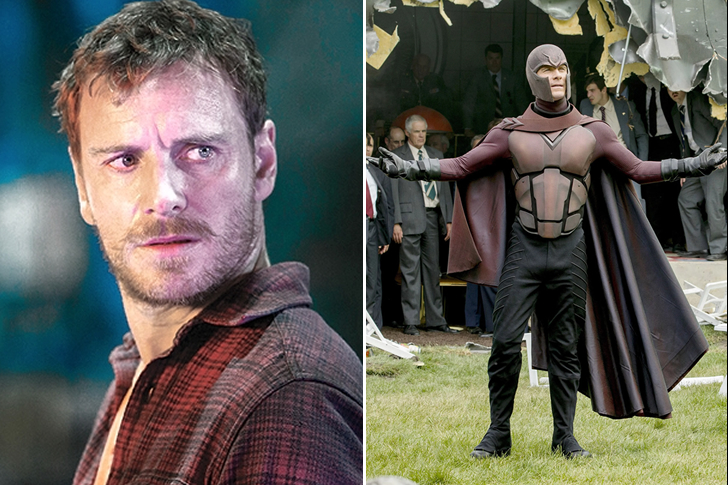 In MCU's X-Men movie franchise, Magneto is a character who can manipulate magnetic fields and control metallic objects. Although traditionally a supervillain in the comics, for X-Men: First Class, Magneto is said to be a deuteragonist. In the story, one would describe him as an adversary due to his conflicting ideals of fighting those who have oppressed their kind despite being a founding member of the mutant group. And so, in this film series, the persona that we must give credit to for bringing Magneto to life isMichael Fassbender, an award-winning Irish-German actor. Besides portraying the role of Magneto, he has also appeared and starred in other films like Shame (2011) and Steve Jobs (2015).
Fassbender is known to have treated his character for X-Men like a tortured antihero who frequently falls back to the protagonists' side but strives to stray from them just as often. Hence, perceptions of Magneto can be quite subjective! However perceived, one thing is for sure: Michael Fassbender is doing an outstanding job being Magneto!
Michelle Pfeiffer | Catwoman (Batman Returns)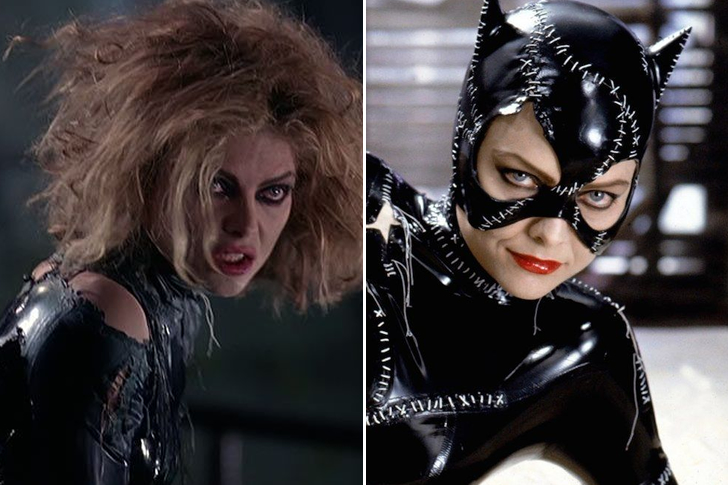 Selina Kyle, better known as Catwoman in the DC comics, was often associated with the unrelenting superhero Batman. She was but a normal woman who was killed by her corrupt boss and was revived by a mysterious alley of cats, which consequently pushed her to take revenge. With blonde hair, a seductive appeal, amazing wit, and a gorgeous body, Tim Burton himself made the perfect investment of choosingMichelle Pfeiffer to play Selina Kyle in "Batman Returns". The actress was highly praised for her performance in the film and was even considered as the greatest portrayal of Catwoman of all time by critics and fans.
As one of the most prominent actresses during the 80s and 90s era, Pfeiffer is well-known for her amazing skills and versatility as an actress. She has also starred in blockbusters like Grease 2, Married to the Mob, and The Fabulous Baker Boys, which paved the way for the numerous awards she has gained today.
Michelle Rodriguez | Gelda (Alita: Battle Angel)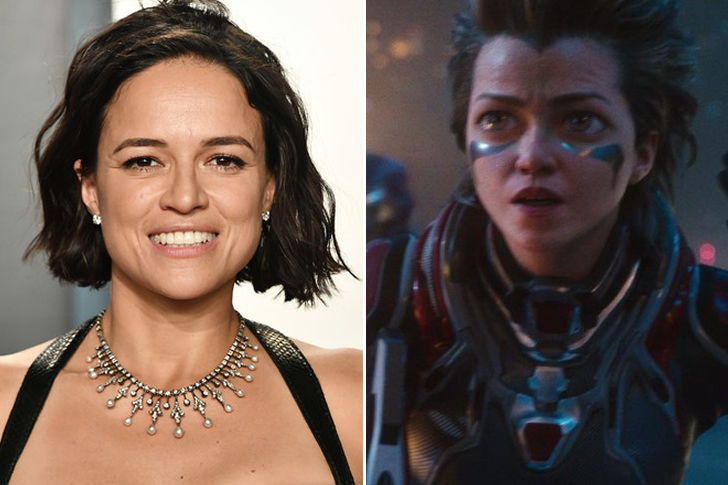 Gelda, who was a fierce and femme character, was the commanding officer of Alita's Spec Ops Kunstler Unit in "The Fall", which was an apocalyptic war in the live-action film, Alita: Battle Angel. Her character is presumed dead in the present time, and mostly only appears in flashbacks throughout the film. Gelda was portrayed by the beautiful American actressMichelle Rodriguez, and we can definitely see why. She has been a familiar face of action and sci-fi movies in Hollywood ranging from The Fast and the Furious film series, Avatar, Resident Evil, Battle: Los Angeles, and many more.
Hence, being cast as Gelda in this manga-based cyberpunk action film must have been a no-brainer for Rodriguez. This CGI-generated film, Alita: Battle Angel has garnered several nominations and has won for Outstanding Animated Character in Photoreal Feature in the Visual Effects Society Awards.
Naomi Scott | Jasmine (Aladdin, 2019)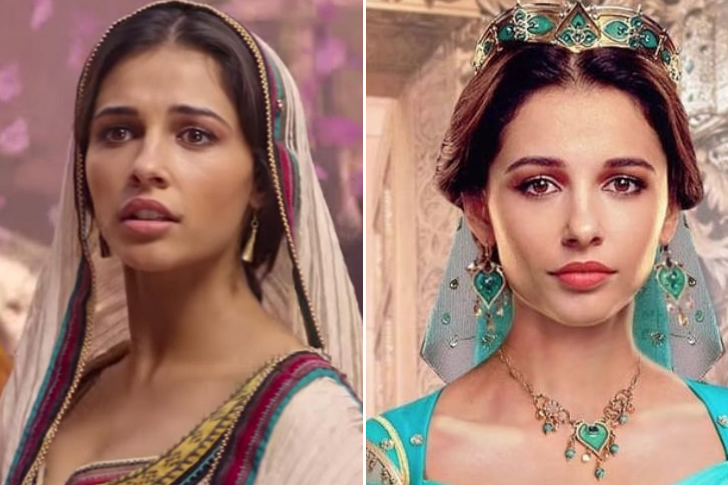 The Jasmine that we all know and love is a rebellious and independent princess of Agrabah, a Middle Eastern kingdom. As the successor to the throne, she felt a great deal of obligation for her kingdom but was conflicted due to the outdated laws that allowed injustice to prevail. As a timeless classic of Walt Disney Pictures, it was only about time until they created a live-action musical fantasy film version of the story, which was the 9th highest-grossing film of 2019, gaining approximately $1 billion. Quite a budget to make new investments for future projects! Princess Jasmine, played by no other thanNaomi Scott herself, received a lot of positive feedback and praises from critics and fans.
Although quite a controversy initially played out upon the release of the film with the public questioning why Jasmine was not played by an actual Middle eastern woman, Scott, who is of British and Indian descent, still proved to the masses how she could pull off the role and give an astounding performance.
Nicholas Hoult | Beast (X-Men: First Class)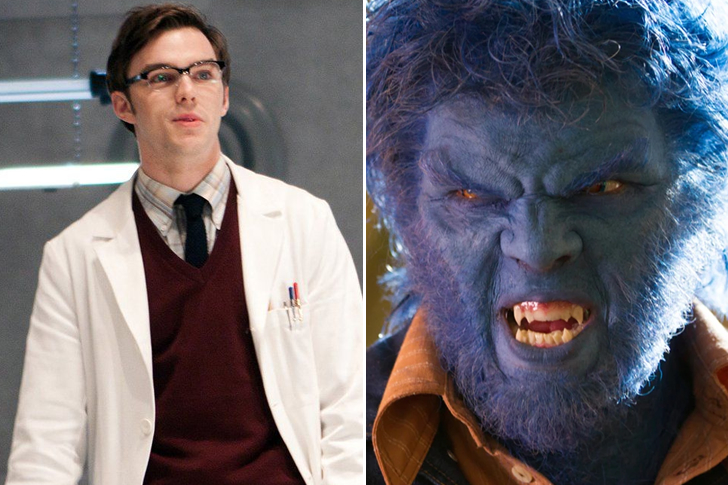 Beast, born as Hank McCoy in MCU'S X-men movie franchise, is a mutant with the ability to transform into a blue creature with immense strength. He is a highly intelligent character and is known to have earned a degree in Harvard at only 15 years old. Just like Beast in the movie "X-Men: First Class",Nicholas Hoult, the English actor playing the said role, was also an acting prodigy at an incredibly young age. Before portraying the role of Beast in the movie and making it big in the Hollywood scene, Hoult has already made his screen debut in the film Intimate Relations in 1996, where he was only 7 years old.
Later in his career, he appeared in other films such as About a Boy and Skins where he finally received a wider recognition as an artist. In 2011, he played Beast for X-men and continued to reprise this role for the later installments of the series.
Oscar Isaac | Apocalypse (X-Men: Apocalypse)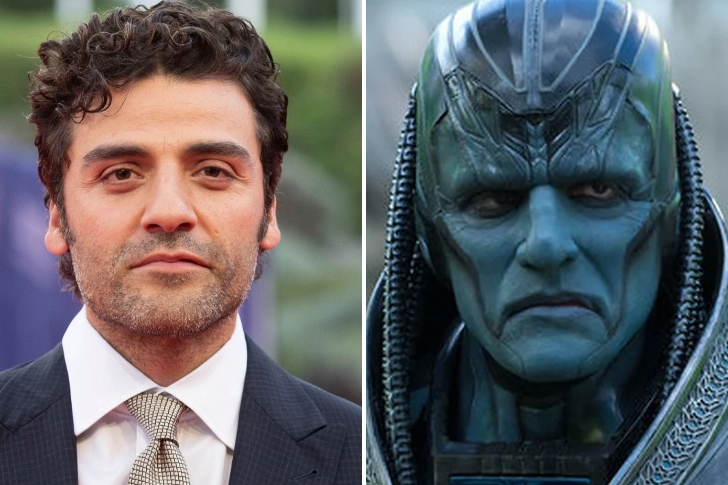 Who knew that Guatemalan-born American actor Oscar Isaac was capable of making us tremble through the big screen as X-Men's Apocalypse? Contrary to Isaac's wild and Rockstar nature, Apocalypse in the X-Men universe is quite controlled, stoic, and very menacing. Referred highly as a god amongst men, Apocalypse, born En Sabah Nur, is an unbelievably powerful ancient mutant that was given credit to the creation of other mutant genes in the fictional universe. Believing that the only rule in life relies on strength, Apocalypse would go on preaching a Darwinian theory of "survival of the fittest" and stopping anyone who would get in his way—no matter the cost.
Despite playing one of the meanest and toughest Marvel villains up to date, Oscar Isaac, Apocalypse's actor, is far from menacing. Isaac is an absolute sweetheart with a passion for action films, punk music, and generally giving a good show. Even though Apocalypse is one badass villain, Isaac is just as badass, minus the part where he wants to see the world burn.
Patrick McGoohan | King Edward I (Braveheart)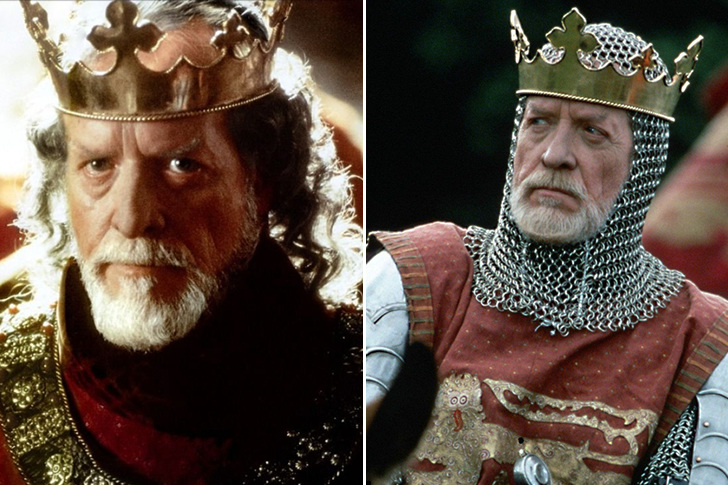 Nicknamed "Longshanks" for being a tyrant who can literally tower of his foes, King Edward I, the main antagonist in Mel Gibson's Braveheart is truly someone to fear. From being ruthless to being an absolute control-freak, this crazy king has all his investments in being infamous. Contrary to such an evil character, Patrick McGoohan, the king's actor, was far from even being remotely evil. Aside from getting a "bad boy" persona on screen from his numerous roles in gritty films, McGoohan is an absolute sweetheart shown through the various shades of subtle kindness he has in multiple interviews.
The reserved actor was shy growing up and even considered becoming a Catholic priest, but fate had other plans for him landing him in the field of acting. McGoohan would dominate the film industry by appearing in hit classics such as Escape from Alcatraz to the Columbo series. The Emmy-winning actor, unfortunately, succumbed to his illnesses on January 13, 2009, but not without leaving a legacy no one would ever forget.
Patrick Stewart | Professor X (X-Men, 2000)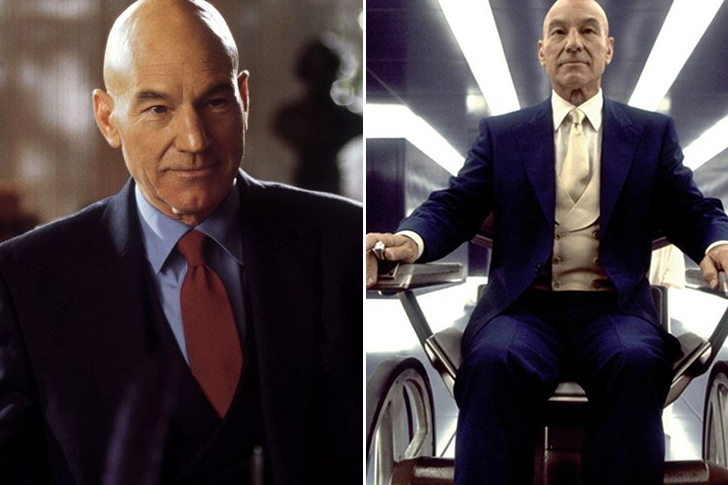 You really can't have a list with Magneto without mentioning his fated rival, the brilliant mind behind the X-Men, Professor X. Professor Charles Francis Xavier is a mutant in the X-Men franchise who's an extremely powerful telepath who could both read and control the minds of others. His goals are the same as his rival, Magneto, but in a much more civil and peaceful way that can be given credit to a harmonious relationship between humans and mutants. The exceptionally powerful telepath was brought to life and given justice by the Grammy Award-winning actor Sir Patrick Stewart in his amazing portrayal of the character in the movie X-Men back in 2000.
Aside from the on-point look the character and the actor share, Stewart was a perfect fit for the character considering they both had the kind and humble demeanor Professor X showed in the comics. Another thing the two have in common is that they're both insanely rich with Stewart clocking at a net worth of $70 million.
Paul Rudd | Ant-Man (Ant-Man)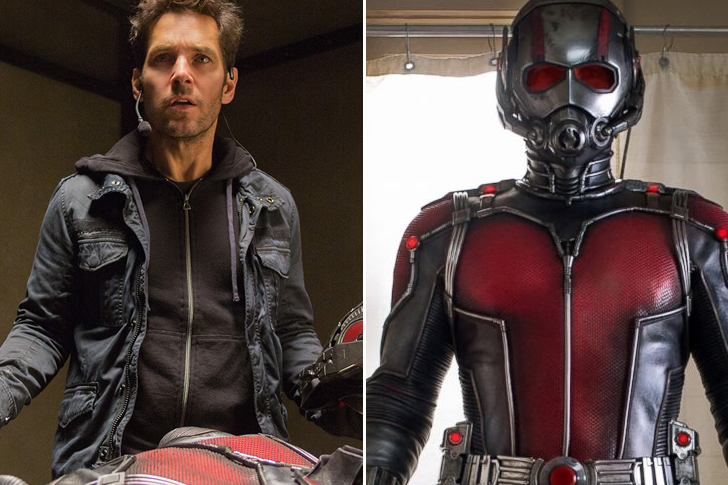 The comedic genius of Paul Rudd never fails to amuse the global audience as they continually support the exciting adventure of Ant-Man as one of the relatively new members of the Marvel Cinematic Universe. Playing the bite-sized hero on the big screen is American actor, screenwriter, and producer, Paul Rudd, and it's no doubt that you can immediately credit him with the success of Ant-Man's fame. Scott Lang, secretly living a double-life as Ant-Man, is a fearless hero known for his wits, quick-thinking, and of course, his trademark, army of ants.
The loud-mouthed and comedic know-it-all has saved the world countless times from huge threats that running into an Avenger's level threat is just another walk in the park for the little hero. Rudd's brilliant portrayal of the character really gives Ant-Man his shine considering that Rudd is a talented actor that could make anybody laugh. From his appearances in Wanderlust, Role Models, and Clueless, there's no better actor to take up the mantle but him.
Peter Cushing | Grand Moff Wilhuff Tarkin (Star Wars 1977)
Known as Grand Moff Wilhuff Tarkin, Peter Cushing's amazing performance in the 1977s Star Wars was truly a piece of art worth seeing. On-screen, Tarkin was a military officer whose career was lengthy stretching all the way from the Fall of the Republic to the Age of the Empire. He served under the Galactic Republic's Judicial Department wherein he earned the title of Grand Moff in which he served before returning to Ediadu where he became its Governor.
The cold and calculating demeanor of Tarkin was exceptionally brought to life by Peter Cushing's acting which speaks a lot to the actor's degree of professionalism when it came to his craft. The English actor, most notably known for his works in horror films and his amazing role in Star Wars, had a lengthy acting career of six decades appearing in more than 100 films. From Dracula, The Curse of Frankenstein, up to Star Wars, Cushing lived a very dramatic life making him a legend on his own.
Ralph Fiennes | Voldemort (Harry Potter Franchise)
Playing the infamous villain of the Harry Potter series, Lord Voldemort, Ralph Fiennes has played the character for five consecutive Potter movies greatly associating the character with his very own name. Tom Marvolo Riddle, soon given the name of Lord Voldemort, was an English half-blood wizard known to be feared as one of the most powerful dark wizards of all time. Coming in second only next to Albus Dumbledore, Voldemort's power was something not to be taken lightly for he was monikered as menacing titles such as He-Who-Must-Not-Be-Named. Contrary to the evil character, Ralph Fiennes is far from being remotely evil considering he loves doing yoga, going all-out on the dance floor, and generally being a nice and normal guy.
The accomplished actor has bagged multiple academy awards from Tony's to the National Society of Film Critic Awards which greatly attest to his amazing degree of acting. As of 2021, the English actor clocked at a $50 million net worth making him one of the richest villains in film history.
Ryan Reynolds | Deadpool (Deadpool)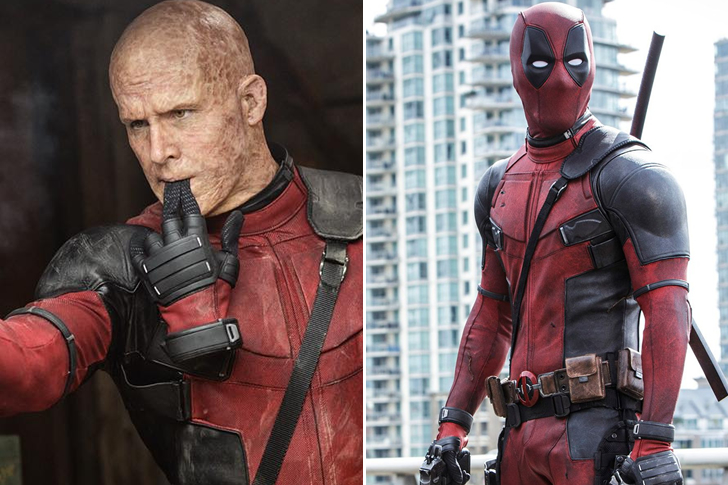 There are just some characters that you can't associate with another actor filling in its shoes since it feels like the actor and the character are one. One instance is with the red spandex-wearing, loud-mouthed vigilante, Deadpool, and the amazing actor bringing it to life, Ryan Reynolds. After a flunk of portraying Deadpool in X-Men: Origins, it seems like Deadpool's healing factor goes beyond wounds and into an acting career since Reynolds got another shot at redemption when it came to playing the merc with the mouth. The Canadian-American actor and film producer is most notably known for his roles in comedic films from The Proposal, Just Friends, and Definitely, Maybe.
The star isn't a stranger when it comes to action and heavier roles though since he's starred in multiple box office hits from Buried to 6 Underground only to name a few. The degree of comedic acting and naturally being funny suits the actor well when it came to dawning the red spandex in 2016 reprising his role as Marvel's Deadpool.
Ray Fisher | Cyborg (Justice League, 2017)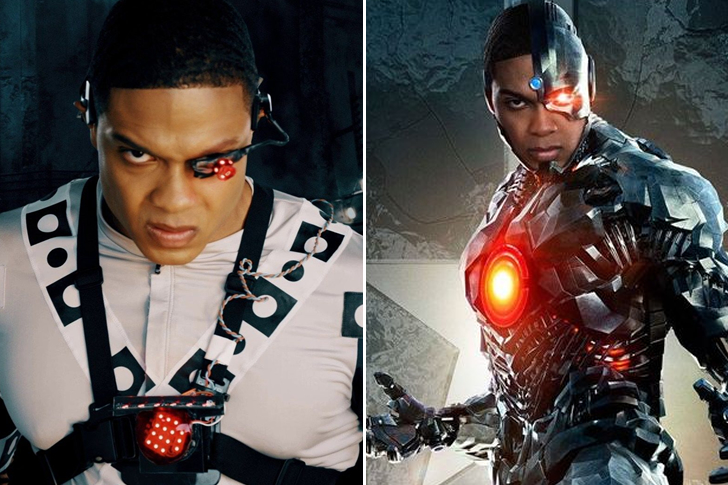 Former football star turned superhero, Victor Stone, lived a rough life of accepting who he truly was after a freak accident that changed his life forever. The young hero would eventually accept his mantle as the living machine, Cyborg, and soon join the Justice League as one of the earth's defenders against an imminent alien invasion. While Ray Fisher, Cyborg's actor, isn't ran by electricity, he's high-up there when it comes to being a real-life badass. The American actor got his big break making a cameo in Batman V Superman: Dawn of Justice where the entire world finally got to see Cyborg on the big screen.
Aside from his relatively young career in the industry, Fisher has been in acting ever since 2008 from performing in the Shakespeare Theatre of New Jersey as Tom Robinson in To Kill a Mockingbird, and playing Muhammad Ali in Fetch Clay, Make Man at the New York Theatre Workshop. With a long and promising career ahead of him, it looks like the mantle of Cyborg is in good hands.
Rebecca Romijn | Mystique (X-Men, 2000)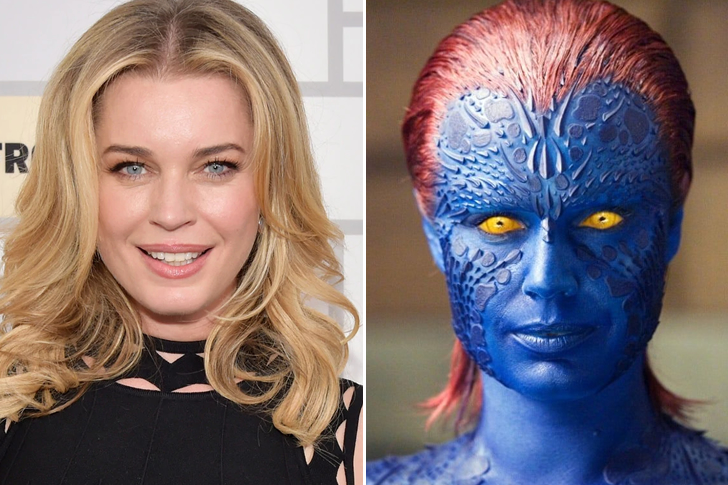 Raven Darkholme lives a mysterious life with little information about her life before meeting Charles Xavier after she broke-in into the Xavier Mansion. Built on hate, distrust, and constantly hiding, she eventually shrouded herself in shadows by blending into society in plain sight as the exceptionally powerful shapeshifter, Mystique. Before Mystique was played by the talented Jennifer Lawrence, there was an equally dashing and cunning blonde bombshell playing the shapeshifter—Rebecca Romijn. The American actress was a former model and familiar face for magazine covers from Glamour, Cleo, and Cosmopolitan only to name a few.
Her good looks paired with her amazing acting gained her a respectable reputation in the industry bagging roles in the X-Men franchise, The Punisher, Godsend, and many more hit films. The actor's badass status can be given credit to how she's made a name for herself making her one of the queen bosses in the industry with a whopping net worth of $20 million.
Rihanna | Nine Ball (Ocean's 8)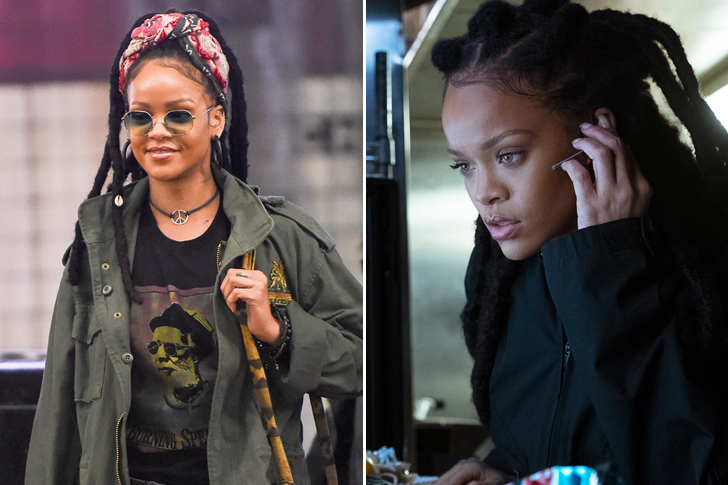 Being one of the interesting members of Debbie Ocean's crew in Ocean's 8, Nine Ball, played by the hit megastar Rihanna, is a real-life badass. The Barbadian singer, actress, and businesswoman made a name for herself through her sheer talent in singing and lovable and headstrong character. Robyn Rihanna Fenty overcame her hardships from an abusive addict father and a controversial assault from her then-boyfriend Chris Brown making her one tough cookie and a very well-deserved person in this list of badass characters.
It looks like Rihanna made notable investments in the talent portion of her life since she gave the whole world hit pop classics such as Umbrella, Diamond, and We Found Love making her well-known in the music industry. With her massive success, she's continually inspired others to keep on pursuing their dreams for the future making her not only a real-life badass but a real-life heroine too.
Robert Downey Jr. | Tony Stark (Iron Man)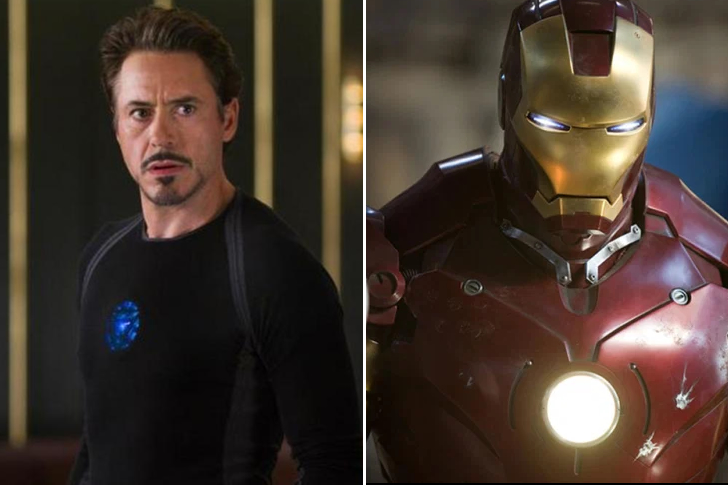 Iron Man is a fictional superhero from Marvel Comics that was brought to life in 2008.It is the first movie of the Marvel Cinematic Universe (MCU) produced by Marvel Studios. The iconic role was played by Robert Downey Jr. He was a perfect fit, like he was somehow born to be Tony Stark. His character, Tony Stark, is a billionaire, philanthropist, and is quite the ladies man. A brilliant inventor instantly turned into a superhero. Robert continued to reprise his role as in various MCU films. He was last seen in Avengers: Endgame back in 2019. Although, it was said that he will still appear as Iron Man but only for a cameo role.
In real life, Robert might not be as rich as Tony Stark, but with a net worth of $300 million, he is pretty close. The Marvel superstar holds the record for the highest annual salary any actor could ever ask for. He may be popularly known as Tony Stark or Iron Man, his versatility as an actor can never typecast him for his role. In addition to that, Robert has gained interest in robotics and nanotechnology to clean up our planet, creating the idea of Footprint Coalition. Tony Stark would be so happy to hear about Robert's investments.
Robert Patrick | T-1000 (Terminator 2: Judgement Day)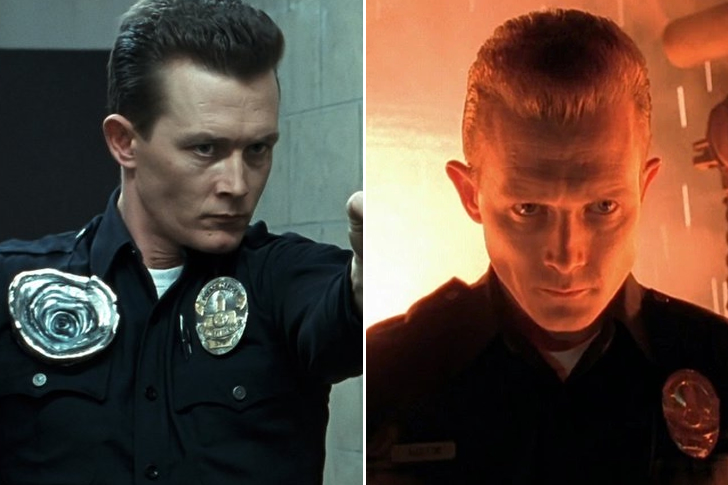 American actor, Robert Hammond Patrick Jr. is popularly known for portraying villainous roles. His interest in acting began when he joined the drama class. Eventually, while he was working on his college degree, he dropped out and decided to enter the world of film in 1986.
Everybody knows the Terminator and his arch enemies. The shapeshifting android assassin, T-1000 is one of them. He is the antagonist for the Terminator 2: Judgement Day. The character is composed of liquid metal that can turn itself into different forms. The notorious role was played by Patrick himself, doing one hell of a job as the badass villain. In 1992, he was even recognized by MTV for his cameo appearances on Wayne's World, MTV Movie Award for Best Villain. One his two children is even named after the character of the police officer the T-1000 assumes the identity of in the movie. In real life, just like his character, he is pretty cool. The actor is a member of Boozefighters motorcycle club It's hard not to imagine him rocking it black leather jacket. Oftentimes, he would join a charity motorcycle ride held in Southern California called the Love Ride. Unlike his villainous character though, he's a decent guy with a big heart, ready to help people in need. Making him closer to a hero than that of a villain in reality.
Sala Baker | Sauron (Lord Of The Rings)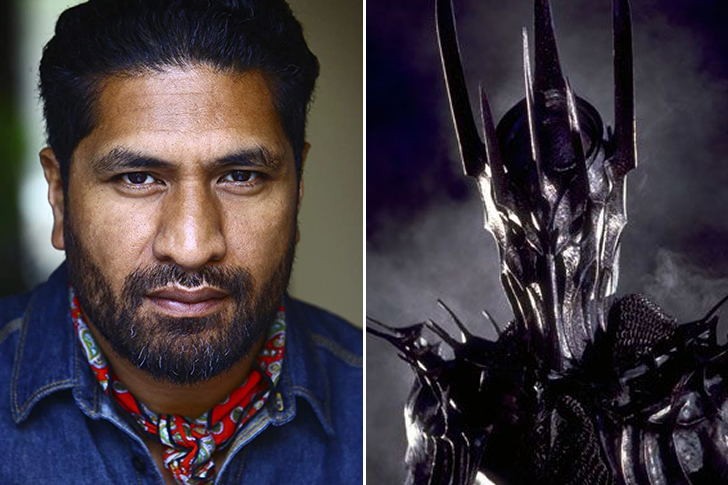 An actor and stuntman from the "Paradise of the Pacific", New Zealand, Sala Baker was discovered. Mostly doing stunt work, Baker was originally set to be hired as one of the many stunt performers for The Lord Of The Rings movie trilogy. He played several characters throughout the trilogy, a Gondorian, a couple of Orcs, he even played one of the Rohirrim. He is best known for landing the role of the Dark Lord Sauron. Sauron is the super villain, the main antagonist of the movie. He ruled the land of Mordor, he also had the ambition of ruling the whole of Middle-earth.
Baker has also portrayed various roles in Pirates Of The Caribbean and The Chronicles Of Narnia: The Lion, The Witch And The Wardrobe. In addition, he worked with Jason Statham in an action packed movie called Parker back in 2013. Overall, his career in Hollywood is quite impressive. Baker has a promising career with a net worth of $2.2 million. With perfect financial planning he could double his net worth in no time.
Samuel L. Jackson | Jules Winnfield (Pulp Fiction)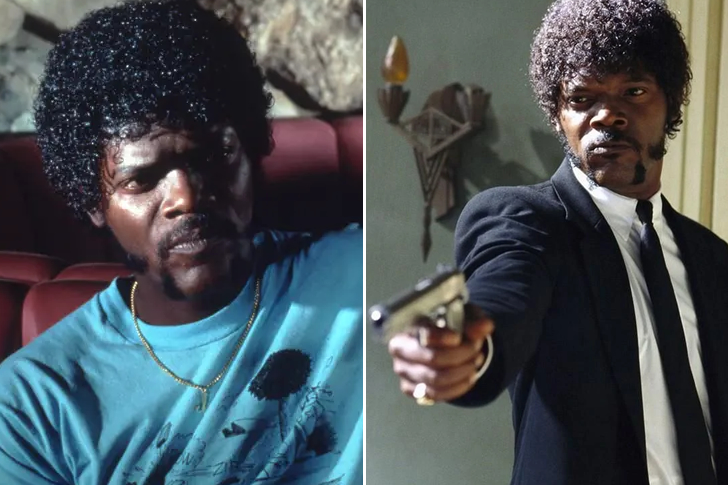 One of the most sought after movie stars in Hollywood, Samuel L. Jackson is widely regarded for his professionalism and versatility when it comes to acting. His appearances in movies have collectively earned over $27 billion worldwide, excluding cameo roles. He landed such great roles in renowned films such as, Goodfellas, Jurassic Park, True Romance, and of course, the Marvel Cinematic Universe movies he's been honored to be a part of. As of 2020, his net worth is about $250 million, pursuing a degree in acting really did pay off.
This beloved superstar's most iconic role will have to be Jules Winnfield in Quentin Tarantino's masterpiece, Pulp Fiction. Winnfield is one of the main characters of the film, the hitman working alongside Vincent Vega, the character portrayed by John Travolta. Afterwards, he appeared in several films made by Tarantino, Kill Bill: Volume 2, Django Unchained, and The Hateful Eight to name a few.
Sandra Bullock | Annie Porter (Speed)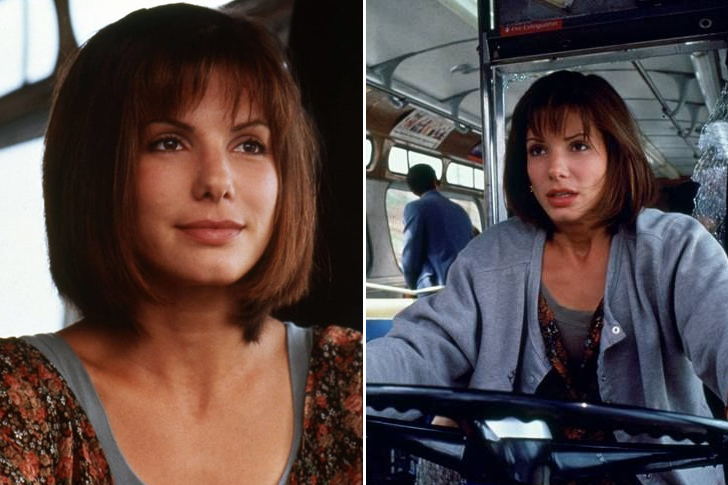 This charismatic Hollywood A-lister, Sandra Bullock is born to be in the industry. As the daughter of a German opera singer and as the woman who got her college degree at East Carolina University, studying drama, you just know she is destined for greatness in the world of entertainment. She became extremely popular after her movie with Keanu Reeves came out in 1994. Speed is an American blockbuster hit that is just action packed from start to finish. Considering the fact that this was director Jan de Bont's directorial debut, it deserves all the recognition for it's awesomeness that just kept people on the edge of their seats in theaters all around the world.
Bullock's outstanding performance Speed as Annie Porter was just the beginning. In 2010, she became a Golden Globe and Academy Award winner for Best Actress as she took on a role in the 2009 movie, The Blind Side, as Leigh Anne Tuohy. Her impeccable acting skills led her to acquire, not just awards, but even bigger roles in anticipated films. Back in 2018, Ocean's 8 and Bird Box were both a huge success and her being one of the main characters in these films really shows her versatility and passion for acting.
Sarah Michelle Gellar | Buffy Summers ( Buffy The Vampire Slayer)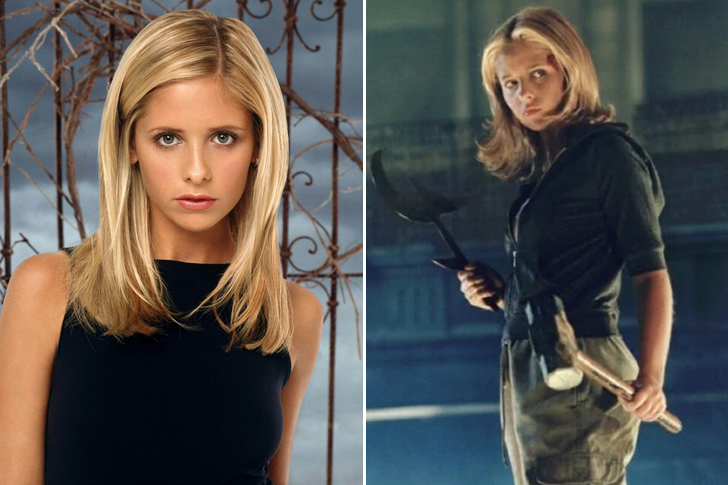 Sarah Michelle Gellar-Prinze was a sought-after Hollywood actress in the nineties. Her acting career took off at an early age. She caught her big break when she took the role of Kendall Hart on All My Children, a ABC daytime soap opera. Sarah even won an Emmy Award for her performance.
Portraying the role of Buffy Summers in one of America's popular drama series of all time, Buffy The Vampire Slayer. She earned numerous awards for her performance. Five Teen Choice Awards alone is enough to make you applaud the actress for a job well done. Sarah is not only popular in the world of television but she also made quite a name for herself in movies. She is known for her box office hit films, Cruel Intentions, Scooby-Doo, and I Know What You Did Last Summer, where she met her husband, Freddie Prinze Jr. Eighteen years later and the couple is still happy married with two lovely kids.
Scarlett Johansson | Black Widow (Avengers)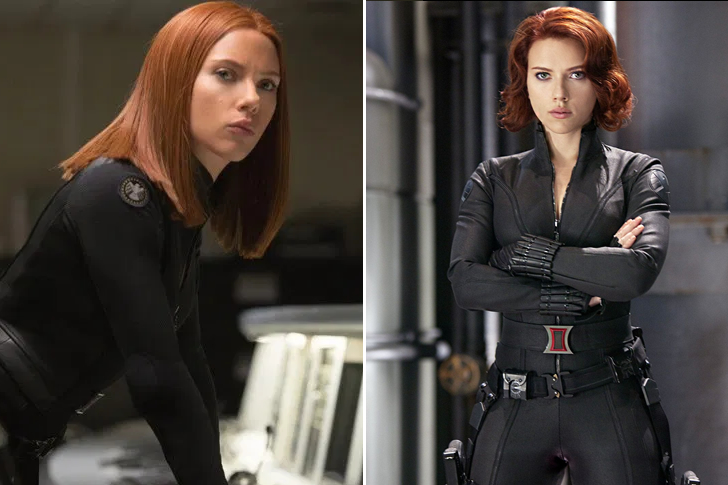 One of the hottest women alive, Scarlett Ingrid Johansson, is not just known for her jaw-dropping beauty. Her undeniable multifaceted skills in acting brought her to stardom. She was the world's highest-paid actress back in 2018 and 2019. After all, she won five Golden Globe Awards through the years, not to mention her two Academy Awards, and these are just a few of her numerous accolades. The movies she's been in grossed up to $14.3 billion worldwide. It is hard to imagine that Johansson only started off as a child actor in an Off-Broadway play, she has come a long way since.
Among the various, critically-acclaimed films that she has been a part of, like, Lost In Translation, Match Point, and A Love Song For Bobby Long, she is most popular as Black Widow who is a part of the Marvel Cinematic Universe. Her character was first seen in Iron Man 2, but her appearance in The Avengers was huge. The movie broke a lot of box office records, it became one of the highest-grossing films in the year 2012. Johansson was able to secure her role for Black Widow when she dyed her hair red and took stunt and strength training as preparation. In April 2021, her own solo movie, Black Widow, is set to be released. It is now one of the most anticipated films this year. Like Black Widow, Johansson is a headstrong and intelligent woman who is more than just her good looks. She is an icon to women everywhere in the world
Sebastian Stan | Winter Soldier (Captain America: The Winter Soldier)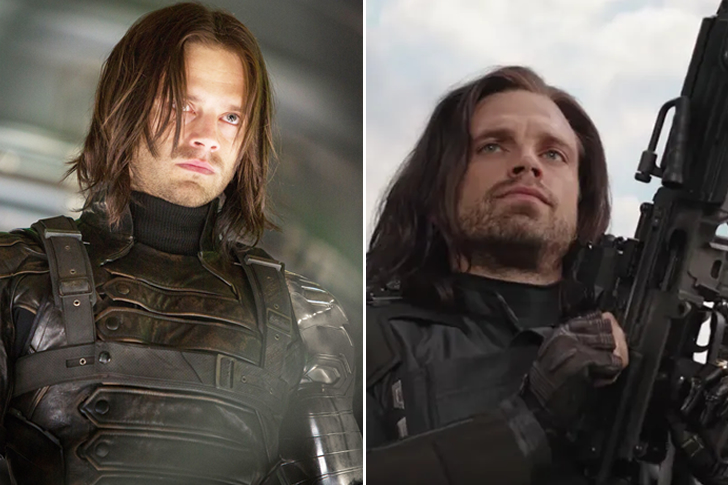 The gorgeous Sebastian Stan is widely recognized for his role as the Winter Soldier in the Marvel Cinematic Universe (MCU). He first appeared in Captain America: The First Avenger, followed by Captain America: The Winter Soldier, and Captain America: Civil War. He was last seen in 2019's Avengers: Endgame. In the same year Disney announced that a Marvel television series called The Falcon And The Winter Soldier was set to air on Disney+ in 2020, with Sebastian reprising his role as Winter Soldier, the superhero assassin. He trained so hard for the role of the Winter Soldier, it's safe to say that his hand-to-hand combat is just as good when it comes to the fight scenes.
While he was busy doing MCU movies, he was simultaneously working alongside Matt Damon on the science-fiction comedy called The Martian and with Channing Tatum on the heist comedy movie Logan Lucky. His college degree from Rutgers University's Mason Gross school of the Arts helped a lot in developing his acting skills.
Shawn Ashmore | Iceman (X-Men)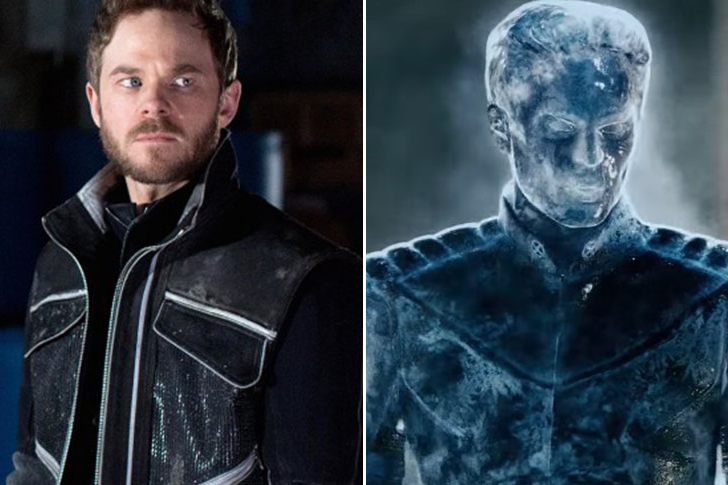 Canadian film and television actor, Shawn Robert Ashmore is popular for his role as Iceman in the 2000 American superhero film, X-Men and in the 2006 X-Men: The Last Stand that were both based on the Marvel Comics. The promising actor's role, Iceman, is a mutant born who has the ability to manipulate ice and cold by freezing water vapor, allowing him to freeze objects, his own body included.
Although he is widely known as Iceman, he has starred in plenty of noteworthy films. Ashmore portrayed the role of Cadet Major Brad Rigby in Disney Channel's original film Cadet Kelly. He also got the leading role for Legend of Earthsea from the Syfy Channel. As a famous actor he already has a net worth amounting to $3 million which is already good investment money. The promising actor's career continues to grow.
Sophie Turner | Sansa Stark (Game of Thrones)
Game of Thrones actress Sophie Turner tied the knot to the Disney child star Joe Jonas in May 2019. She legally changed her last name to Jonas after her marriage.
After Sophie was encouraged by her drama teacher to audition for the role of Sansa Stark in the HBO fantasy drama series Game Of Thrones, she was cast and her acting career took off. The production started filming in 2010 when she was only 14 years old. It was her first television role and she has appeared in all eight seasons of the series. She was even nominated for the Young Artist Award for Best Performance in a TV Series – Supporting Young Actress. The character she plays, Sansa, may have a naive view of the world, but Sophie is a mature and capable individual. Her professionalism in acting has opened new opportunities for her that helped her career grow. She appeared on films like, X-Men: Dark Phoenix, Heavy, and Chasing Happiness. Clearly,Hollywood has a lot in store for her.
Stephen Amell | Green Arrow (Arrow)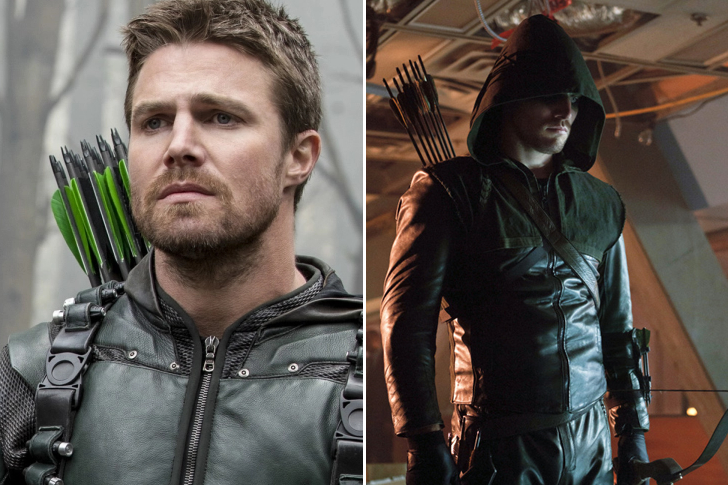 Occasionally, Stephen Adam Amell is a professional wrestler, but most of the time he plays the role of Green Arrow, also known as his alter ego, Oilver Queen on the superhero series Arrow on The CW. Amell's character is based on DC Comics. He was the first actor to audition for the part and was cast in 2012.
Oliver Queen is a billionaire who fights crime and corruption, his weapon of choice being a bow and arrow. Just like the infamous Robin Hood himself, as told countless times and it was even mentioned on an episode of Supergirl. Like the superhero character he plays, he involves himself in charities, it is his way of helping the ones in need. The Canadian actor has a net worth of $7 million and he earns $125 thousand per episode of Arrow, he must have a credit score that is just off the chart.
Thomas F. Wilson | Biff Tannen (Back To The Future)
"What's the matter McFly? Chicken?" is the first line that pops in your head when you hear the name, Biff Tannen, the notorious villainous character played by Thomas F. Wilson. The Back To The Future trilogy became a big hit in the 80s. Not only was he Biff Tannen, he was also Griff Tannen and Buford "Mad Dog" Tannen, that's three generations worth of characters, working alongside Michael J. Fox and Christopher Lloyd. His amazing versatility all throughout the trilogy was top notch! His character, Biff, might have been bad news, but in real life Wilson is a loving father to his kids and is devoted to his religion, far from his role.
Wilson moved to Los Angeles in 1981 to follow his dreams of becoming an actor, and 3 years later he was cast for Stephen Spielberg's Back to the Future. The movie is an adventure comedy with a touch of science fiction. It became a sensational hit. It was the first film ever to have the highest gross in 1985, which later led them to a back-to-back film production for Back To The Future Part II and Back To The Future Part III.
Tom Hardy | Max Rockatansky (Mad Max: Fury Road)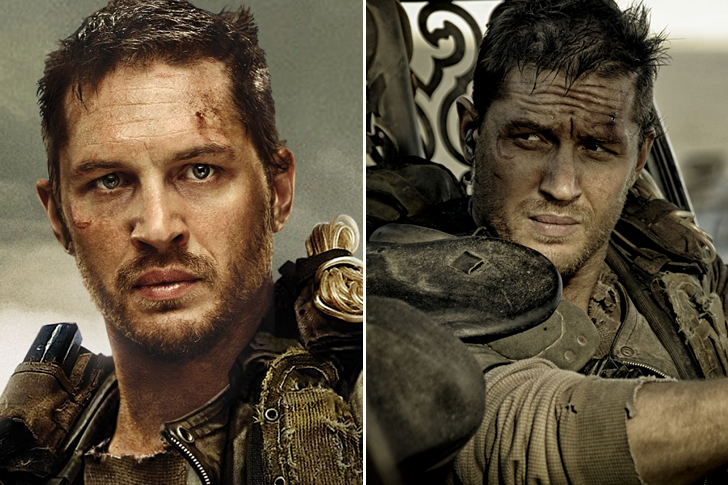 Edward Thomas Hardy got a degree in acting at the Drama Centre London. In 2001 he made his first movie debut in Black Hawk Down. Afterwhich, success came pouring in. Getting cast on big production films like Star Trek: Nemesis, The Revenant, Inception, and Dunkirk, these are just some of the critically acclaimed movies that he's been a part of. He even got a nomination for an Academy Award from The Revenant, that is truly the mark of a great actor. His net worth as of 2021 is already a whopping $45 million. His appearances in these renowned films are undeniably noteworthy.
Hardy is popularly known for his role as "Mad" Max Rockatansky in the 2015 post-apocalyptic action movie Mad Max: Fury Road, which was directed by George Miller. Like his character Max, he possesses considerable skill with firearms considering the fact that he has been in a lot of action packed films.
Tom Hiddleston | Loki (Thor)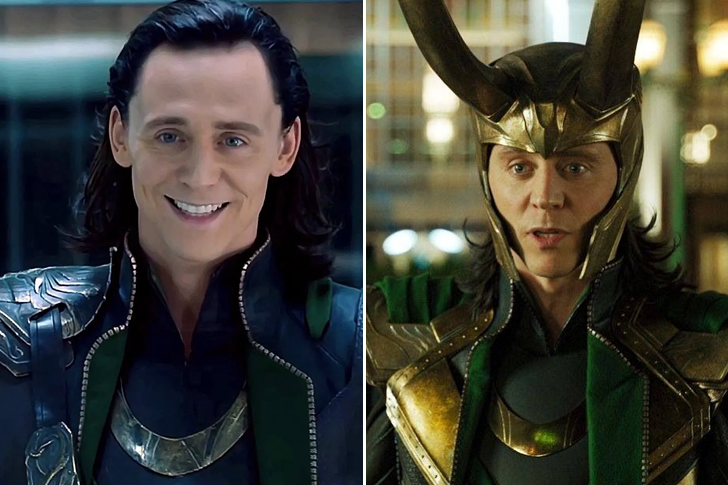 Thomas William Hiddleston earned his degree in acting from the University of Cambridge and the Royal Academy of Dramatic Art. His acting career began in theater, winning awards such as, Olivier Award for Best Newcomer in a Play and Evening Standard Theatre Award for Best Actor. He recently made his debut on Broadway in a 2019 revival of the play Betrayal, he got a Tony Award for Best Actor in a Play nomination. His movie debut on the other hand began in 2007.
The ever so handsome actor, got the public's attention for his portrayal of the God of Mischief, Loki, in the 2011 film, Thor. Which is part of the Marvel Cinematic Universe, this meant that he reprised his role not only in all the Thor-related movies but also the ones involving the Avengers. The supervillain is one of the most powerful Asguardians, an alien civilization, and he is also the brother of the God of Thunder, Thor, an Avenger.
Tom Holland | Spider-Man (Spider-Man: Homecoming)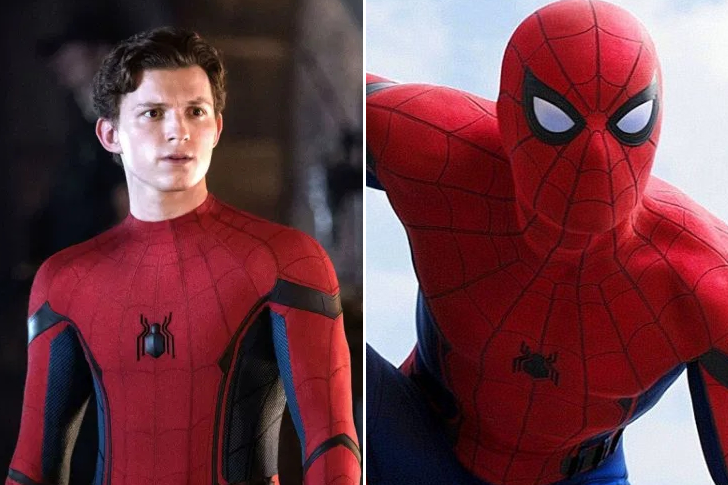 This 25-year-old cutie, Thomas Stanley Holland is an English actor who is, despite his undeniable success, still manages to look like the boy next door, humble as ever. He was able to acquire a performing arts degree from the BRIT School in London. His acting career took off in 2008 where he started as a theater actor.
His charm and his youthful glow and personality is just befitting for his role as Peter Parker, also known as Spider-Man. So when he was cast in 2015 to play the part, his life changed overnight. As part of the Marvel Cinematic Universe, his first appearance as Spider-Man was in the massive blockbuster film, Captain America: Civil War which grossed over $1 billion worldwide. This success was instantly followed by Spider-Man: Homecoming. His first character solo movie, which was showered by appearances from Robert Downey Jr. and Childish Gambino, it was a box office hit.
Tom Welling | Clark Kent (Smallville)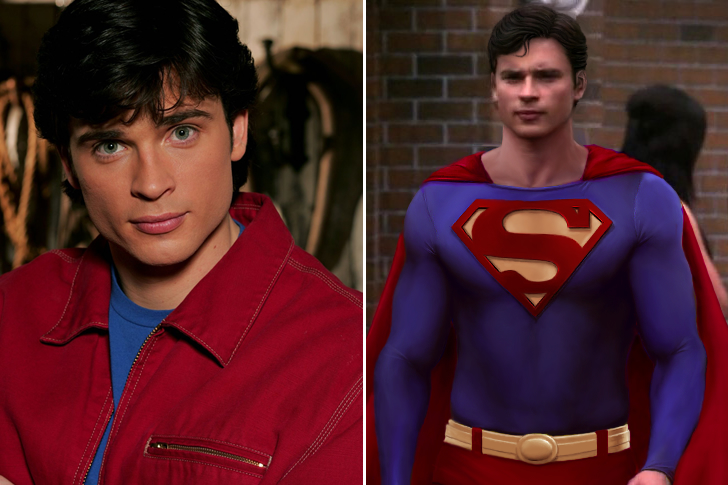 In the early 2000s, Tom Welling conquered the small screen as Clark Kent in the hit TV series Smallville. The show aired for a decade, making him one of the stars who have the biggest names back then. Although he is no way a Superman in real life, Tom gets the credit for being the Super dad slash Super husband for his family.
Tom has been married to Jessica Rose Lee since 2019, though they have been together longer than that. They dated for five years before they officially tied the knot. The couple started dating in 2014, and after four years, they finally got engaged.
Tom and Jessica welcomed their first child, Thomson Wylde Welling, in the same year they wedded, and they are now expecting their second child. Now that they will soon be a family of four, Tom and Jessica have nothing to ask for.
Uma Thurman | Mia Wallace (Pulp Fiction)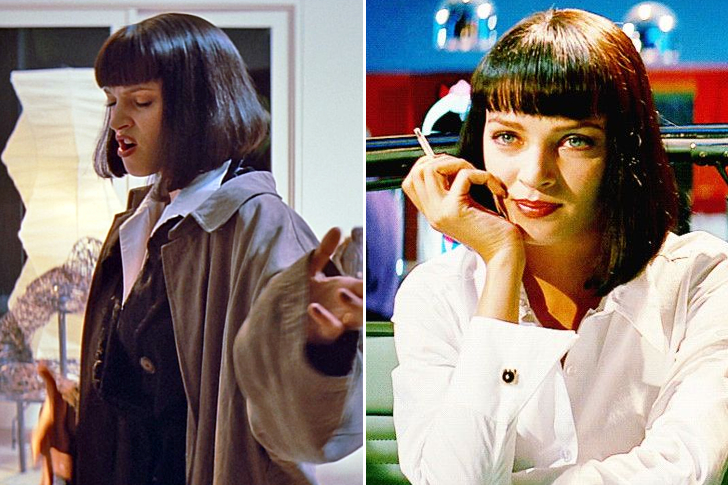 You may remember Uma Thurman for so many roles, but it was her character as Mia Wallace in the 1994 iconic film Pulp Fiction that she rose to international prominence. Credits to the famed director Quentin Tarantino, did you know she mostly got high acclaims for his films? She has even become a part of the popular culture for it. Her next role as The Bride in another two Tarantino films Kill Bill: Vol 1 and Kill Bill: Vol 2 has put her to another fame level.
However, behind the camera, Uma is very far from her on-screen roles. Though she is an actress, writer, producer, and model, she is also a mom to her three kids, Maya and Levon Roan Thurman-Hawke and Luna Thurman-Busson. Maya herself has found her way to the entertainment industry, and she is making a name for herself as an actress and model just like her mother.
Vin Diesel | Dominic Toretto (The Fast and the Furious)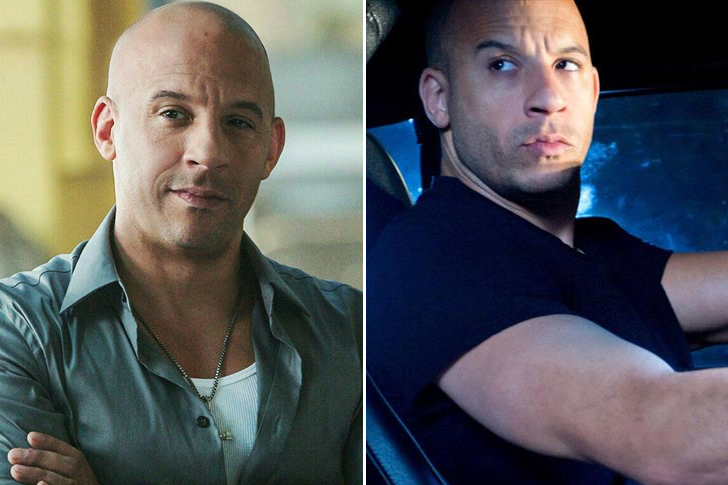 Vin Diesel first made a famous name as Richard Riddick in the science-fiction film Pitch Black in 2000, followed by The Chronicles of Riddick in 2004 and Riddick in 2013. However, the movie The Fast and the Furious in 2001 helped him establish his Hollywood career. The film, which now turned out to be a huge franchise, gave birth to his most famous role as the street racer and thief Dominic Toretto. His role is never afraid to step on the gas and go after the enemies or escape.
However, Vin has no reason to escape in real life, though he is also fond of cars. He is more into SUVs, and he owns a collection of vehicles that include a GMC Yukon and a Mercedes-Benz-G-Wagen. Though these cares are too far from the ones Dominic drives in the movie series, these two perfectly fit Vin's lifestyle.
Viola Davis | Annalise Keating (How to Get Away from Murder)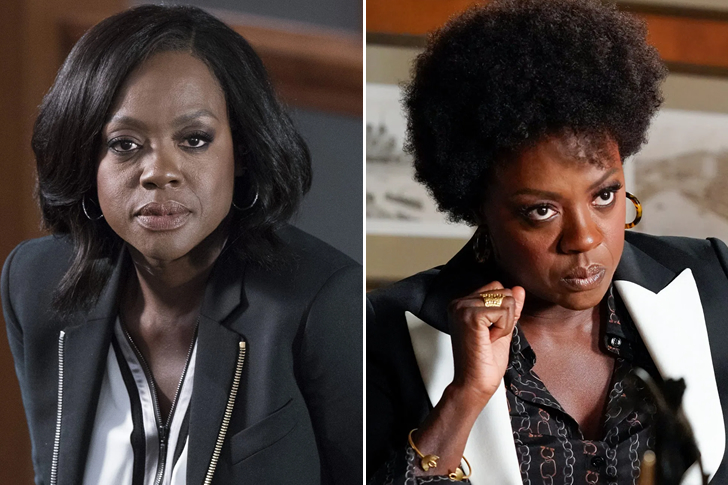 Viola Davis may have several roles that she played throughout her career, but she will be best remembered in the TV series How to Get Away from Murder. Here, she played the role of a criminal defense lawyer Annalise Keating. She is also a professor who teaches aspiring law students. However, their lives have dramatically changed when they get involved in a bizarre murder.
For six years, Viola played this role, and she was the perfect fit to do so. She owned the character, and her versatility as an actress and controlled performances could be perfectly seen. No wonder she becomes the first African-American to receive the Triple Crown of Acting, winning an Academy Award, Primetime Emmy Award, and two Tony Awards. Viola is one of the 100 most influential people in the world in 2012 and 2017 and part of The 25 Greatest Actors of the 21st Century.
Will Smith | Fictional Will Smith (The Fresh Prince of Bel-Air)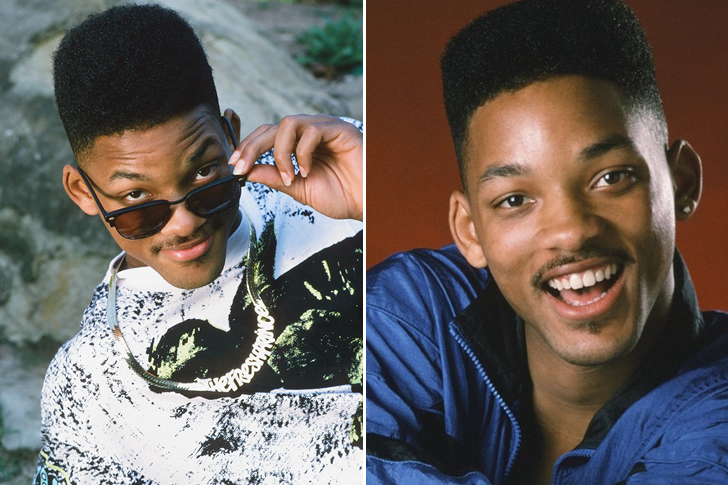 There are several roles that can be linked to Will Smith's name, but it was in The Fresh Prince of Bel-Air that the 52-year-old actor made a big name. Here, the famed actor didn't have to play any other role but just a fictional version of himself. After it made waves in the '90s, the show would return with a special reunion special on HBO Max.
The TV series' success also means a huge achievement for Will. It launched his career to an incredible high, making him one of the most bankable stars all over the world.
He, too, gets the credit of being the most powerful actor in Hollywood. Seventeen out of his 21 movies have earned more than $100 million earnings each as of 2014. All in all, Will's films have grossed $7.5 billion at the global box office. Do we need to say more?
Zoe Saldana | Neytiri (Avatar)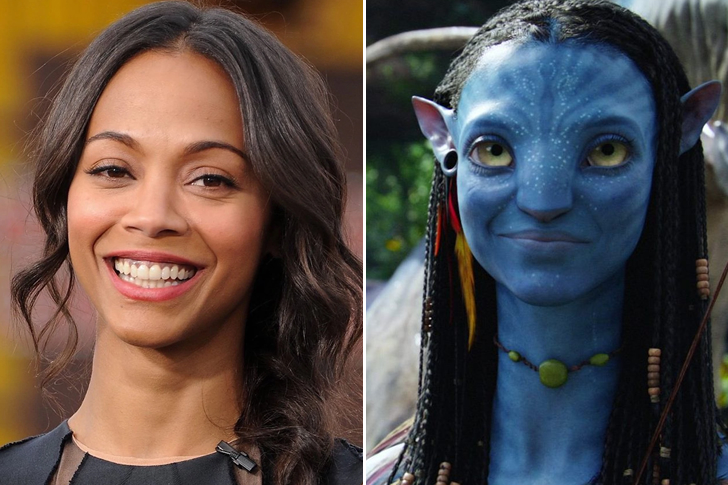 You can best remember Zoe Saldana for so many roles, but her biggest film seems to be James Cameron's Avatar. Here, she played the role of Neytiri, and although it was only a sci-fi fantasy, the 42-year-old star made a huge impact on it. Cameron had made a huge investment for the movie with a $237 million budget, and it made an incredible return. It grossed about $2.79 billion in the box office, proving its immense success.
Aside from this role, Zoe is also part of the Marvel Cinematic Universe as Gamora in Guardians of the Galaxy movie series and Avengers: Infinity War. In Star Trek, she made a name as Nyota Uhura. When she's not busy acting, Zoe is a mom to her three kids, Bowie Ezio, Cy Aridio, and Zen Perego-Saldana, and a wife to Marco Perego Saldana for about eight years now.